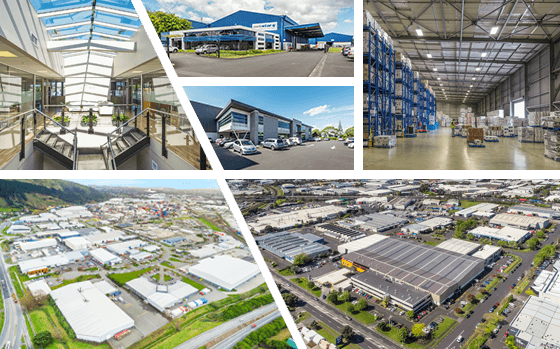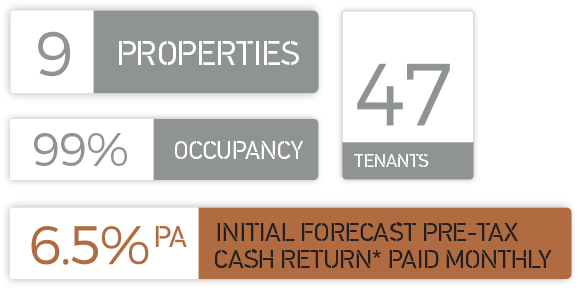 Following the oversubscription of the initial offer of shares in Augusta Industrial Fund Limited earlier this year we are pleased to announce on their behalf that the opportunity to invest is re-opening again in early 2019.
Augusta Industrial is a limited liability company that was established in mid-2018 as an open-ended, unlisted property fund. Initially comprised of four well located industrial properties, an additional five carefully chosen assets will now be added, further increasing the tenant and location diversification.
A key objective of Augusta Industrial is to deliver sustainable and stable income return paid to investors monthly, along with the potential for capital growth.
The portfolio is valued at $296 million and comprises 47 tenants including global and multinational names such as Toll, Downer, Linfox, Fujitsu, Fletchers and Tyco along with iconic national tenants such as Macpac, Good Health and Icepak (Halls Group). With 99% occupancy Augusta Industrial provides a lower risk income profile in a sector that has consistently outperformed other commercial property sectors with the highest total returns over the past five years.
Augusta Industrial Fund Limited is managed by Augusta Funds Management Limited, one of New Zealand's leading and largest property fund managers with approximately $1.8 billion of assets under management. Augusta Capital, the NZX listed parent company, is currently a 10% shareholder in Augusta Industrial and will continue to maintain a minimum 10% shareholding as the fund grows in size. This aligns Augusta's interests with the fund's shareholders creating significant incentive to ensure it is performing well.
With the initial offer being oversubscribed earlier this year, the diversification offered and the aim of sustainable and stable income we expect strong interest in this opportunity.
Please click below to register your interest. You will be the first to know once the fund re-opens for investment, presentation details around New Zealand and receive a copy of the Product Disclosure Statement once available.

As always feel free to contact us to discuss in more detail. We look forward to being of further assistance.
*Details of how the forecast pre-tax cash return is calculated and the risks associated with this investment will be found in the Product Disclosure Statement. This email is not a Product Disclosure Statement and does not constitute an offer of financial products. Augusta Industrial Fund Limited is considering making an offer of financial products in New Zealand. No money is currently being sought. No financial products can currently be applied for or acquired. The offer will be made in accordance with the Financial Markets Conduct Act 2013. No indication of interest will involve an obligation or commitment to acquire a financial product. Prospective investors are recommended to seek professional advice from an Authorised Financial Adviser which takes into account their personal circumstances before making an investment decision. The selling agents are not providing personalised advice. None of Augusta Industrial, Augusta Funds Management, Augusta Capital, or any other person guarantees or promises the forecast pre-tax cash return.