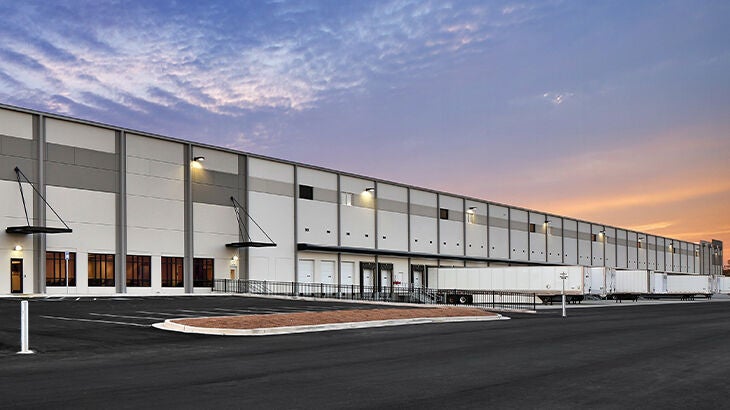 Vacancy levels for industrial property around the country are well below 10-year averages, as the sector continues to outperform other asset classes on multiple metrics.
Escalating ecommerce consumer patterns are driving demand for all sizes of warehousing, with the move to "just-in-case" logistics strategies – where businesses are holding greater volumes of inventory to hedge against supply chain woes – supercharging the appetite.
Scott Campbell, Bayleys' national director industrial says it feels like groundhog day 2019 in terms of the imbalance between demand and supply and the level of daily enquiry Bayleys' leasing teams handle.
"The pandemic has made things even tougher as core segments of the industrial market have thrived, they're in growth mode and eating up any space, while the development pipeline has been delayed.
"Occupiers need to have a clear plan around their property requirements now and for the future so they can commit to space as soon as something becomes available for lease."
Competition in Auckland
With benchmark rents rising as strong demand combines with low vacancy, Campbell says Auckland needs more of every subsector of industrial space from modest units through to large scale logistics sites.
"There's friction at every compass point and not enough new stock coming onstream to meet demand.
"Every business is looking for efficiencies and whether they're scaling up, downsizing, changing geographical location or upgrading – there's competition for space.
"With overall vacancy levels in the wider Auckland market at sub-1.6-percent, some landlords are running rental tenders rather than negotiating traditionally, to achieve optimal leasing outcomes.
"So tenants must minimise conditionality and be prepared to pay higher rents to be competitive in today's leasing market."

Scott Campbell, Bayleys' national director industrial & logistics Scott Campbell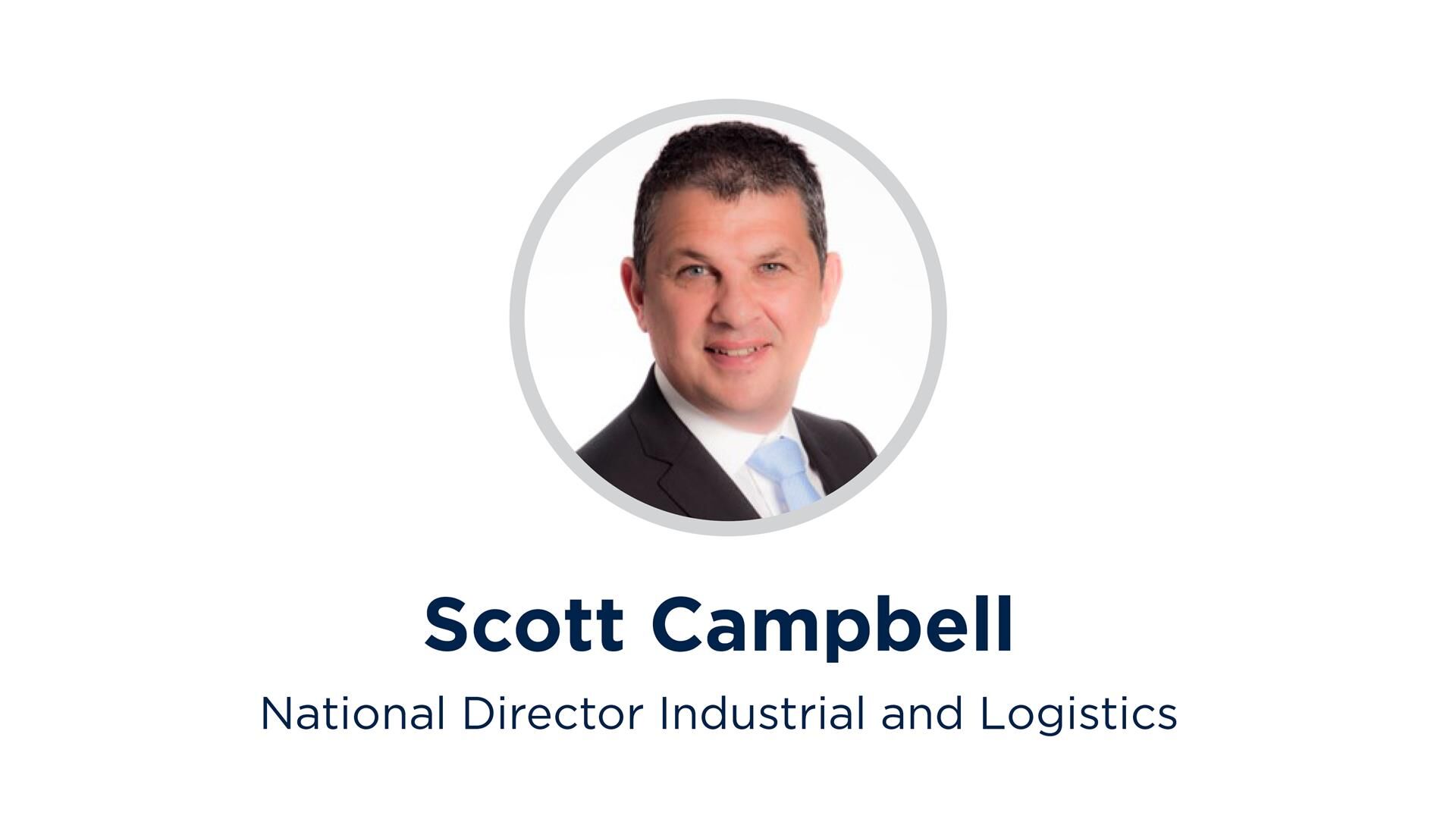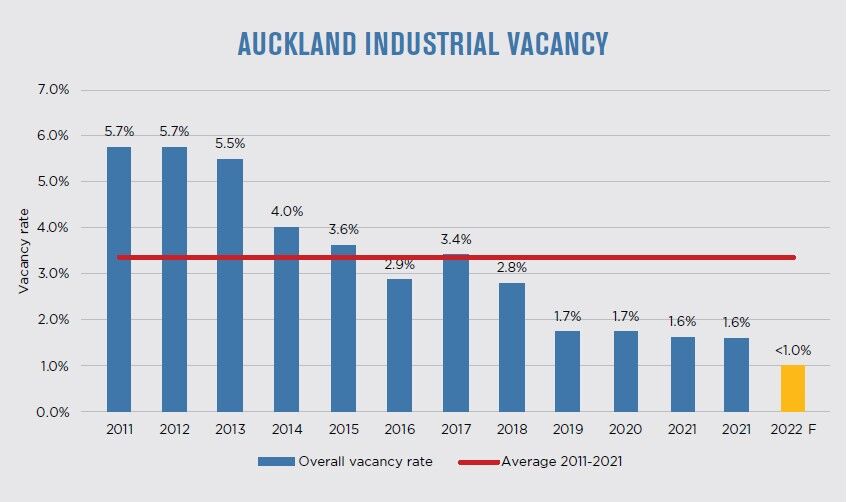 New stock being developed tends to have tenant precommitments in place – either before the ground is turned, or at the early stages of sell-down.
"COVID meant developers lost around 10-12 months of construction workflow and now they have the added handbrakes of construction cost increases, material shortages and workforce challenges," says Campbell.
"Inevitably, rental rates will need go up to reflect the increased cost-on-delivery of these new-builds."
Campbell says industrial land and buildings in areas like Drury in Auckland's south are quickly being taken up by proactive businesses, while north of the city, demand is also spiralling.
"The Silverdale West Dairy Flat Industrial Area Structure Plan will create an urbanised industrial zone, while the opening of the Ara Tūhono-Pūhoi to Warkworth highway in 2023 will streamline transport efficiencies for occupiers that can operate from a base outside traditional boundaries.
"However, future plan changes to address the shortage of industrial land right across the Auckland region are required now."
In the new-build development space and the refurbishment realm, Campbell says sustainability is no longer a throwaway tagline for landlords – or tenants, with many occupiers demanding green industrial buildings as part of their wider environmental, social and governance strategy.
"Bayleys is proactively partnering with our landlord clients to drive education and understanding in this area as globally, sustainability is an overriding theme and occupiers are getting onboard."
Capital's challenges
Fraser Press, director with Bayleys Wellington Commercial says the Wellington industrial market is one of the tightest in the country with sub-1.4-percent overall vacancy across the region's precincts.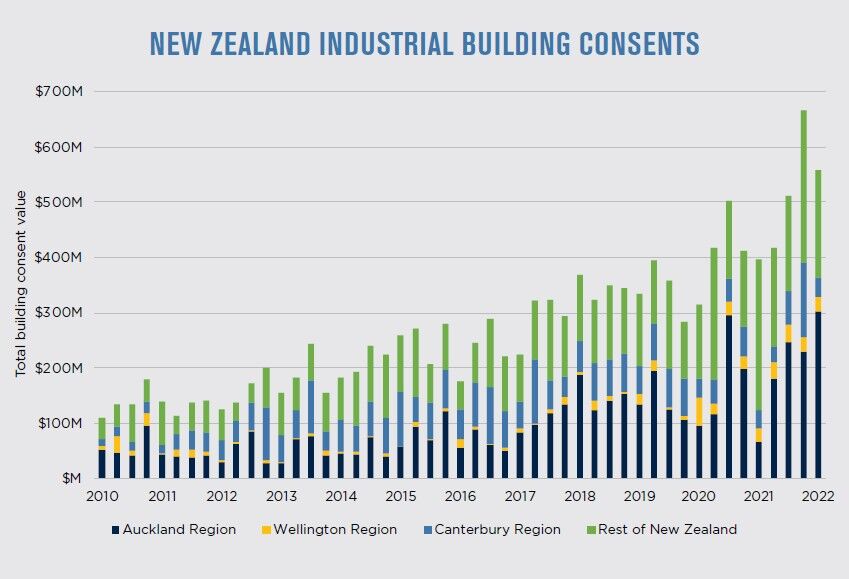 "Finding space in the established and proven industrial zones like Lower Hutt, Grenada and Porirua is 'needle in the haystack' stuff," he says.
"So tenants must minimise conditionality and be prepared to pay higher rents to be competitive in today's leasing market." Scott Campbell, Bayleys' national director industrial & logistics "Properties with scale are increasingly hard to secure, with established players in the market monopolising the big sites and locking in long-term leases."
As Wellington is geographically-constrained, Press says there simply isn't any land left to rezone for future industrial.
"With Transmission Gully now open and other major roading initiatives facilitating movement efficiencies around the region, new opportunities north of Wellington city will increasingly find traction.
"We'd expect to see many distribution and logistics-related businesses relocating or adding bases to their operation as far north as the Horowhenua where land is more readily available and at a cost-effective price point."
At the more modest end of the market, Press says SMEs have proven that there is a strong and ready market for 50-70sqm purpose-built units within new innovative industrial business parks around the region.