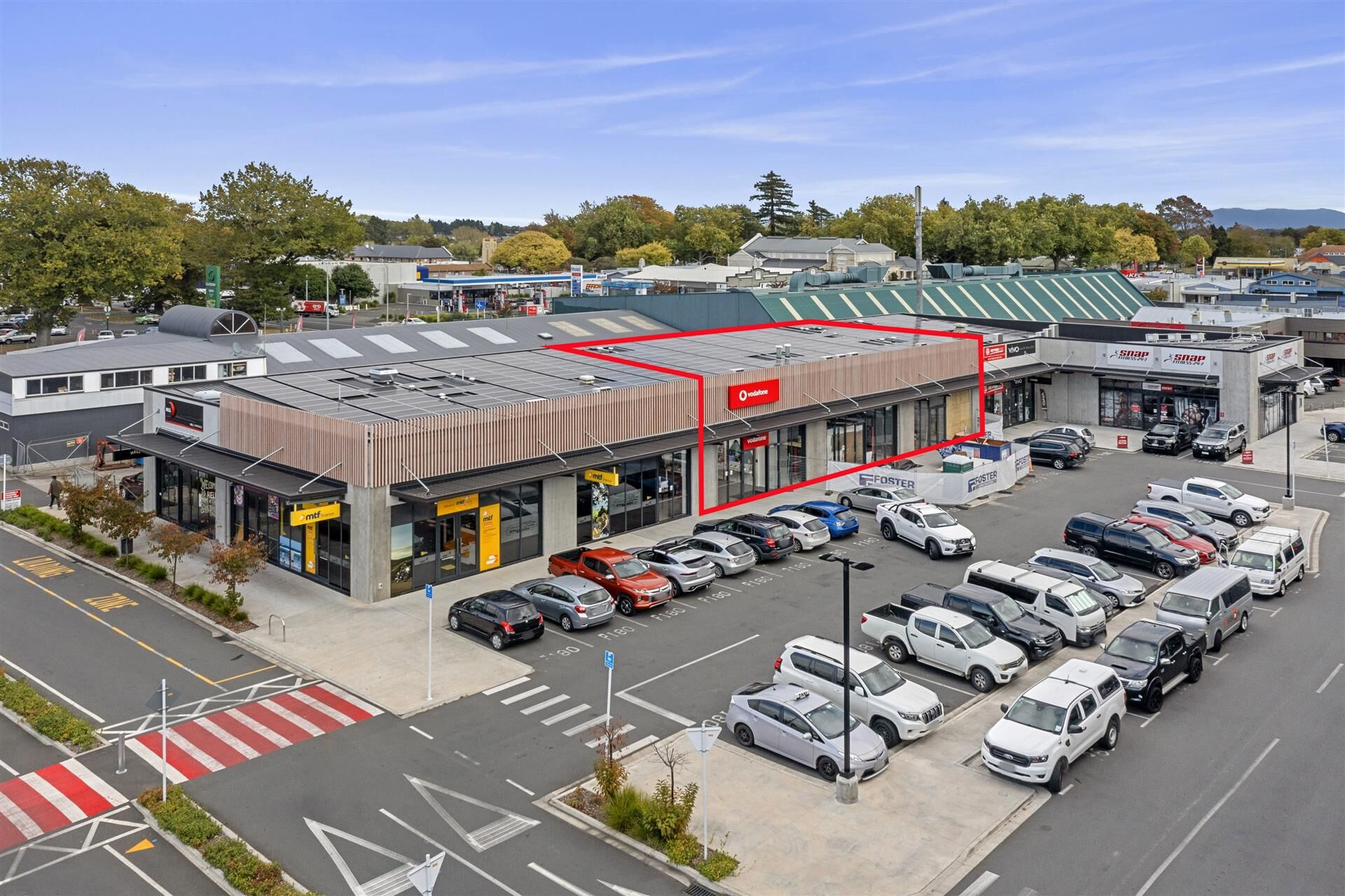 The newly-built property in the Cambridge retail and community services hub of Lakewood are jointly occupied by a Westpac New Zealand Regional Hub and retail branch opening next month, and by telco services provider Vodafone New Zealand.
The Westpac portion of the Lakewood tenancy will include a full suite of modern banking facilities including a 24-hour cash service lobby, interactive digital drop-in area for customers wanting to use a device to do their banking, a concierge space, multiple meeting rooms, boardroom, and staff amenities.
Meanwhile, the neighbouring Vodafone outlet at Lakewood will house the latest in its New Zealand network of retail outlets – offering an interactive, new-look retail experience.
The brand new 578-square metre premises has a new building standards rating of 100 percent, replicating other commercial premises within the Lakewood Cambridge mixed-use development containing a combination of new-build residential dwellings, and a substantial portion of commercial sites – expanding Cambridge's currently tightly-held town centre capacity.
In addition to the Vodafone and Westpac branches, commercial tenancies operating within Lakewood's commercial areas include early childhood education centre House of Wonder, Burger Fuel, Bay Audiology, Bayleys Real Estate, Coffee Club, Hell Pizza, Pita Pit, Habitual Fix, Vivo Hair Salon, Super Liquor, 24-hour gym Snap Fitness and the Hidden Lake Hotel. Surrounding development includes McDonald's, Countdown and a vehicle testing workshop VTNZ.
The freehold unit at 4/34B Lake Street in Cambridge is now being marketed for sale by auction on May 26 through Bayleys Hamilton. Salespeople Jordan Metcalfe, Rebecca Bruce, and Willem Brown said Westpac would occupy around 488 square metres of the premises for sale, with Vodafone taking the remaining approximately 90 square metres of space.
"The property at 4/34B Lake Street ticks all the boxes for passive property investors – comprising a modern, newly-built low-maintenance premises in a growth location, occupied by two prominent tenancies on favourable lease terms," said Bruce.
"The Lakewood mixed-use development aligns well with the town's traditional retail hub, and initially targeted operators who didn't have a presence in Cambridge and recognised that it is a strong growth area.
"In line with all properties within the Lakewood development, there has been great attention to detail at the construction level. Concurrently, the individual fit outs for the two corporate brands with unit 4/34B Lake Street will position them both well for the future from an operational and customer service perspective."
Combined, the leases to Vodafone and Westpac will generate annual rental of approximately $170,000 + GST, with both leases comprising built-in rental growth, along with rights of renewal.
The Lakewood Cambridge development has been built by well-known Waikato construction company Fosters on previously redundant historic railway yards located between the town's existing central business district and Lake Te Ko Utu.
The dynamics for the three-hectare Lakewood Cambridge mixed-use hub were scoped by economic demographics research firm Property Economics which conducted a comprehensive audit of Cambridge's existing retail and commercial property sector and identified what it labelled significant 'shopping leakage.'
Property Economics found that on average, 57 percent of Cambridge residents' total shopping spend went outside the town's 32,109 square metres of existing stores. It noted that the town was short of almost 10,000 square metres of retail space.
The research found there was pent-up demand for new retail services and amenities from the town's 20,000 residents. Its data predicted, pre-COVID-19, that the total retail expenditure of Cambridge's resident and visitor population was forecast to grow 34.7 percent between 2015 and 2033.
"Lakewood Cambridge was needed as the town's main street is heavily constrained by its geography and popularity, and with a population increase of more than 4,000 people expected by 2033, and 10,000 by 2050, there was little room for commercial expansion under current paradigms," Metcalfe said.
"As a mixed-use development, the developer's aim was to align Lakewood Cambridge with what was already working well in Cambridge town centre, and to more effectively connect with the lake. Each of the buildings reflect Cambridge's heritage, with different materials used on each block to reference various parts of the town's history."
Lakewood has on-site car parking for some 300 vehicles, with tree-lined shared walkways and cycle paths linking the precinct with both the adjacent Cambridge central business district running along Victoria Street, and the recreational public amenities of Lake Te Ko Utu.
The well-connected Cambridge venue is close to both State Highway 1 and the Waikato Expressway - being 18 minutes' drive to Hamilton Airport, and 25 minutes' drive to Hamilton.
Click here for more information on the listing.