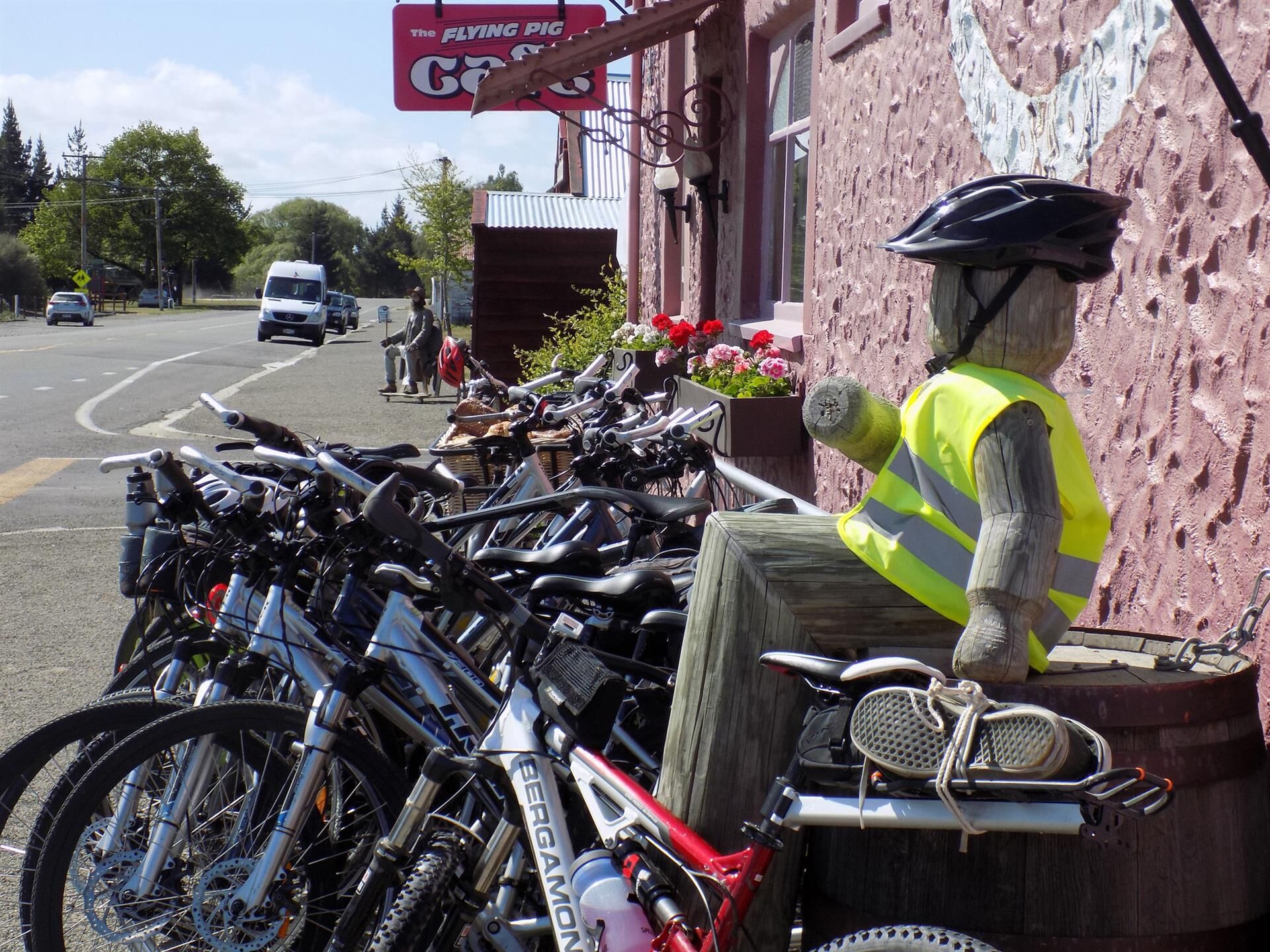 The Flying Pig Café in the North Otago/South Canterbury township of Duntroon was purchased in 2007 by two Aucklanders driving around the South Island on holiday.
The bright pink painted food and beverage business has performed well over the years, but was really in demand when the Alps 2 Ocean Cycle Trail opened in 2014.
The Alps 2 Ocean Cycle Trail (A2O Cycle Trail) stretches over 300 kilometres - from Aoraki/Mt Cook Village, through the Mackenzie Basin, down the Waitaki Valley, through Duntroon, and ending at Oamaru. The Alps 2 Ocean Cycle Trail is a mix of off-road tracks, purpose-built cycle trail, unsealed and sealed roads – with the route passing directly past the Flying Pig Café's front door.
The Flying Pig Café business ceased trading in early 2017 as one of its operators battled serious illness, and the café business has remained inactive since – it has been sincerely missed during that time.
Now the Flying Pig Cafe land, buildings and business assets at 23 – 27 Campbell Street are being marketed for sale by negotiation through Bayleys Canterbury. Hospitality sales specialist Kate Mullins said the business was being promoted as a 'dormant' turn-key trading opportunity with live-in accommodation. The Flying Pig Café premises sits on 2,484-square metres of freehold land.
Ms Mullins said the distinctive café building with its original wooden floors and high-stud ceiling is recognizable and memorable – and comes complete with the original open fire place which is still in working order.
"Since closing two years ago, the location has effectively been 'mothballed'. The current owner is residing at the premises and over this time both the interior and exterior have been regularly cleaned and maintained to a high standard - so there is minimal effort required to bring the property back up to a fully operational status," Ms Mullins said.
"When functioning at its peak, The Flying Pig Café business operated from Labour weekend in October through to Easter, and was licensed to serve 30 customers inside and an additional 25 patrons outside.
"A three-bedroom residential dwelling at the rear of the café was extensively refurbished in 2014 along with the installation of new electrical wiring, double-glazed windows, plumbing, and insultation."
Chattels and assets being sold with the property and Flying Pig Café include:
• A full commercial-grade kitchen with ovens, hobs, grillers, fryers, microwaves ovens, dish-washer/drying equipment, and extensive stainless steel benching
• A full complement of front of house foodservice equipment - encompassing refrigerated display cabinets, under-bar drink refrigeration cabinetry, barista coffee machine, cash register, tables, chairs, crockery and cutlery
• A landscaped outdoor dining courtyard with its own inventory of hand-crafted wooden slab-style tables and chairs
• An 80-square metre storage shed divided into three bays – each with its own doorway off the rear courtyard
• The modern three-bedroom owner/managers home and
• A commercial-grade ultra-violet water filtration unit which meets all of the Waitaki District Council's food safety requirements.
Ms Mullins said that with its prime position on Duntroon's main street, The Flying Pig Café was perfectly positioned to once again become a pillar of food and beverage operations servicing riders on the Alps 2 Ocean Cycle Trail and the many local and international tourists.
"The Alps 2 Ocean Cycle Trail is now firmly ensconced among the 'must do' list of New Zealand's leading cycle routes – ranking right up there with the Central Otago Rail Trail and the Central North Island Timber Trail," Ms Mullins said.
'In line with the growing number of cyclists participating in the four-to-five day trail, many of the small rural service towns along its route – such as Twizel, Omarama, Kurow and Duntroon have once again sprung back into life. It's like the region's second gold rush."
She anticipated that potential buyers for The Flying Pig Cafe would probably come from a hospitality background with some experience in running food and beverage operations, or like its previous operators, a couple wanting to escape the corporate 'rat race' of the big city and get back to the heartland of rural New Zealand running a lifestyle-based enterprise.
Some 30 minutes' drive inland from Oamaru, The Flying Pig Café was Duntroon's only true breakfast and lunch dining venue for the town's 140 or so residents as well as the free-wheeling Alps 2 Ocean Cycle Trail riders. The town's only other hospitality establishment is the Duntroon Hotel.
"There is further potential to extend The Flying Pig Café's operating hours to include evening meals to cater for the cyclists and visitors staying in the village overnight," Ms Mullins said.
The town's tourist attractions include the Vanished World Fossil Centre which is the heart of the Vanished World Trail for visitors wishing to explore the region's fossil heritage, a Wetlands area and walk and an historic working blacksmith's forge.