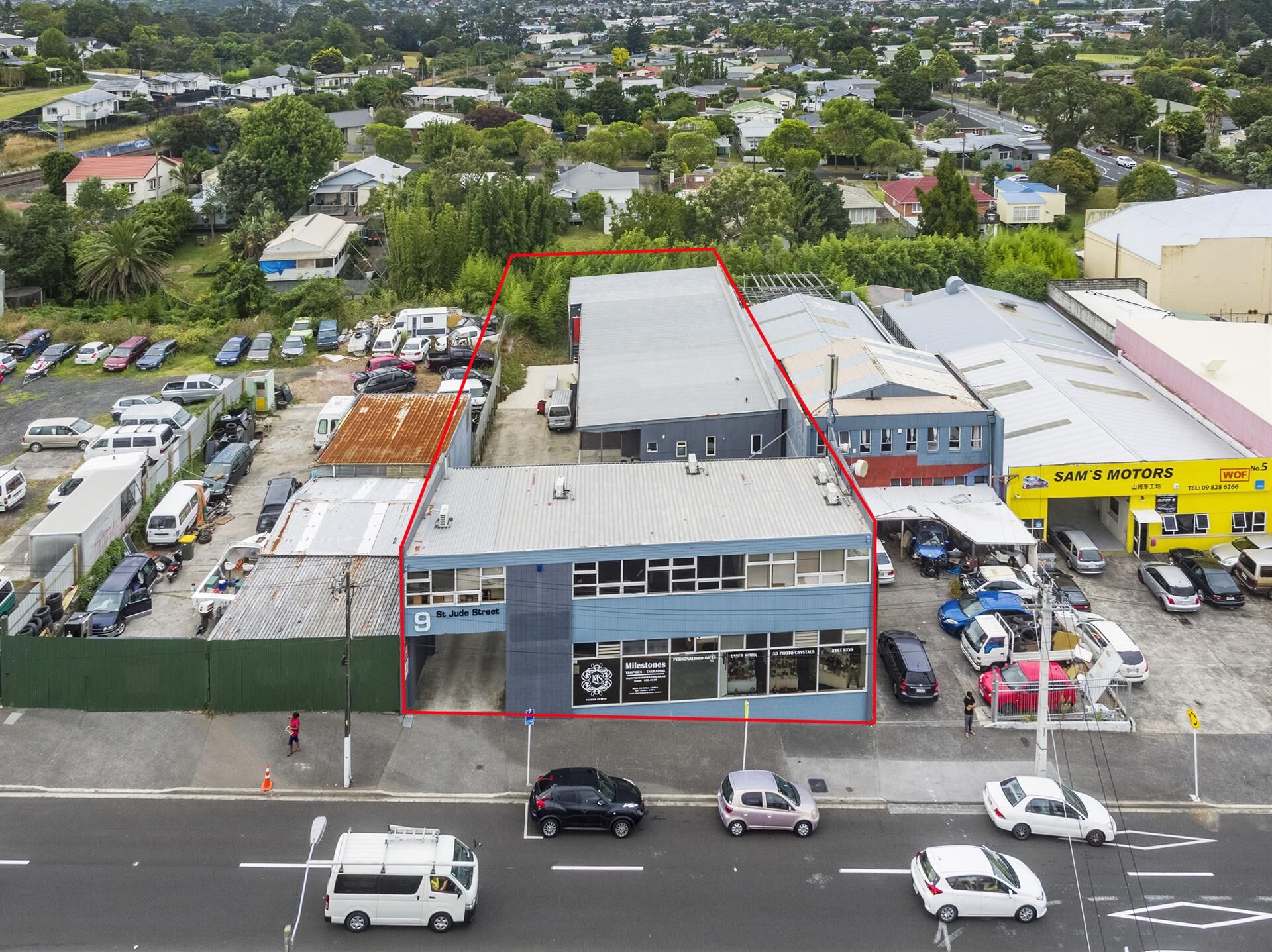 The property at 9 St Jude Street in the Auckland light-industrial and commercial hub of Avondale consists of two buildings sitting on 1104-square metres of freehold land zoned business mixed use under the Auckland Council plan. Both buildings were constructed in the mid-1960s.
The building at the street-fronting portion of the property is a two-storey concrete block structure originally designed for 104-square metres of showroom space on the lower level with 140-square metres of office area above and accessed by a stairwell.
Meanwhile, the building at the rear of the property comprises timber and steel truss framing between concrete block walls to present three open-plan warehouse and manufacturing areas combined into 360-square metres, with 36-square metres of basement storage.
In addition, a corner of the roof space on the front building is leased to mobile phone operator Two Degrees for hosting one of its network repeater masts. The property has on site car parking for 12 tenants' vehicles, with additional customer parking immediately in front of the property on St Jude Street.
The commercial four tenancy schedule for the property combines to create annual rental of $102,487 plus GST, and consists of:
• Corporate and function furniture hire company Arkade occupying the rear building on a lease running through until 2021, with one further three-year right of renewal, paying annual rental of $56,700 plus GST
• Specialist engraving and trophy retailing business Milestones occupying the retail portion of the front building on a lease running through until 2022, with one further two-year right of renewal, paying annual rental of $22,000 plus GST
• The offices of administrative support company Sysint Solutions occupying the upper level of the front building on a lease running through until 2021 paying annual rental of $15,840 plus GST and
• Telecommunications company Two Degrees on a six-year lease running through to the end of this year, with three further six-year rights of renewal, paying annual rental of $6,948 plus GST.
The land and buildings at 9 St Jude Street are now being marketed for sale at auction on 11am on April 10 through Bayleys Auckland. Salespeople Layne Harwood and Kate Kirby said the property catered to a range of buyer types - including those requiring a simple commercial investment, with tenants in place and providing the opportunity to secure longer-term tenancies through refurbishment as space became available.
"Alternatively, an owner occupier could take part of the property in due course, while a developer could plan for a mid-term development option for the completion of a mixed-use commercial and residential building over four levels," Mr Harwood said.
Auckland Council's Business – Mixed Use zoning allows for the construction of buildings up to 21 metres high.
"Each of the four tenancies operates independently of each other – ensuring a broad profile for any potential buyers looking at the property through an investment lens," Mr Harwood said.
"Within that configuration, there is opportunity to increase the efficiency of the office space portion in the future."
Ms Kirby said the open plan floorspace portion of the site's rear building reflected an air of corporate-chic for the tenant - with polished wooden floors and exposed steel and timber beams, while the adjoining storage space accessed from two separate roller doors sustained the business's stock storage and movement services.
She said the immediate neighbourhood around the St Jude Street property comprised a mix of automotive services companies, commercial and retail premises – mostly built in the 1950s – 1970s.
The St Jude Street property – which has a new building standards rating of 48 percent - is situated on the edge of Avondale's high street retail strip, and 200 metres from the suburb's rail link into the city.