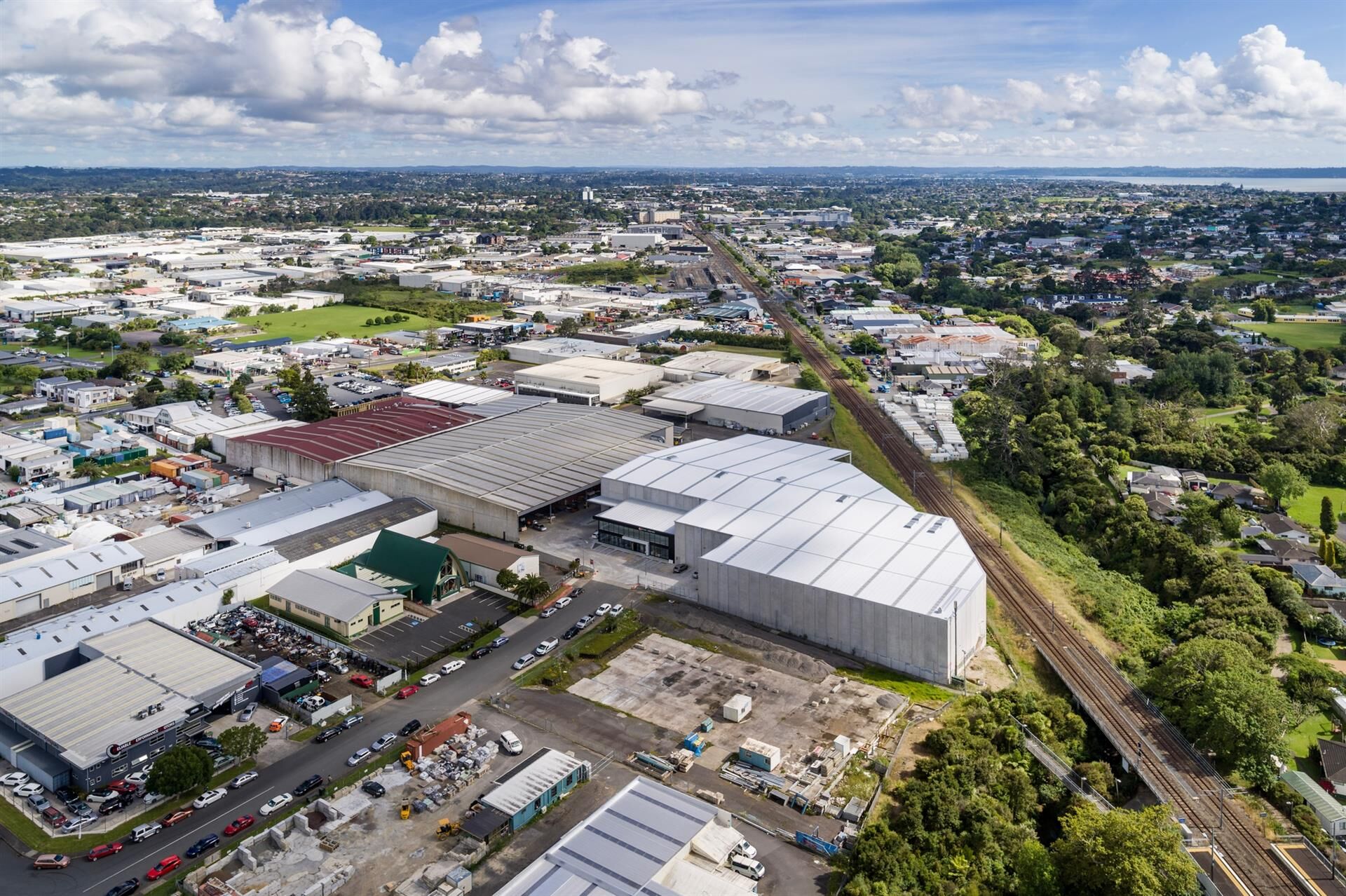 The vacant high-stud facilities for sale or lease in the Henderson industrial precinct offer a total floor area of more than a hectare, plus extensive canopies and a drive-through enclosed breezeway. The properties boast excellent access and associated office/showroom space.
They sit on two adjacent freehold titles offering a combined landholding of more than 1.7 hectares, zoned for a variety of light industrial activities. The site has previously been known as the home of vendor Kitchen Cabinets and Stones, a national manufacturer, supplier and installer of premium European kitset kitchens, cabinets and accessories.
Marketers from Bayleys Real Estate say offerings of this scale represent an "exceptionally rare" opportunity for immediate occupation by large owner-occupiers or tenants in an industrial market characterised by high demand and low vacancy.
"With a desirable overall warehouse ratio of 91 percent, stud heights of nine to 13.5 metres, and with one building benefitting from complete drive-around access, this is highly functional industrial real estate on a scale that is sure to attract the attention of nationally significant occupiers keen to secure one or both of these offerings," said Bayleys' Matt Mimmack.
The freehold properties at 8 and 9-11 Aetna Place, Henderson, Auckland, are being marketed for sale or lease, separately or together, by Mimmack and Bayleys colleagues Sunil Bhana and James Hill as sole agents.
They will be sold or leased by deadline private treaty closing on Thursday 9 March, unless sold or leased prior.
The nearly 8,400-square metre site at 8 Aetna Place contains a brand-new standalone facility of over 5,200 square metres which was completed by Calder Stewart in November 2022, with an A-plus seismic rating.
The building incorporates a more than 4,500-square metre clear-span warehouse with a stud height of 11.5 to 13.5 metres, along with some 700 square metres of high-quality showroom, offices and amenities over two levels at the road frontage.
Bhana said the warehouse was highly functional with exceptional accessibility thanks to seven roller doors, more than 2,000 square metres of enclosed breezeway and rear canopy providing shelter to a sealed yard, and complete drive-around access.
"The facility is constructed with reinforced concrete, steel framing with full-height tilt slab to the warehouse. It features long-run metal roofing with translucent panel inserts providing natural light, and steel beam lining.
"The property has air-conditioning and heat/smoke detectors throughout. On-site parking is available in front of the office block and to the rear canopy," said Bhana.
A telecommunications lease on part of 8 Aetna Place generates a gross income of approximately $9,200 per annum, including GST.
Located at 9-11 Aetna Place, the other freehold site of more than 8,700 square metres houses a more than 5,000-square metre, high-stud warehouse with two levels of basic office and amenities and a large canopy at the front of the building, along with a small rear storage yard.
The warehouse provides a stud height of 9 to 10.3 metres and the building's total floor area of over 5,300 square metres is supplemented by some 1,180 square metres of canopy.
Hill said this property was constructed circa 2007 with reinforced-concrete foundations and floors, steel portal framing and one central row of columns.
"The external cladding comprises full-height tilt slab and nib walls with vertical metal profile cladding. Long-run metal roofing with translucent panel inserts provides the interior with natural lighting.
"The air-conditioned office and amenity area contains lunchroom, kitchenette and bathroom facilities, while all warehouse, office and canopy areas are served by sprinklers. Parking for occupiers and clients is available at the front of the building," said Hill.
The property at 9-11 Aetna Place has a transformer for 750A and is currently running eight industrial machines within the warehouse.
Mimmack said the two properties were suitable for a range of potential buyers and users, including large owner-occupiers. Their scale, configuration and zoning made them particularly well suited as manufacturing and distribution facilities, he said.
Business – Light Industry zoning under Auckland's unitary plan supports a range of activities such as manufacturing, production, logistics, storage, transport and distribution, that do not generate objectionable odour, dust or noise.
"Surrounding commercial and industrial properties house businesses in fields ranging from automotive industries to logistics, food manufacturing, home and building supplies, packaging and storage," Mimmack said.
The properties for sale or lease lie about two kilometres from the Henderson town centre. Located around 13 kilometres to the west of Auckland's city centre, this is one of 10 growing metropolitan centres identified by city planners as focal points for urban development.
The town centre is rich in existing amenities including the Westfield WestCity shopping centre.