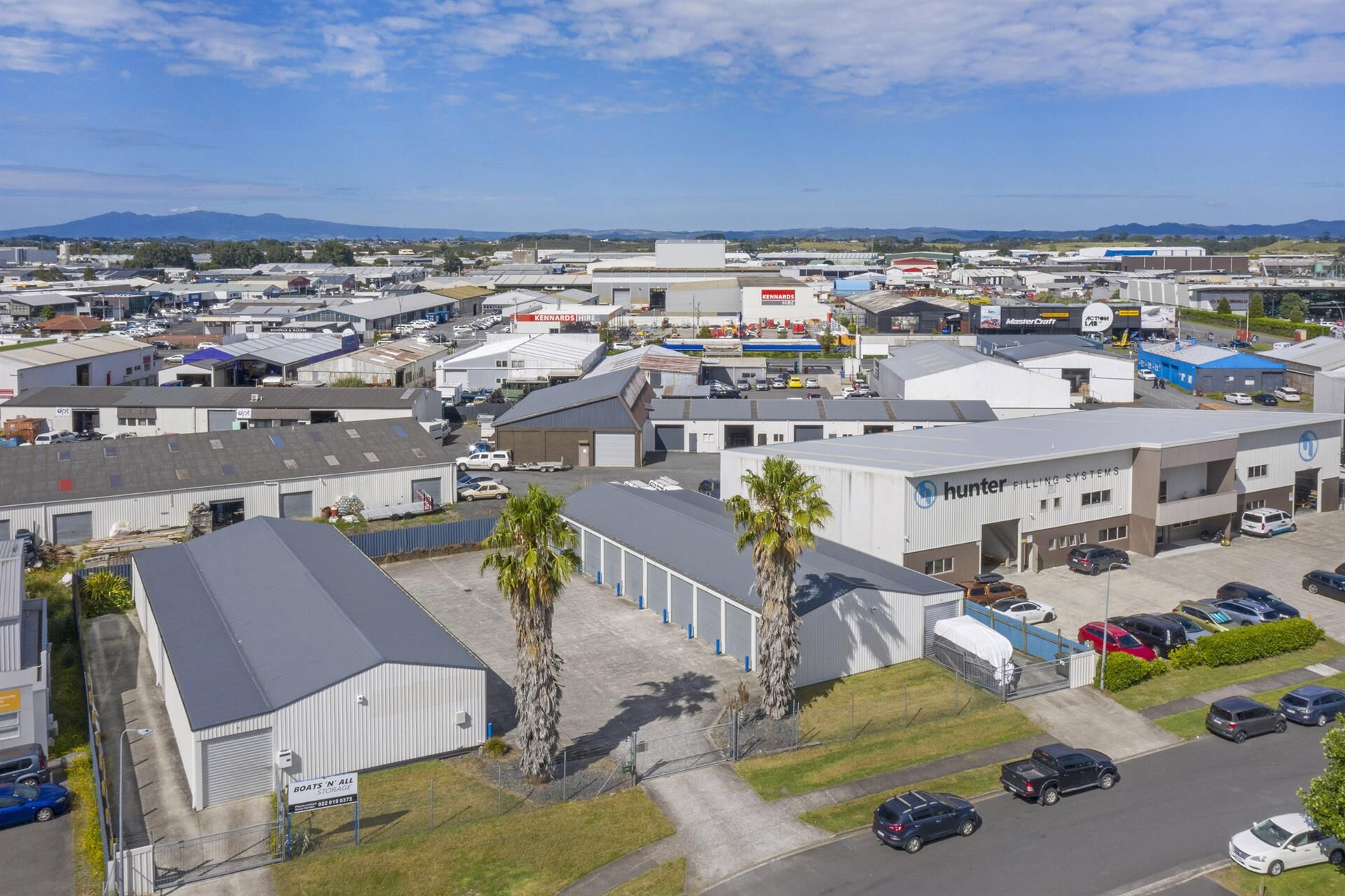 The 26-unit Boats 'N' All storage complex at 7 Maxwell Place is fully occupied and has a proven record of very low vacancies. The site currently generates a net return of approximately $86,000 plus GST per annum
A Self Storage Association of Australasia (SSAA) "State of the Industry" report last year pointed to resilience and record growth in the post-pandemic world, with changes in lifestyle, living spaces and severe weather events driving record demand for self-storage.
The report found changing patterns in how people are using self-storage, with increasing use by business reflecting the expansion in online retail and supply chain challenges.
These conditions have enabled strong growth. Increases in storage fee rates and occupancy, with facility occupancy averaging over 90 percent by area, have driven record performance in self-storage and this now exceeds that of many traditional asset classes, the SSAA report found.
The Boats 'N' All storage facility at 7 Maxwell Place, Te Rapa, Hamilton, is being marketed for sale by Jordan Metcalfe and Rebecca Bruce of Bayleys Hamilton.
Sale is by way of a tender closing on Thursday 9 March, unless it is sold prior.
Metcalfe said the property consisted of two buildings with a combined floor area of approximately 720 square metres on some 1,651 square metres of freehold land.
"Comprising 24 units of approximately 27 square metres and two of some 36 square metres, plus a yard space, Boats 'N' All is well placed to cater to the ever-expanding North Hamilton population.
"With electronic gate entry providing security and ease of access to the site, plus three-metre-high roller doors, the complex is designed to suit a range of storage requirements. This includes boats and vehicles and household goods, along with work-related items.
"With a manageable scale, little tenant turnover and modern construction and systems, the management input required is minimal, making this a relatively passive investment.
"Rarely do self-storage facilities of this desirable smaller scale come to market, let alone in the highly sought-after industrial and commercial precinct of Te Rapa," Metcalfe said.
Bruce said Te Rapa continued to experience strong growth and high occupier demand and this was expected to continue over the next couple of years with further population growth and improved freight flows.
The Te Rapa site forms part of the Industrial zone under the Hamilton district plan.
"Located among a variety of industrial businesses on a cul-de-sac off Vickery Street, the Boats 'N' All site is handy to main arterial routes. This enables easy access to Hamilton's central business district and across the city and the wider 'Golden Triangle' area linking Hamilton, Auckland and Tauranga," said Bruce.