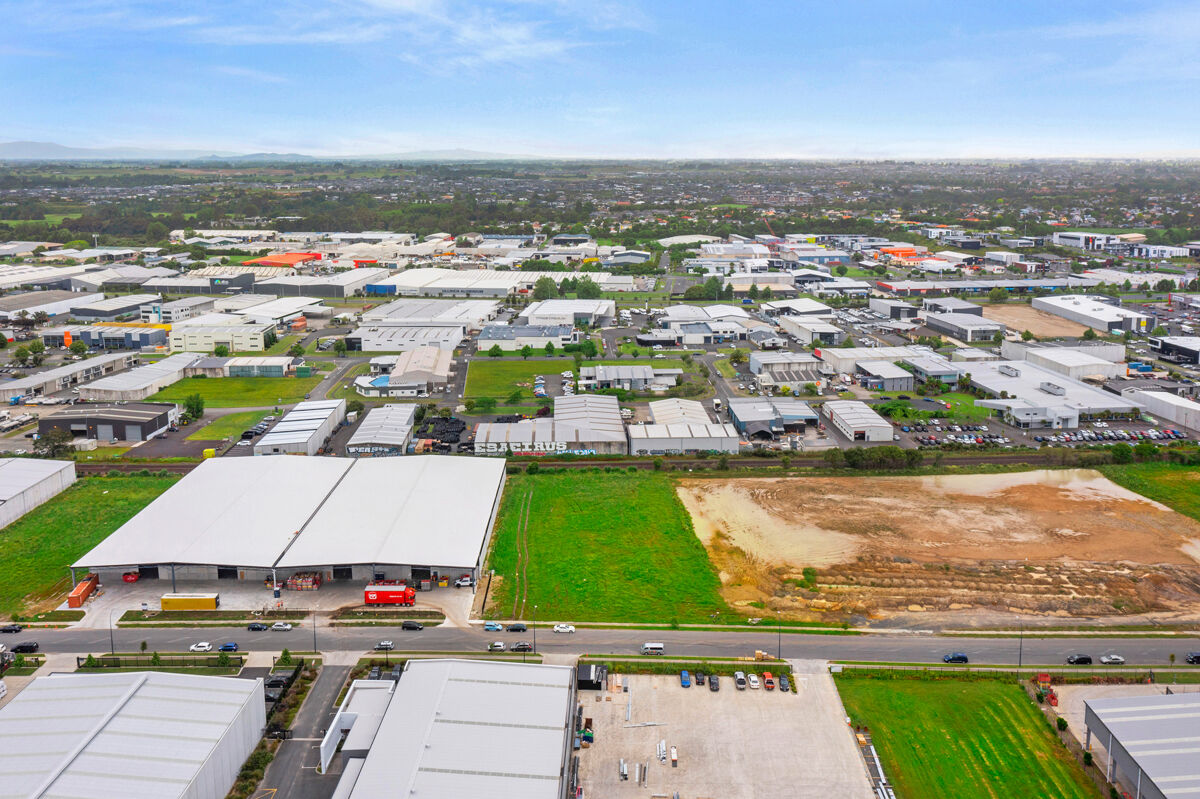 The approximately 5,000-square metre vacant industrial site on Earthmover Crescent, at the northern end of Te Rapa, Hamilton, is one of the last available sizeable lots of development land in an area known for its low vacancy rates.
Bayleys salesperson Jordan Metcalfe said the site's location within the Industrial zone under Hamilton's district plan supported a wide range of possibilities for future use.
"The breadth of the available options is embodied in the surrounding area by the likes of production and packaging facilities, through to construction premises, automotive, freight and transport operations, boat-builders, and engineers.
"The scale of the site for sale also makes it suitable to either construct one large building or to consider creating a multi-unit complex with diversified income from multiple occupiers.
"With demand for industrial premises in Hamilton and the greater Golden Triangle still extremely strong despite the economic uncertainty, this substantial vacant lot provides a range of options that owner-occupiers and investors/developers will be keen to explore," Metcalfe said.
The freehold site at Lot 18, Earthmover Crescent, Te Rapa, Hamilton, is being marketed for sale by Metcalfe along with Bayleys colleague Ben Bayley.
The property will go under the hammer at an auction on Thursday 9 March, unless it is sold prior.
Metcalfe said the offering consisted of some 5,000 square metres of vacant land on a single fee-simple title. The predominantly flat, rectangular site presents more than 50 metres of frontage to Earthmover Crescent.
"Located on the northern side of Hamilton's in-demand Te Rapa, arguably the most desirable industrial precinct in the Waikato, this property is surrounded by some of New Zealand's most successful businesses. These include Porter Group, Fliway Transport, Bidfresh and Mainfreight, to name just a few," said Metcalfe.
Bayley said the area was home to numerous high-quality modern industrial facilities, typically developed within the last two years.
"Te Rapa continues to see strong growth and high occupier demand, and that's expected to continue with further population growth and improved freight flows. With a number of sites having recently been snapped up, the available premises and sites for development are becoming more and more scarce.
"As such, future owner-occupiers or developers of the Earthmover Crescent site can have confidence in future property values underpinned by a lack of supply," he said.
Bayley said the site was surrounded by modern, well-appointed developments which reflected a 'flight to quality' taking place in the industrial property scene.
"This is seeing many larger companies moving to modern buildings which are more fit-for-purpose, with a higher quality and quantity of amenities than before – often in the form of a high-end office building attached to a warehouse. This is testament to the ongoing strong demand for, and success of, industrial property," Bayley said.
Te Rapa is also home to significant local amenities including food, supermarket, bank and service station facilities. It is also home to the massive The Base shopping centre, which offers 180-plus stores.
Earthmover Crescent enjoys easy access in and around Hamilton and out to the wider "Golden Triangle" linking Hamilton with Auckland and Tauranga.
The location offers convenient links to key road connections including State Highway 1C and the Waikato Expressway, with an expressway on-ramp just a few minutes away.
Click here for more information on the listing.