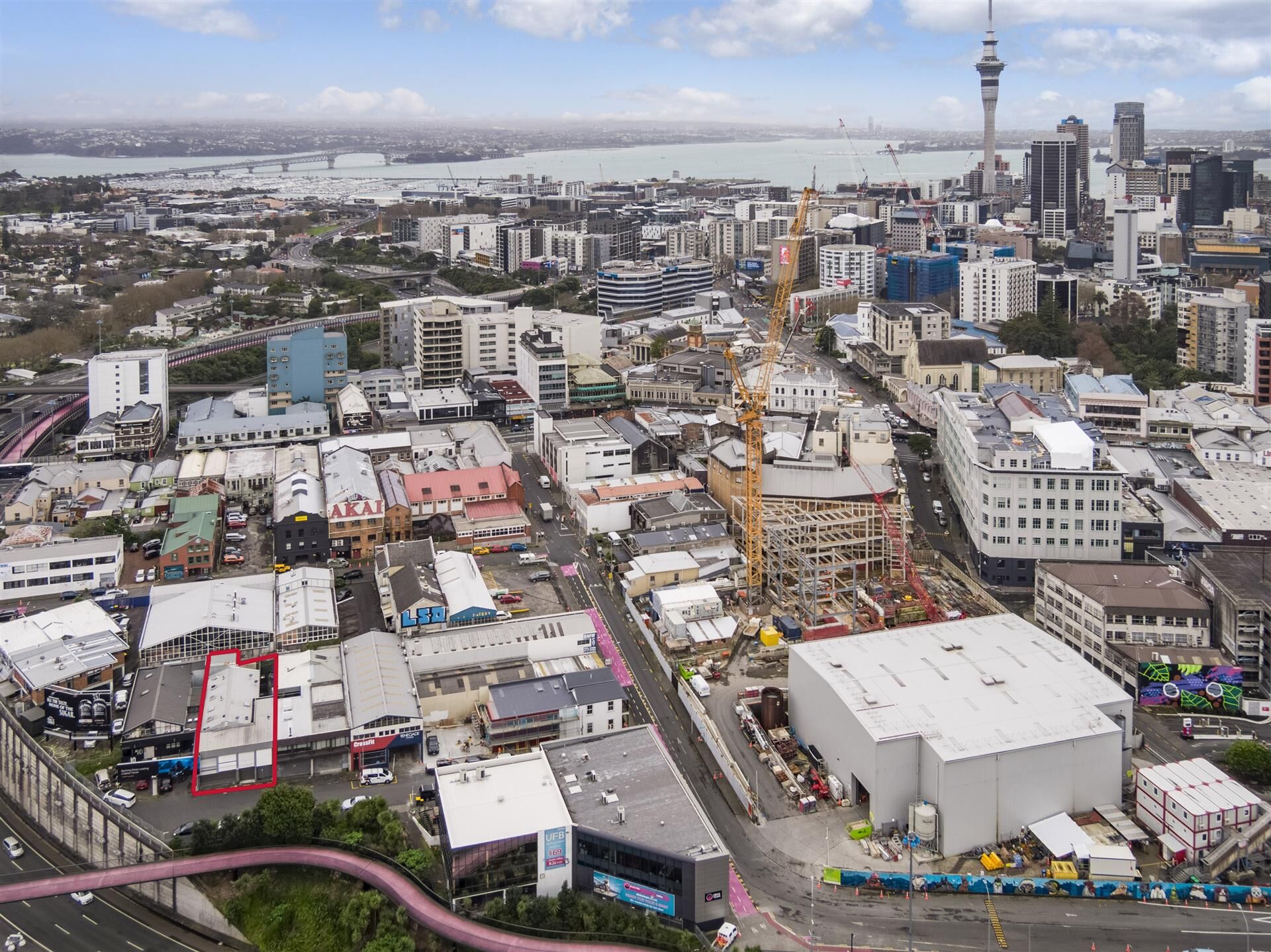 Originally built in the late 1900s as a commercial office block, the dual-storey rectangular-shaped property in the Auckland suburb of Newton was tastefully converted into residential use in the 2000s, and now contains nine apartments – comprising eight one-bedroom residences, and one two-bedroom apartment, all accessed by an electronic security door.
The single-bedroom apartments range in size from 19-square metres up to 33-square metres, while the two-bedroom unit is 58-square metres. The property has a combined floor space of 282-square metres – including a shared communal courtyard recreational area – and comes with three allocated car parks in a secure garage behind roller doors.
The one-bedroom units are rented for between $270-$390 per week, depending on their size, while the two-bedroom unit generates a weekly return of $445. The tenancies are on a mix of rolling periodic terms, with others expiring later this year, and others expiring next year.
The Karangahape Road Central Rail Link station currently under construction is located just a few hundred metres from the property's front door, while access to the landmark purple-coloured Central Auckland cycle trail – known as The Lightpath – is also just a few hundred metres away.
The apartment complex on an elevated site at 8 South Street in Newton is now being marketed for sale at auction on September 28 through Bayleys Auckland. Salespeople Paul Dixon and Layne Harwood said the inner-city apartment block would appeal to a wide range of buyers looking to acquire a residential property asset.
"This is a 'must view' property for both residential and commercial property investors looking for a split-risk asset which could be run in its current format or could be repurposed as a short-stay accommodation option for those visiting the city," said Dixon.
"The property's location just off Karangahape Road - as one of Auckland's foremost entertainment and hospitality hubs with dozens of bars, eateries, and music venues - is a prime attraction for those seeking to truly embrace the city's cultural scene," he added.
"The apartments within 8 South Street offer a cost-effective living alternative to the bigger and more salubrious residences seen along the Karangahape Road ridgeline. As a dead-end street predominantly tenanted by small commercial tenants operating along nine-to-five formats, there is minimal traffic flow outside the address – which gives its residents a degree of calm among the hustle and bustle of its surrounding environment.
"The nine separate unit titles are being sold as one entity – giving any new owner the opportunity of retaining the investment intact or selling off any number of the units individually in the future.
"Alternatively, the property could also appeal to social housing providers looking for a location that delivers easy access to the neighbourhood retail amenities along Karangahape Road just a few hundred metres away, along with the availability of public transport from bus services."
Harwood said that with domestic tourism once again thriving in Auckland following a recovery from Covid-19 travel restrictions, there was also the option for a new owner to convert the units into short-term accommodation.
Sitting on some 355-square metres of freehold land, the location is zoned Business – City Centre under the Auckland Council plan. The land use classification allows for potential intense development of the site.
"The city centre zoning plays a pivotal role in Auckland's future urban evolution – ensuring the city centre remains an international hub for business, learning, entertainment, culture and inner-city urban living. To maintain and enhance the vibrancy of the city centre, the zone permits a wide range of activities," he said.
"The zoning underpins the ability to create buildings maximising height and floor areas, while simultaneously protecting special character areas, sunlight flow to public spaces, along with views of the city's volcanic cones and other landmarks."