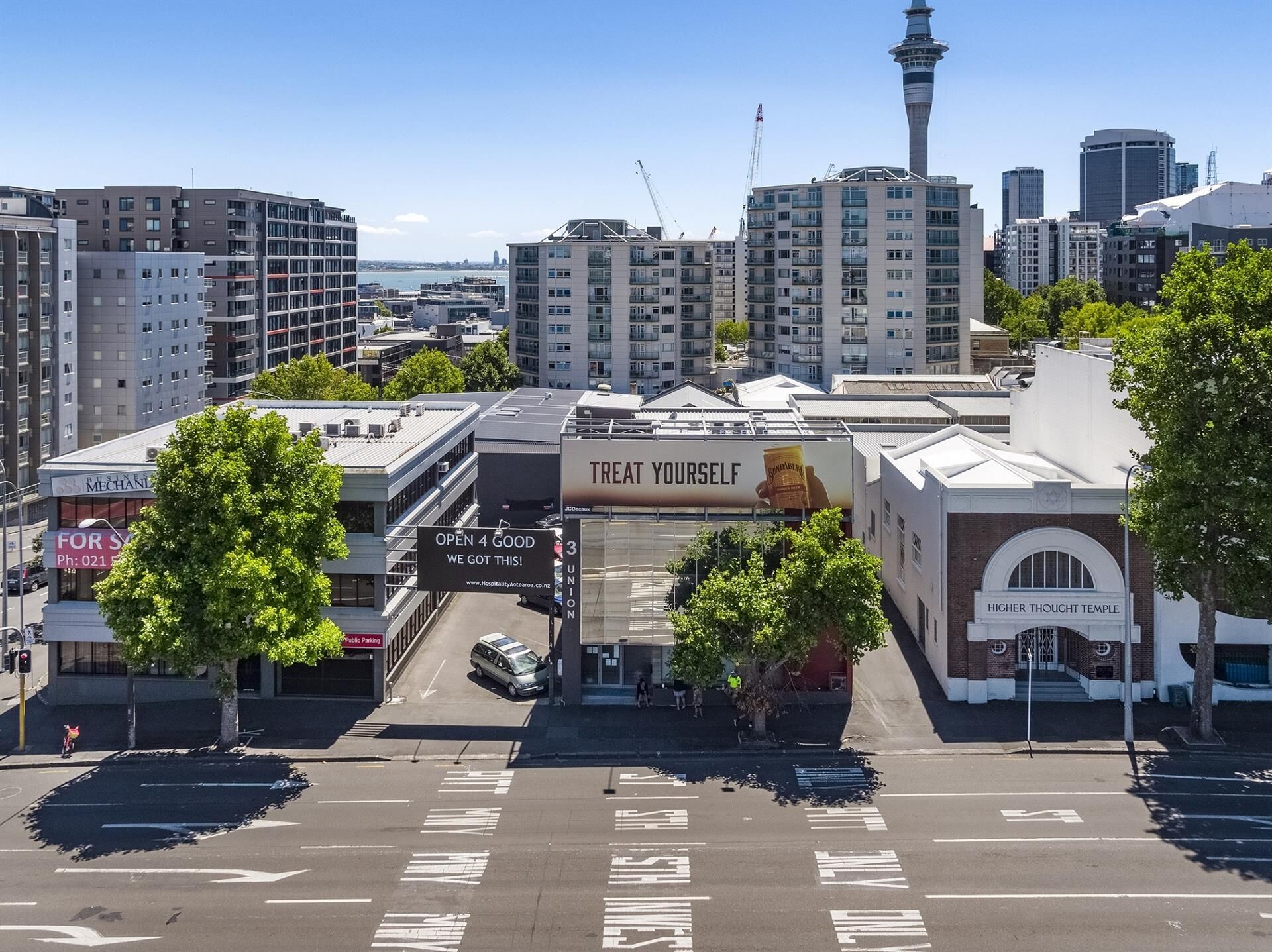 Occupying a 253sqm site at 3 Union Street, the freehold standalone Union Apartments building presents as a modern and functional accommodation offering with a mix of 17 studio and one-bedroom apartments over three levels, with its favourable existing lease credentials underpinned by the strategic location, and further future-proofed by the escalating demand for affordable housing options.
The former 1980s commercial office building was reconfigured to apartment living in 2013 with modern services installed throughout and assessed as being at 100 percent new building standard.
Prior to the current lease arrangement, Union Apartments was a private accommodation complex with individual residential leases.
Agents said the property offers a solid hands-off investment opportunity, currently returning a passing net total rental of $332,823 + GST per annum which includes a profit-share leasing arrangement for a large static billboard on the top of the building.
The Government lease returning $306,918 per annum has built-in annual rental growth, along with three, three-year exercisable rights-of-renewal.
Cameron Melhuish and Brad Ross, Bayleys Central Auckland are marketing the Union Apartments, with the property being sold by tender closing 4pm, Thursday 17th March, unless sold prior.
"The property has Business – City Centre Zoning, an A-grade seismic rating and would make a well-performing passive addition to a commercial portfolio," said Melhuish.
"It would be exceedingly hard to replicate this offering in the current market, given the absence of suitable development land in the central city, the escalating costs of construction, and supply chain challenges.
"The facility works well for the Government entity given the demand for accommodation and the central location.
"While the medium-term surety of the existing lease, which has just under four years left to run, is appealing, the property would equally have traction under other leasing models."
On the ground floor there is one studio unit configured for disabled resident accommodation, a laundry area and six covered and secure car parks accessed from Warimu Place, a lane which runs along one side of the building.
Levels 1 and 2 have a largely identical configuration with each level supporting seven studio units and a one-bedroom unit.
The studios comprise open plan bedroom, kitchenette and living area with separate bathroom, while the larger one-bedroom units have separate bedrooms.
Further improvements include a modern security access system throughout the premises, security camera system, heating, internet, and mailboxes at the foyer.
All units have hot water cylinders and each floor is a separate fire cell, with further protection provided by heat detectors and a fire sprinkler system.
There is an open rooftop balcony of around 60.92sqm providing a communal recreation area for residents. This area is partially-screened and sheltered from the building frontage by the steel-framed 36sqm billboard fronting Union Street, leased by APN Outdoor.
"There is potential to optimise this high-exposure advertising site, which is arguably undervalued with the use of a static billboard which has profile to 10 million cars annually particularly from the Nelson Street motorway off-ramp," explained Melhuish.
"A nearby digital billboard commands upwards of $220,000 rental per year and with the out-of-home advertising market growing, there could be opportunity to explore options here."
Melhuish said he'd describe the Union Apartments investment opportunity as "rare" in the current marketplace and one where a new owner could effectively sit back and enjoy the cashflow.
"Backing the offering up is the pivotal city location in a part of the city which has – and is still – seeing significant public and private sector investment, revitalisation and infrastructural improvement.
"The Union Street property is located within walking distance to both the Aotea and Karangahape stations which will be key portals for the new City Rail Link.
"Nearby, Skycity's $700 million development pipeline includes a flagship convention centre and a brand new 5-star hotel nearby down Hobson Street."
The City Works Depot, Viaduct Harbour, Auckland Town Hall, Victoria Quarter Precinct, and Karangahape Road are easily accessible from the property.