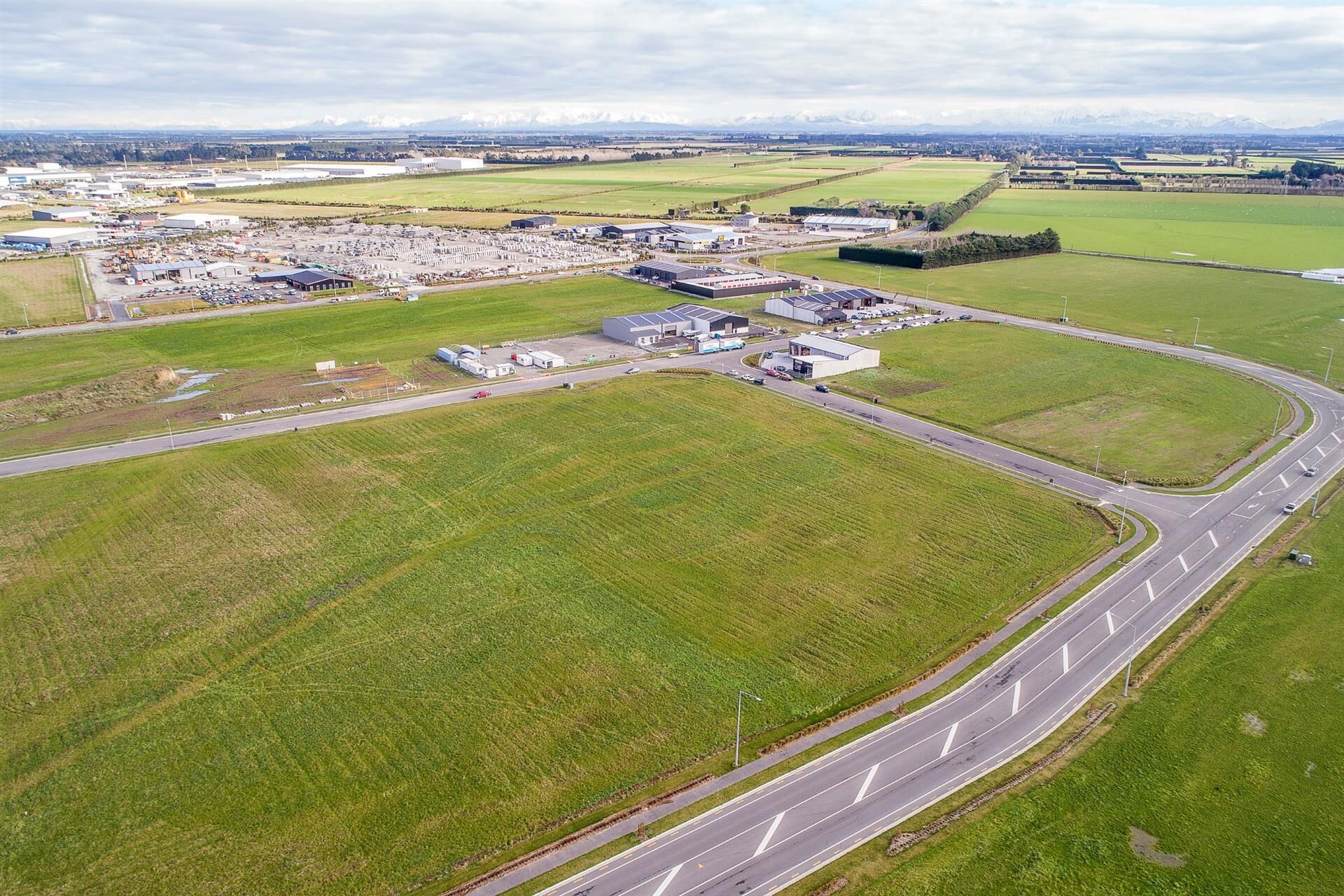 The sites for sale at the $500 million IPORT Business Park range in size from 1,150 square metres to 2,160 square metres on land which is classified as permissive industrial under the Selwyn District Plan.
The 122-hectare IPORT Business Park is located close to the inland port of Lyttelton - which is now home to a multitude of freight and logistics firms operating from substantial warehousing complexes. The hub is located some 28 kilometres from central Christchurch.
IPORT was founded on the sale of 27 hectares to Lyttelton Port of Christchurch to build its inland freight and logistics hub – MidlandPort – which also links directly to rail.
The IPORT Business Park sections within Stage 12 of the precinct at Hoskyns Road are now being marketed for sale by negotiation through Bayleys Canterbury. Salesperson Nick O'Styke said all sites were serviced by an established roading network, with utility services in place and ready to connect.
"Rolleston is now the key transport hub for not only Canterbury, but also the whole of the South Island. Currently 92 percent of Canterbury's regional exports go through Rolleston," said O'Styke.
"The $360 million Southern Arterial Motorway Stage 2 - funded by the New Zealand Transport Authority (NZTA) and identified as a roading project of national significance - has reduced the travel time from Rolleston to Christchurch CBD from 30 minutes to 15 minutes.
"IPORT is at the centre of this economic growth and is strategically positioned at the intersection of the South Island's major freight movement arteries – the South Island Main Trunk Railway Line, the Midland Railway Line, State Highway 1 and the Southern Motorway.
"These arterial routes provide easy access to both Lyttelton Port and Christchurch Airport – the major freight links into and out of the region."
O'Styke said the various sections for sale within Stage 12 of IPORT would be suitable for sustaining anything from a multi-tenanted tradie style development containing several terraced-style warehousing units of up to 450 square metres, through to substantial manufacturing factories or warehousing premises of more than 2,000 square metres – with the potential for buyers to purchase adjoining sites to sustain much bigger footprints.
He said that in addition to offering 'blank canvas' development opportunities to suit all sectors of the market, there were also multiple benefits associated with greenfield land for sale at IPORT.
"First up, all development contributions have been prepaid by IPORT, and there are no building ties to any particular construction company," he said.
"Secondly, Selwyn District Council has been extremely supportive of growth within the hub, and its catchment area, and has initiated lower rates for land within the locale.
"Thirdly, good geo-technical conditions on the actual flat land will result in lower construction costs for any projects being undertaken, while there is no maximum site coverage within any of the sites.
"And finally, the permissive industrial zoning allows for realistic noise standards to be applicable for any tenancies within the hub – with the ability to operate 24/7 with no restrictions on the generation of traffic movements."
O'Styke said that while the land was primarily being sold in various sized portions, the vendor/owner would also look at potential design/build/lease options from purchasers.
The marketing of blocks within Stage 12 of IPORT comes as O'Styke has recently completed the total sell-down of industrial sites at a nearby future industrial hub called Tawhiri – located adjacent to the Izone Southern Business Hub on Hoskyns Road. Site sizes within Tawhiri ranged from approximately 1,000 square metres up to almost 2.8 hectares, and sold for around $165 per square metre.
"The sale of the Tawhiri industrial development lots exemplifies that investors, owner-occupiers, and tenants, are hungry for land in an area with long-term growth prospects underpinned by broad regional economic activity across multiple business sectors," he said.
"Owner/developer Ngāi Tahu Property was strategic about securing industrial development land, recognising that it's the strongest performing segment of the wider commercial property market, and wishing to support Canterbury's logistics, manufacturing and agri-business sectors."
Expanding infrastructure within IPORT, the New Zealand Transport Agency is now overseeing the planned construction of a two-lane overbridge over the State Highway which will directly link IPORT to Rolleston township. Construction of the $60 million roading project is scheduled to commence in 2023 and be completed within 18 months.
The new overbridge passing over the railway line will also be accessible for pedestrians and cyclists - improving the safety and avoiding the existing road level crossing on Hoskyns Road. Pre-pandemic, Rolleston had the highest population and economic growth in New Zealand over the 10 years from 2009 to 2019.