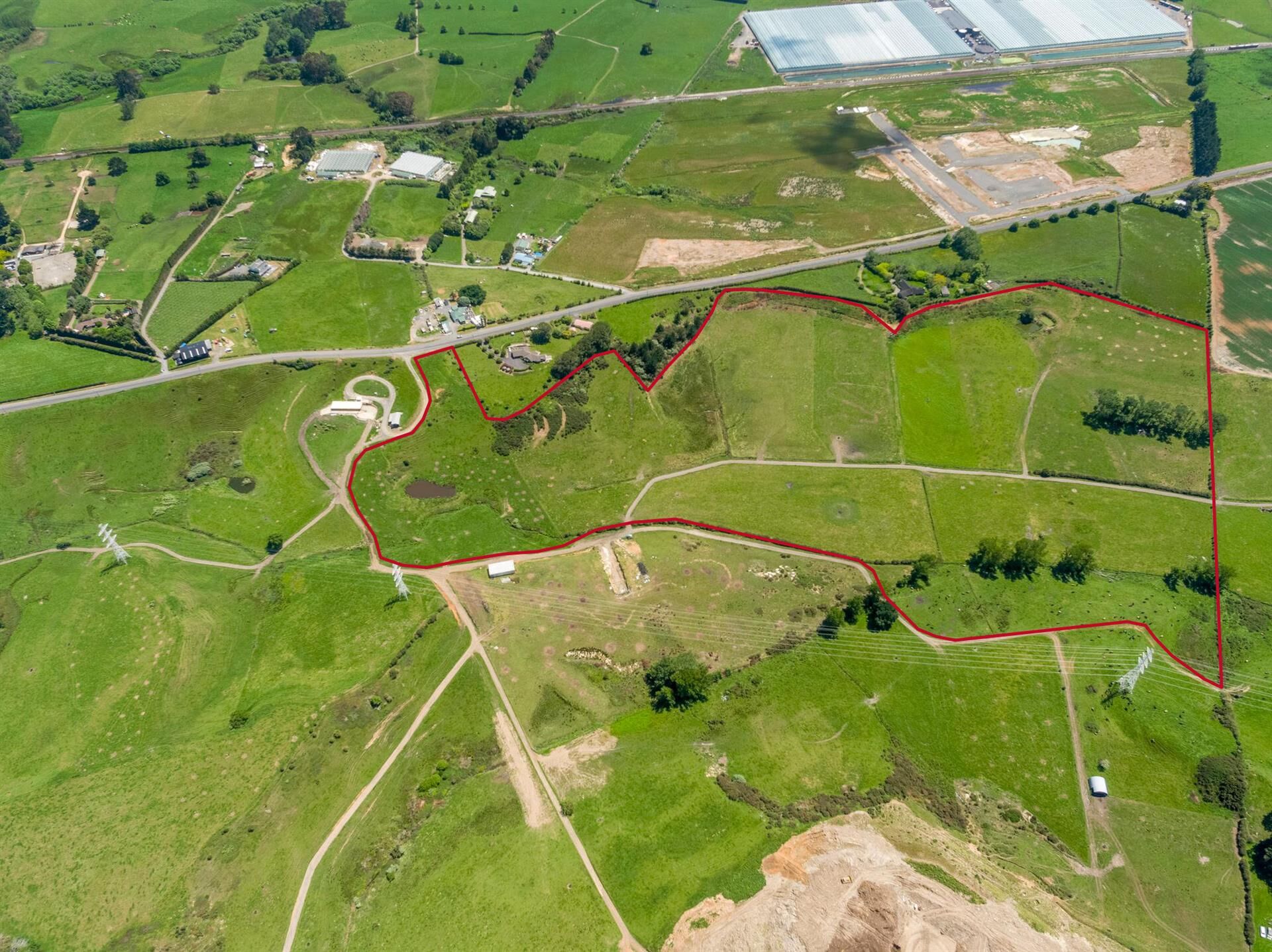 As the private and public development sector attempts to play catch up on the well-documented housing shortage in Auckland, well-resourced investors and developers remain intent on securing favourably-zoned land in the region with a view to development down the track.
The landholding in Burtt Road, Drury is tipped to pique the interest of forward-thinking buyers who only need to look at surrounding projects for confidence.
Directly across the road is the new Year 7-13 Catholic secondary school, St Ignatius of Loyola Catholic College, scheduled to open in 2024, while significant residential development has found traction nearby.
The landholding for sale with Bayleys comprises 25 hectares of Future Urban-zoned land and 105 hectares zoned Mixed Rural, held in multiple titles.
Initial work has been done to create a new title of 18.59 hectares, zoned Future Urban and subject to boundary realignment, which would leave the remaining titles as an operational farm.
The land for sale has been in the vendors' family for many years, and the Council's rezoning of around 20 percent of the property has paved the way for them to release some capital and commence an exit strategy through divestment, said agents.
If a buyer was interested in just the Future Urban-zoned portion, the balance would remain an intergenerational legacy property for the family at this stage.
Ben Bayley, Chris Bayley and Stefni Baigent, Bayleys South Auckland are handling the sale of the Drury land and are calling for buyer interest by way of Deadline Sale, closing 4pm Thursday 17th March.
Ben Bayley said with the current pipeline of residential new builds in the region "barely touching the sides", the greenfield land's appeal – starting with the to-be subdivided portion with its future residential potential – runs deep.
"We're expecting robust enquiry on this offering, remembering that Future Urban is a transitional zoning, with rural use only until such time as formal rezoning has occurred," he explained.
"The identified Future Urban portion of land currently plays an active part in a larger dairying operation, with the vendor involved in the running of that.
"A new owner wishing to remain hands-off could employ a manager to oversee the dairying interface until such time as the proposed new zoning overlay is activated."
Bayley said the timeframe for the Future Urban zoning to come into force has not been determined, but with other residential developments in the Drury-Pukekohe vicinity finding a willing market, the land's urbanisation potential would seem inevitable.
"Well-located land with scale, and with potential future urban redevelopment overlay, is hard to find anywhere in the Auckland region," said Bayley.
"The subject land in Burtt Road is in a high growth area and has good road frontage, with the additional benefit of the possible development of Sim Road to be a main arterial route.
"Nearby, there are major new housing developments with Paerata Rise to support 4,500 houses, and the Auranga development in Bremner Road creating around 1,000 homes.
"Other residential developments are also underway or planned for Glenbrook, Glenbrook Beach, Patumahoe, Waiau Pa, and Pukekohe."
Dubbed the region's southern growth area, with the population forecast to grow 82 percent to 353,000 in the next 20 years, Drury is no longer an outlier of the super city.
"The subject land is around 40 kilometres from Auckland's CBD, around 20 minutes from Manukau city, 15 minutes from Papakura town centre and railway station, with easy access to State Highway 1 at the Drury interchange," said Bayley.
"A proposed new railway station for the southern line will be located around 500 metres away – adjacent to the planned eastern extent of the Paerata Rise development – and surrounding areas have been targeted for significant projected growth – both commercially and residentially."
"There are also several transport infrastructural projects that would further underpin the viability of this land for future redevelopment."
Stevenson Group's 361-hectare master-planned development Drury South Crossing is coming together, with a new town centre and a focus on the logistics, manufacturing, distribution, wider industrial and commercial sectors.
Meanwhile, Kiwi Properties, Fulton Hogan and Oyster Capital are progressing with plans for a proposed mixed-use project adjacent to the southern motorway at Drury.