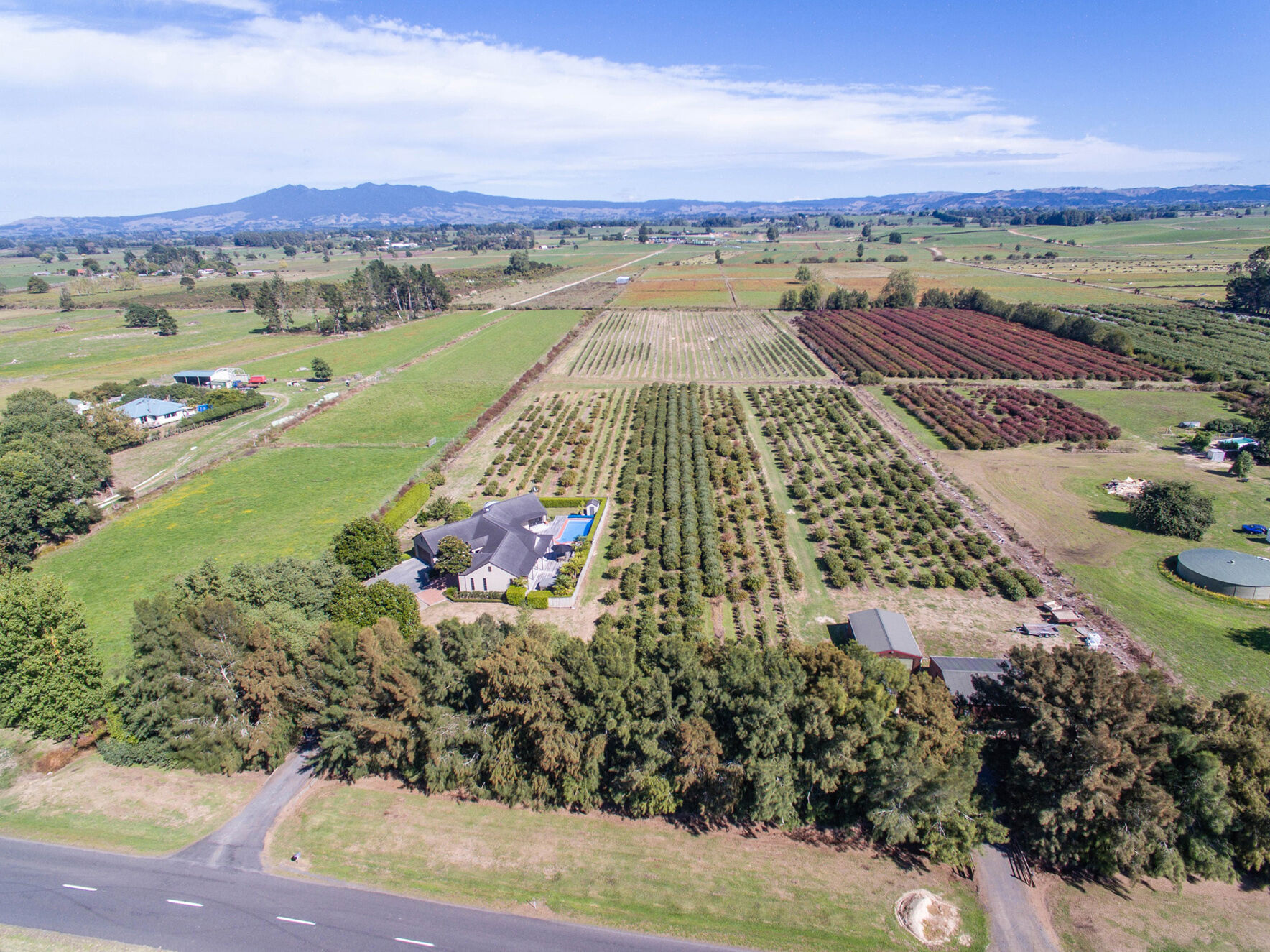 The portfolio encompasses three separate properties in the Central Waikato areas of Rukuhia and Cambridge – the hub of blueberry production in New Zealand. Some 80 percent of New Zealand's blueberry crop is grown in the Waikato region, with its nutrient-rich peat-based soils.
All three sites are being marketed for sale at consecutive auctions taking place at 11am on May 23 through Bayleys Hamilton. Bayleys Hamilton salespeople Aaron Paterson and Scott Macdonald said the domino-style auction would allow the properties to be bought as one substantial productive operation – or individually by existing growers in the region looking to expand their blueberry businesses.
"Each property brings something different to the combined portfolio. One is the 'engine room' of the business - with crop and substantial fruit processing plant and infrastructure, one is the 'home' block with the owner's homestead and blueberry plantings, and one is purely crop plantings under netting," Mr Macdonald said.
"As a combined entity, these three units still have a lot of development opportunity through new blueberry varieties and production increases."
At the nucleus of the operation being marketed for sale is a 3.97-hectare property which encompasses 1.2 hectares planted in crop, adjacent to supporting infrastructure of:
• A 207 square metre commercial-grade packhouse
• A 53 square metre insulated cool store
• Some 54 square metres of staffroom amenities accessed via double garage doors
• An enclosed 77 square metre concrete floored three-bay storage shed, and interconnecting 43 square metre high-stud open fourth bay.
Harvest records show the property at 390 O'Regan Road in Rukuhia produced 4,894 kilogrammes from a range of blueberries varieties, in the just completed 2019 season which ran from December to March.
"Several currently unproductive areas within the property are earmarked for future planting - with the land currently being developed to sustain an increase in productivity. Forecasts are that land improvement and plantings on the underutilised portion of the property could vastly increase output," Mr Macdonald said.
"The crop tonnage could be further increased should the new plantings, including Centra Blue, Sky Blue and Veluto, which produce a heavier-yielding crop than traditional clones."
The Rukuhia orchard is irrigated from bore-supplied water stored in four
30,000-litre tanks. A frost prevention system featuring overhead sprinklers run across the crop which is planted in a near-rectangular land block with a protective shelterbelt hedgerow running down two sides.
Plant and machinery associated with the 390 O'Regan Road property being marketed for sale include a harvester, processing conveyor belt, weighing scales, picking trays and containers.
Just a few hundred metres away is a sister 4.12-hectare property which produced 9,067 kilogrammes of fruit this season from plantings of Sky Blue, Eureka, First Blush and Centra Blue blueberry varieties.
The property at 460 O'Regan Road in Rukuhia contains a modern 278 square metre four-bedroom/three-bathroom single level dwelling built in 2005. The homestead also has a heated swimming pool and spa pool adjacent to an expansive outdoor entertaining space.
Orchard management infrastructure on the property consists of a 112 square metre concrete floor storage shed and a neighbouring 54 square metre open-plan workshop accessible through double garage doors.
Among the plant and equipment included in the real estate listing are a delivery truck, tractor, commercial-grade ride-on mower, and a full inventory of vegetation maintenance machinery.
Rounding out the portfolio of orchards is 4.54-hectare plantation at 3200 Cambridge Road at Cambridge, which harvested more than 25,000 kilogrammes of Rahi, Maru, Harrisons, Powder Blue, Sky Blue, Eureka, and First Blush blueberries last season. The entire crop is planted under a netting canopy which stretches across virtually all of the available land.
The 69-row orchard is irrigated by water supplied from a neighbouring property and stored on-site in four large tanks. Crop maintenance equipment is stowed in a small storage shed and a 20-foot container, with a graveled race running through the spine of the plantings to enable both easy plant maintenance throughout the year, and efficient harvesting in the picking season.
Mr Paterson said blueberry plantings across the three properties varied in age – raising the prospect that some of the older varieties could be uprooted and replaced with younger stock.
"By cropping multiple varieties of blueberries, the orchard business ensures a 'conveyor belt' of ripening periods throughout the growing season - rather than having all stock maturing for harvest at the same time," Mr Paterson said.