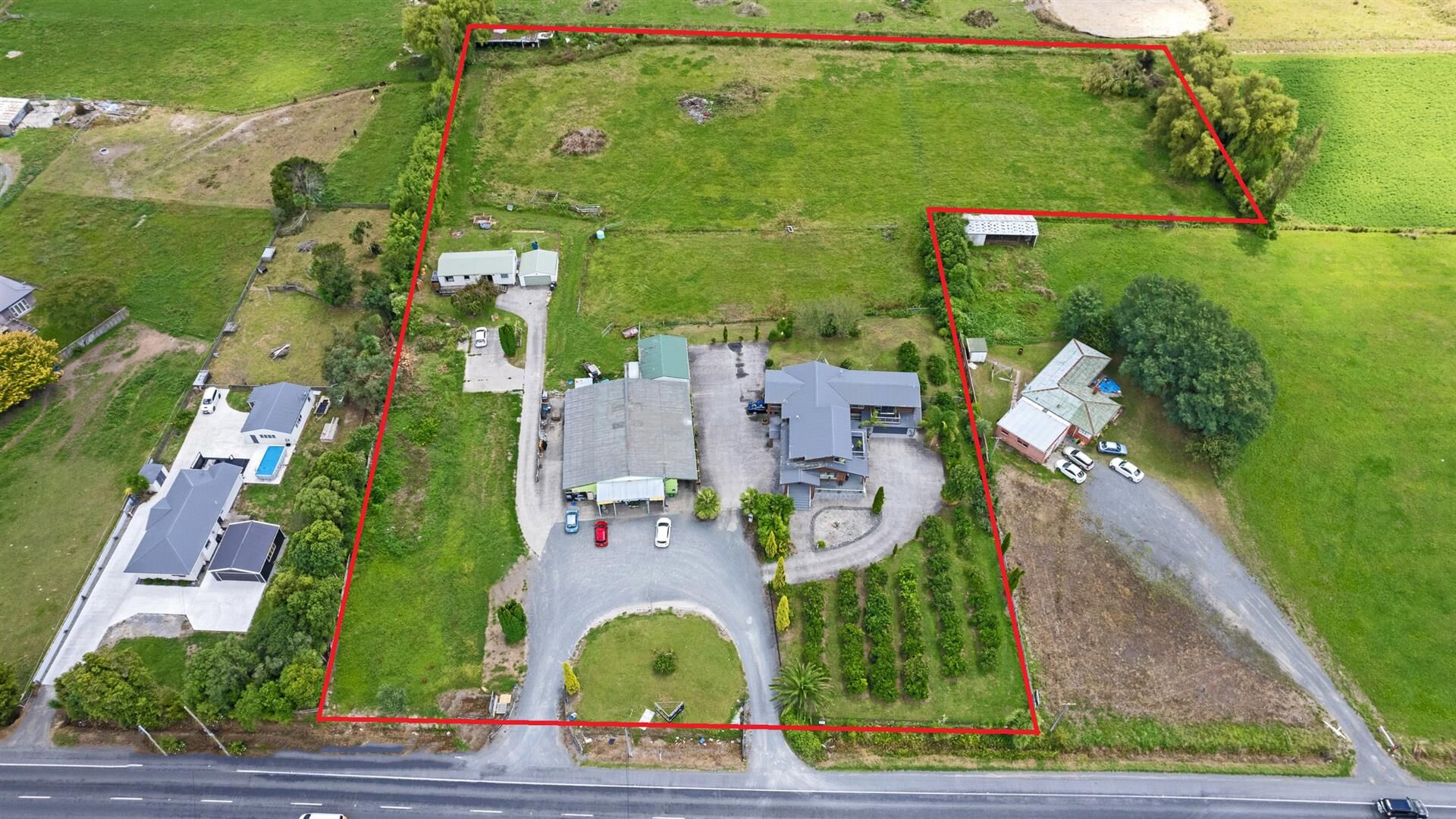 The 2.023-hectare property located on State Highway 26 on the outskirts of the Waikato township of Morrinsville is home to Vege' Heaven – operating from a stereotypical single level roadside grocery warehousing premises with a corrugated iron exterior.
With a prominent street frontage, Vege' Heaven's open plan retail operations displaying rows of tasty comestibles are accessed by a drive-through horse-shoe shaped slip road running off State Highway 26 - enabling customers to safely drive off and onto the busy arterial route.
Immediately to the side of Vege' Heaven is a substantial and modern executive-standard 310-square metre family home over four levels - containing six bedrooms, three bathrooms, and multiple living areas. A second smaller 104-square metre three-bedroom residential dwelling sits on the other side of the Vege' Heaven store.
The L-shaped property is zoned Commercial 8A under the Matamata Piako District Council Plan – with existing use rights for both the retail outlet and the adjoining homes. It is located to the west of Morrinsville's town centre, on the edge of the town's busy industrial precinct.
Nearby premises are occupied by the likes of a VTNZ automotive testing site, engineering operations, small trades warehouses, and automotive related workshops.
Now, the land and trio of buildings at 2597 State Highway 26 are being marketed for sale at auction on March 24 through Bayleys Hamilton. Salespeople Josh Smith and Wayne Robb said the property would appeal to a broad range of property entrepreneurs across multiple business sectors looking for a split-risk location with development upsides.
"With a broad diversity of building assets in place on the property, and the vast expanse of undeveloped greenfield land to the rear of the site, the development permutations are huge – particularly when you take into account the site's existing underlying commercial zoning," Smith said.
"Vege' Heaven has a lease on the retail premises through until May this year. The obvious opportunity there is for a new owner with experience in this grocery sector to open a new business within the existing premises in what would be a virtual 'turn key' operation," said Smith.
"Alternatively, the retail business and smaller residential dwelling could be viewed as an investment proposition and leased to a grocery operator. The premises has produce delivery doors on either side, shelving infrastructure, a service counter, and appropriate staff amenities.
"However, the real opportunity lies within the potential redevelopment of the large vacant block of land running along the rear of the retail shop and neighbouring residential dwellings."
Smith said the sizeable greenfield portion of the property could potentially sustain the likes of a truck and machinery storage yard with space for associated warehousing, or for establishing what could be Morrinsville's biggest self-storage complex.
A survey by AA Insurance found that five percent of the 1,100 Kiwis they surveyed paid for off-site storage of their goods and possessions.
Commenting on the survey findings, AA Insurance said: "Kiwis use storage facilities for a number of reasons, like keeping items safe between houses moves, if they've inherited furniture, or simply because they have too much 'stuff'."
The AA Insurance survey highlighted that furniture and household items were the most common items kept in storage by Kiwis – as indicated by 67 percent of respondents, followed by sports equipment at 34 percent, and tools and equipment indicated by 30 percent of respondents.
The AA Insurance survey also noted that a substantial proportion of storage unit users – some 30 percent – utilised the service for more than three years.
"For storage business owners and operators, that's certainly a cornerstone block of tenants within the rental book which would give confidence to forecast revenues," Smith said.
Click here for more information on the listing.