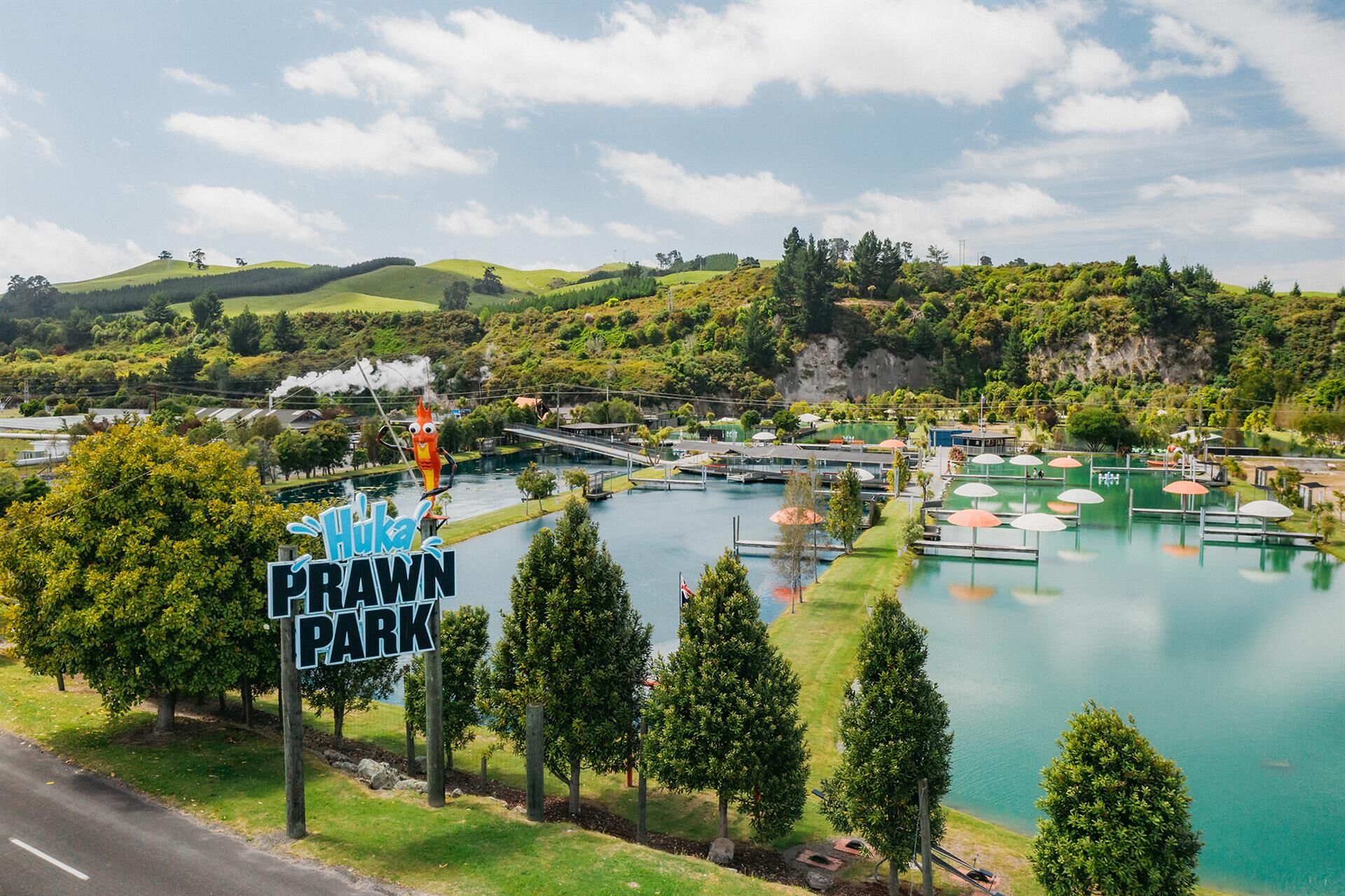 A geothermally heated theme park, thermal-boosted propagation of edible plants, or a business cluster fuelled by geothermal process heat are among future possibilities mooted for the Huka Prawn Park.
Since opening for business a few kilometres north of Taupō 35 years ago, Huka Prawn Park has established itself as one of the lakeside tourist mecca's most popular visitor attractions.
Positioned straddling State Highway 1 beside the Waikato River, in the Wairakei Tourist Park, it is the world's only geothermally heated prawn park, along with related visitor activities and Taupō's only riverside restaurant.
The operation has long attracted families with activities such as behind-the-scenes prawn park tours, prawn and trout feeding, adventure trails, aqua bikes and pedal boats.
With the business now up for sale, Bayleys Taupō salesperson Gary Harwood says large tracts of undeveloped land and a unique, and largely untapped, geothermal resource offer new owners tremendous opportunities to expand and diversify.
"The opportunity is there to further develop the existing park as a unique family destination or to use the available geothermal resource and location to develop new opportunities," Harwood said.
In particular, a new heating system making use of the site's geothermal resource would open the way for unique future options, he said.
"It could be the creation of a new geothermally heated theme park, offering 'heat experiences', that are only limited by your imagination – or perhaps developing the infrastructure to host a cluster of businesses such as brewers, coffee roasters or honey producers utilising the low-carbon heat source.
"Alternatively, the new system could be used as a source of heating to support the propagation of high-end edible plants, other warm water aquaculture species or health products," said Harwood.
Future projects could benefit from the Government Investment in Decarbonising Industry Fund, set up in 2020 to accelerate the decarbonisation of industrial process heat. The Government this year announced a $650 million expansion of the fund.
The buildings and business sustaining Huka Prawn Park, Karetoto Road, Taupō, are being marketed for sale as a going concern, priced as $2.9 million plus SAV plus GST (if any), through Bayleys Taupō.
The business operates on about 12.8 hectares of land under a long-term lease from the Crown.
The land is zoned Taupō Rural Environment under Taupō's district plan, and includes several hectares of surplus land which offers scope for expansion.
Several buildings are included in the business sale, offering a total floor area of some 3,158 square metres. These include a prawn nursery and hatchery with a combined floor area of over 2,600 square metres, plus a pump house, viewing platform and staff area.
Also included is the restaurant beside the Waikato River which seats up to 300, with a large commercial kitchen, bar, retail and reception areas.
Extensive on-site parking is available with space for buses and campervans plus an electric vehicle charging station.
Other business assets include extensive resource consents to take and discharge large volumes of hot and cold water, a heating system with substantial infrastructure to circulate hot water around the park, along with numerous interactive water activities.
An experienced and passionate staffing structure is in place, including management and operations staff to support the new owner.
Detailed information on business performance and assets is available to potential buyers subject to signing a confidentiality agreement.
Bayleys Taupō salesperson Lisa Christensen said a key advantage to a buyer of the going concern was that all the necessary buildings, infrastructure, consents, licences and leases are already in place to support the operation. This includes import licenses for new breeding stock to reinvigorate the prawn component of the business.
"A long-term agreement is also in place for the supply of 15,000 cubic metres of geothermal hot water per day from Contact Energy to the Prawn Park – a unique and prized resource which can fuel business diversification,' Christensen said.
The new heating system currently being installed will have the capacity to heat some 1,000 cubic metres of hot water per hour at 55 degrees.
Christensen said the post-Covid revival of international tourism also offered growing support for future visitor-focused activities.
"The Huka Prawn Park site has an extremely high profile, with exposure to up to approximately 10,000 passing vehicles a day on State Highway 1 which passes through the property.
"Wairakei Tourist Park, in which the site sits, and nearby Huka Falls form part of a significant hub of attractions and activities that attract visitors year-round.
"Destination Great Lake Taupō is often among the country's top 10 destinations for tourism spend. This is underpinned by particularly strong year-round domestic tourism demand, supported by Taupō's position at the centre of the North Island – with a market of four million people within a four-hour drive," said Christensen.
Total tourism expenditure was approximately $350 million in Taupō District during the year to June 2022, according to the Infometrics Taupō District Quarterly Economic Monitor.
Click here for more information on the listing.