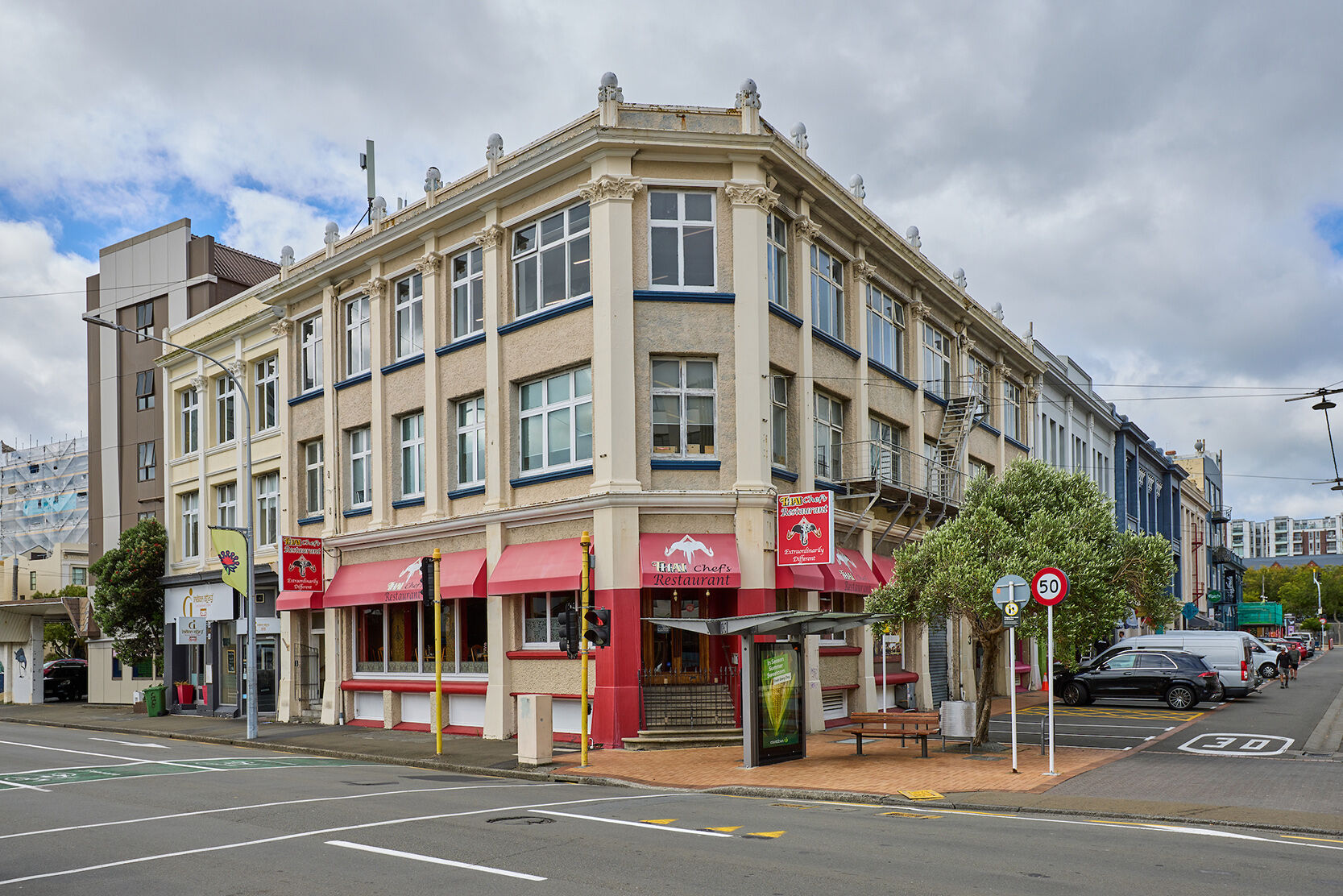 Tadix House is located harbourside on the east corner of Blair and Wakefield Streets, directly opposite New World Wellington City supermarket and close to Te Papa, the new Tākina Convention Centre, Oriental Bay, Mount Victoria, and Courtenay Place.
Originally home to tea merchants, Nelson, Moate and Co. from 1907, the next resident was the tobacco import company W.D. and H.O. Wills (New Zealand) Limited.
By 1935, Philips Lamps Limited was on-site, then from the 1940s through to the 1970s the building was occupied by the National Electrical and Engineering Company Limited, before becoming Transport House under the Wellington City Council's transport department.
In the early 1990s, the three-storey building was transformed to provide car parking, retail, hospitality and office spaces.
The 855sqm building occupies a 409sqm site, has parking for seven cars plus three separate storage areas in the basement, and was strengthened and refurbished in 2016 to a new building standard (NBS) seismic rating of 73 percent.
The property has always enjoyed strong occupancy, particularly on the ground floor with anchor tenant, YOU Travel, the travel agency on the Blair Street side of the building, being on-site since 1994, and Thai Chef restaurant, fronting Wakefield Street, a stalwart tenant since 2009.
Designed in 1907 by architect Alfred Atkins, the handsome former warehouse building was technically advanced for its time and Mark Sherlock, Bayleys Wellington Commercial said the property at 1-3 Blair Street was previously referred to as 286-288 Wakefield Street.
"It is considered representative of restrained Edwardian Classicism architecture mirrored elsewhere in the Blair and Allen Street Precinct which was home to the city's produce markets and merchant traders in the late-1800s and early 20th century," he said.
"It's a lovely looking building with original architectural detailing, including its parapet, still intact, and Wellington City Council has noted the architectural value to the broader Courtenay Place streetscape and included it on their heritage database."
Saying there's always strong interest in these type of character buildings, with the broader precinct traditionally performing very well throughout property cycles, Sherlock said the likely buyer is someone who has an affinity with the area, and appreciates the building's fundamentals and heritage credentials.
"Tadix House is owned by a trust with other property interests, therefore, we're calling for tenders by Wednesday 8th March.
"While having importance in a historical context and some associated responsibilities under the WCC heritage classification, there's also scope for upside with precedents set in the immediate area for additional levels to be added.
"A buyer could perhaps see the potential to optimise the site further – potentially even a conversion to residential or adding a residential component on top as has been done elsewhere in Blair Street – even if this is not an immediate priority."
The current occupiers are on varying lease terms and the property returns an annual net passing income of $173,976, with a 126sqm office suite on the second floor, plus one of the seven basement car parks, recently vacated and ripe for re-lease.
"The two ground floor retail spaces have been tightly held with the travel agency there for over 28 years, and Thai Chef – which also has restaurants in Auckland, Napier, New Plymouth and Christchurch – on site for nearly 14 years," said Sherlock.
"Character office space always leases well in the city too and the upper-level office suites have lift and stairway access, great natural light, high-stud height, and good quality modern fitouts with tenants including Wraight & Associates, Rascality Studios, and Jet Bar."
The property is within a short walk of the main bus route on Courtenay Place, the Wellington waterfront and Waitangi Park, and there are good on-street parking options.