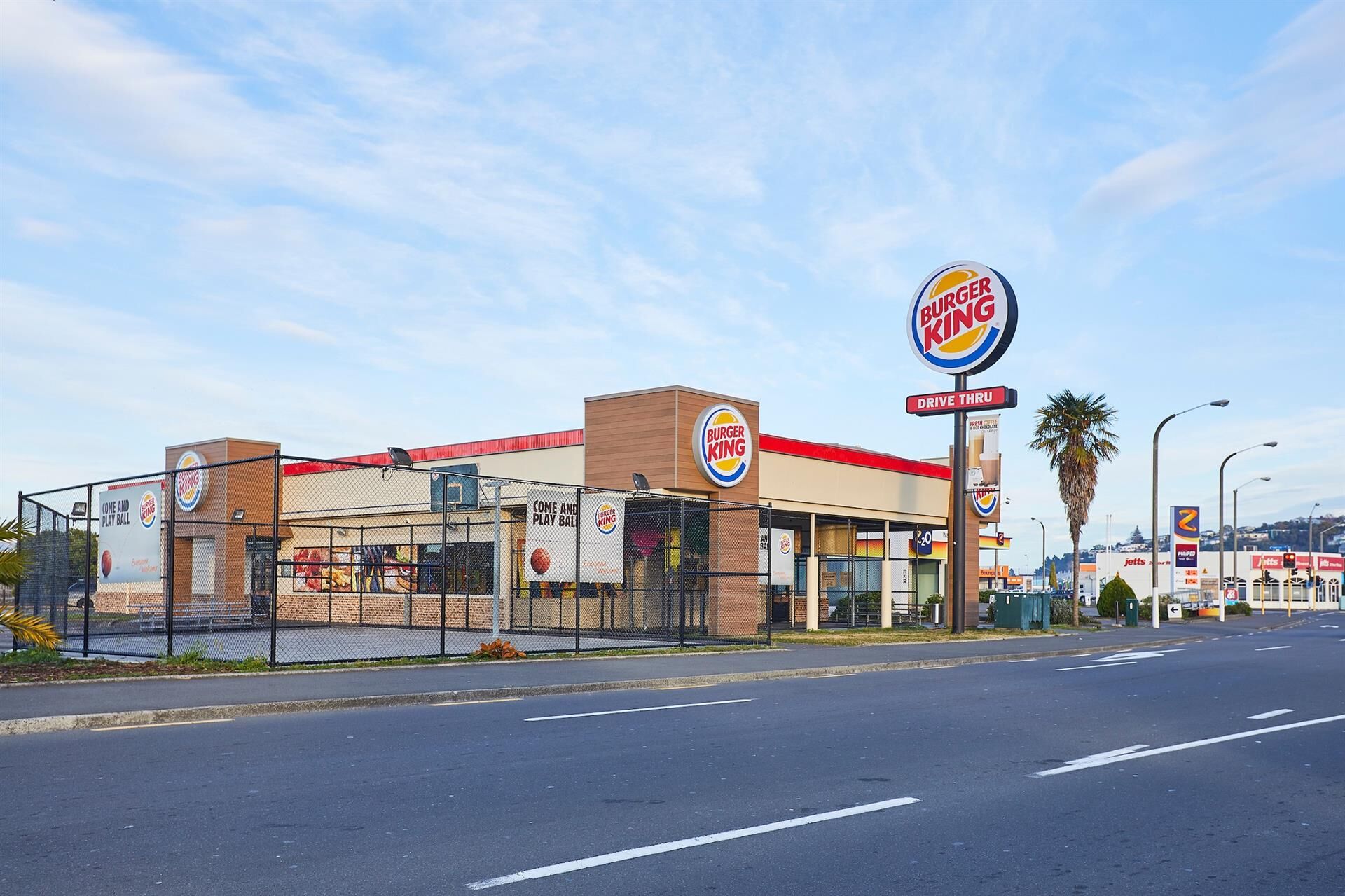 The 591sqm single storey dine-in restaurant with drive-through ordering capability and 40 on-site car parks is located on a landscaped 2,964sqm site in a popular bulk retail precinct along one of Napier's busiest main arterial routes.
The property lies on the southern side of Station Street adjacent to the intersection with Kennedy Road, close to Napier's CBD.
While the former railway land for the property is leasehold and owned by the Crown, Burger King's commitment to the site as the tenant is evident in the recent reimaging of the building to update its branding and profile, and in the 15-year lease with further renewals out to 2033.
The full-net lease, with all outgoings – including the ground lease – paid by the tenant, Antares Restaurant Group, returns an annual income of $109,126 plus GST.
This comprises market rent of $102,326 plus GST, and an amortised payment towards the landlord's negotiated contribution to the completed reimaging of $6,800 plus GST.
Bayleys Wellington commercial salesperson Andrew Smith and Bayleys Havelock North commercial salesperson Rollo Vavasour are marketing the building at 190 Station Street, Napier by auction, set down for 11 am, Thursday, 28 April at Bayleys Wellington.
Smith says the site has long been home to a fast-food occupier, having been constructed for the former Georgie Pie chain in 1994 and then converted to a Burger King restaurant in 2003.
"It's a proven location for a fast-food operator and Burger King with its 75-strong restaurant chain nationwide, is in the top four quick service restaurant chains in New Zealand.
"It has a well-established brand and trading history in Napier, and shares this active part of town with neighbouring high-profile occupiers like PAK'n SAVE, Z Energy and Countdown, with Repco, McDonald's, Animates and KFC nearby."
With after-tax bank deposit returns in negative territory, Smith says yield-driven investors will recognise the value of a passive investment with an engaged tenant.
"Antares Restaurant Group Limited, trading as Burger King, entered into a new 15-year lease from October 2018, with a further two, five-year rights of renewal and has plenty of skin in the game given the reimaging and fitout.
"The lease includes three-yearly rent reviews to market, with the next due 17 October 2024.
"The current owner of the building, and the owner prior, are broader Wellington region-based and we expect strong enquiry again from outside Hawke's Bay for this well-returning asset."
The building comprises a reinforced concrete floor slab and foundations with concrete columns and steel portal frames.
Wall cladding features a textured cement finish to the rear part of the building with the balance featuring extensive use of aluminium-framed glazing.
The roof is clad in curved galvanized steel and the pedestrian and drive-through canopies are attached to the main structure.
The internal fit-out has seating capacity for around 200 people.
Vavasour says despite challenges for its core industries, Hawke's Bay's regional economy has weathered the pandemic with resilience and the outlook is bright.
"Hawke's Bay is trucking along with residential and commercial property prices rising, investor interest strong and things looking up on the tourism front now that the country's borders are reopening to the world.
"The fundamentals that have made Hawke's Bay a good place to invest in haven't changed.
"It's a highly productive and innovative region and significant infrastructural investment projects such as Napier Port's new wharf – which will expand the amount of cargo that can be handled and allow bigger vessels to call – are providing additional confidence."