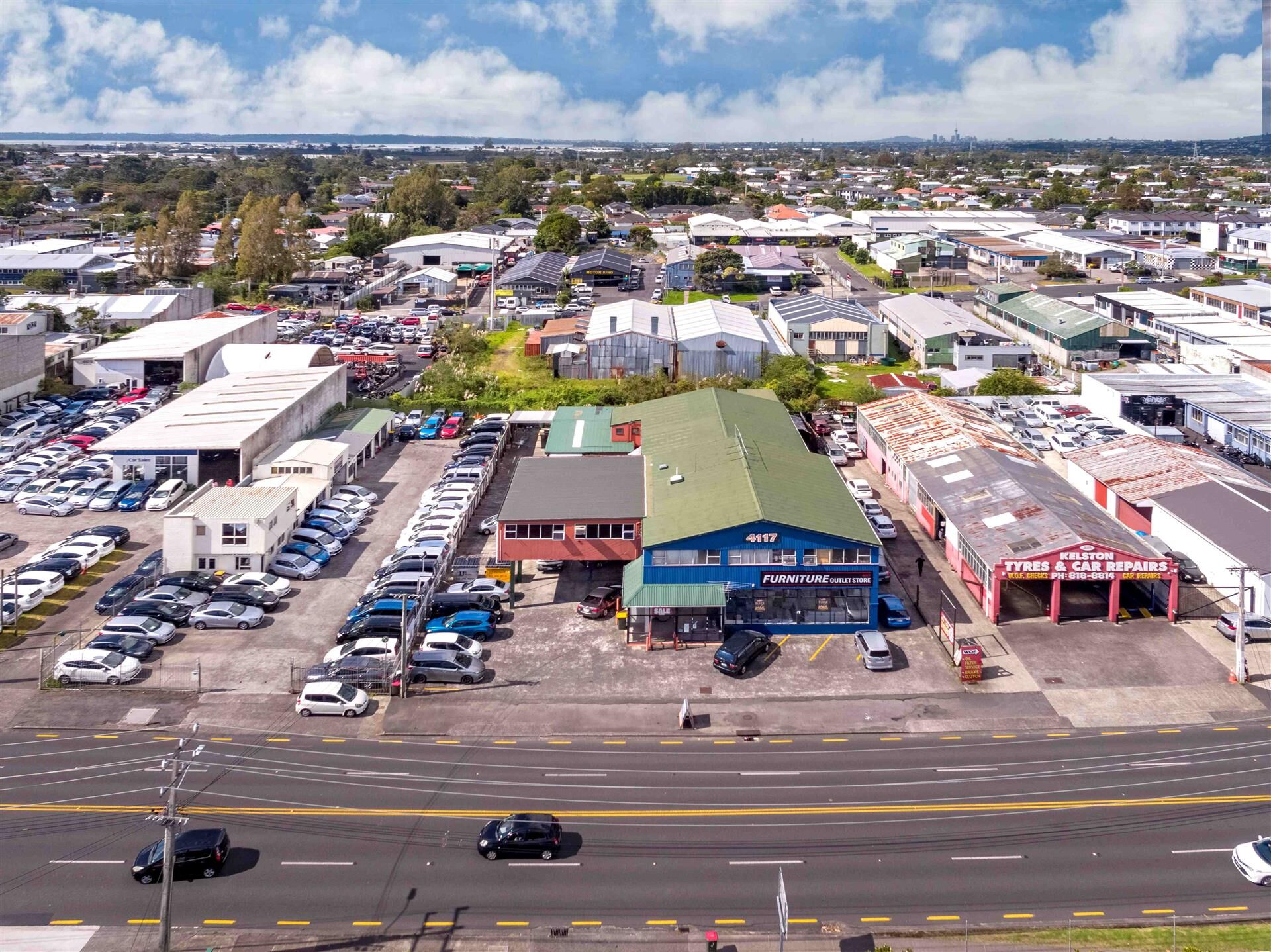 The three adjacent properties on Great North Road, in Glen Eden, have a combined land area of more than 4,200 square metres. Each is fully leased to a single tenant – a tyres and car repair operator, a used car dealership and a furniture outlet store – generating a combined annual net rental return of $283,296 plus outgoings and GST.
Flexible zoning in a growing West Auckland location gives them considerable potential for residential or mixed-use redevelopment.
The properties at 4115, 4117 and 4119 Great North Road, Glen Eden, Auckland, are being offered for sale together or individually through Tony Chaudhary, Janak Darji, James Were and Beterly Pan of Bayleys Real Estate.
Sale will be by deadline private treaty closing on Thursday 13 April, unless they are sold prior.
On offer are:
·4115 Great North Road – an approximately 1,019-square metre site with 580-square metres of buildings housing Kelston Tyres & Car Repairs. The tenancy generates an annual net rental income of $114,782 plus outgoings and GST.
·4117 Great North Road – incorporating some 1,700 square metres of office, warehouse and showroom space and a residential flat, on more than 2,000 square metres of land. This site is occupied by New Zealand furniture maker and supplier L & V Furniture on a lease that extends to 2025 with a further three-year right of renewal. This longstanding commercial tenancy returns an annual net rental of $104,347 plus outgoings and GST. The residential tenancy returns a further $1,040 a fortnight, equating to $27,040 per annum.
·4119 Great North Road – comprises some 310 square metres of office and warehouse space on an approximately 1,222-square metre site. It is leased to Kiwi Cheap Cars Limited on a lease that runs through to June 2023. The tenancy generates a net annual return of $64,166 plus outgoings and GST.
Chaudhary said the sites presented a highly visible combined frontage of more than 70 metres to busy Great North Road.
"With the opportunity to buy one, two, or all three of these sites, there are many options for potential buyers to consider. Together, the properties incorporate a sizeable landholding, and their flexible Mixed-Use zoning under Auckland's unitary plan presents the potential to undertake a significant commercial and/or residential development," said Chaudhary.
Darji said this zoning provided for taller buildings, typically up to 18 metres. "It encourages intensified housing development, along with a diversity of smaller-scale activities including office, retail, food and beverage, healthcare and visitor accommodation – as well as the likes of warehousing and light manufacturing," he said.
Were said the Great North Road properties benefited from their location within Glen Eden, an established mixed-use West Auckland suburb, with the immediate area providing housing and schooling for a growing population.
"Glen Eden and neighbouring New Lynn have historically been a strip-retail shopping area. In more recent times, the suburbs have evolved into a more comprehensive commercial and residential centre with the construction of high-density residential properties and expansion of the LynnMall shopping centre to incorporate more eateries and shops," said Were.
Pan said the properties for sale were well positioned to serve the surrounding Glen Eden residential catchment.
"They are handy to multiple bus routes and Glen Eden train station, which provide frequent and reliable connections to many other parts of Auckland. The location also affords easy access to central Auckland via the Northwestern Motorway," said Pan.