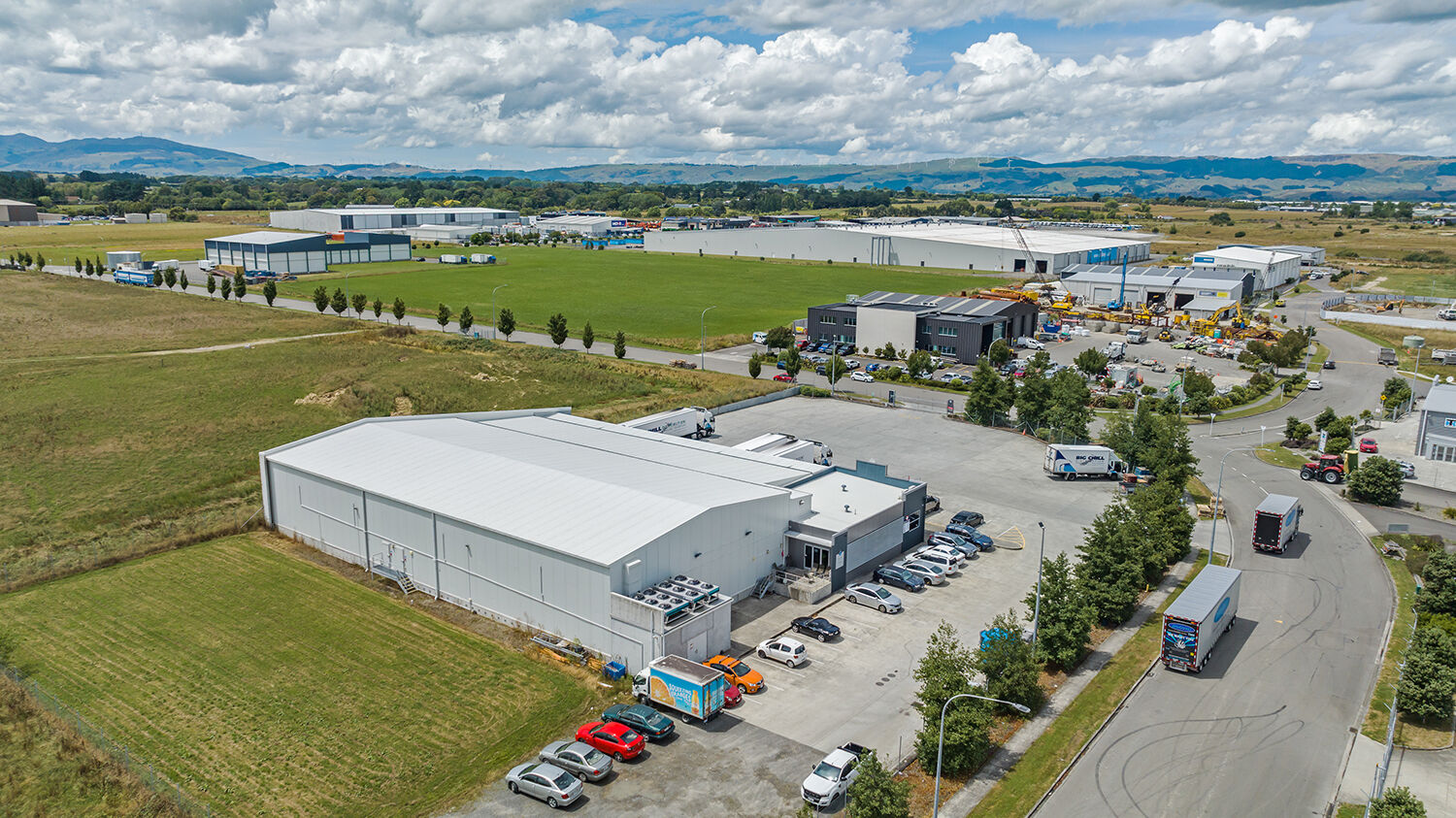 The substantial cold storage property at 43 Alderson Drive, Palmerston North is the type of asset astute buyers are seeking on the back of strong returns within the logistics and distribution sector seen during and post-pandemic, where resilient food supply chains have proved their worth.
The property was completed in 2013 for nationwide refrigerated freight network operator Big Chill Distribution Limited, which has been owned by New Zealand's largest express courier company Freightways since 2019.
The subject property is at 100 percent new building standard, is zoned North East Industrial and occupies a 7,552sqm site on the northern corner of Alderson and Valor Drives in the Manawatū Business Park, which is around five kilometres from the Palmerston North CBD.
Adjacent to Palmerston North Airport and part of the North East Industrial Zone, this is the city's prime industrial growth location with a number of new buildings constructed recently for national tenants including EziBuy, Foodstuffs, Downer, and Cable Price.
The property is being marketed for tender by Grant Young, Bayleys Wellington Commercial and Karl Cameron, Bayleys Manawatū, with tenders closing Wednesday, 8th March.
With exceptionally low vacancy and escalating demand for cool store logistics space around the country, Young said the property has scarcity value.
"There's a tangible shortage of cool store stock available for lease or sale, and virtually none being developed speculatively due to the costs involved, the difficulty in sourcing sophisticated equipment, and the bespoke requirements of individual clients meaning each facility needs to be finely-tuned to a specific end user.
"The Alderson Drive property has buildings with a total floor area of 1,504sqm including chilled and frozen warehousing, generous multi-bay loading areas and adjoining office and amenities, along with a covered canopy and 2,965sqm of sealed yard space for carparking and truck manoeuvring.
"There's also future expansion potential of the existing facility, with spare land of around 1,692sqm adjoining the rear of the warehouse."
Big Chill Distribution Limited has a long net lease with around 10 years left to run and a further 7-year right of renewal. It renewed its current lease ahead of time, reinforcing its commitment to the site and the suitability of the location for Big Chill's operation.
The property returns annual net income of $456,449, and the lease has built-in annual reviews to CPI providing rental growth.
Cameron said Palmerston North is now a very well-established major distribution 'hub' for the Central and Lower North Island, with a number of large distribution centres and national/international companies established in the area.
"With the convergence of main highways, a large rail goods yard, and easy access to air transport, the city has seen rapid growth in major line-haul transport firms and logistics warehousing," he said.
"Te Utanganui, a unique multi-modal distribution node being developed for the lower North Island will leverage off a number of logistics-driven initiatives including KiwiRail's new regional freight hub, and major roading projects including Te Ahu a Turanga- Manawatū Tararua highway.
"The Manawatū region is undergoing unprecedented levels of growth, backed by considerable public and private investment with an estimated $8 billion-plus of transport and infrastructure investment planned and underway in the next decade."