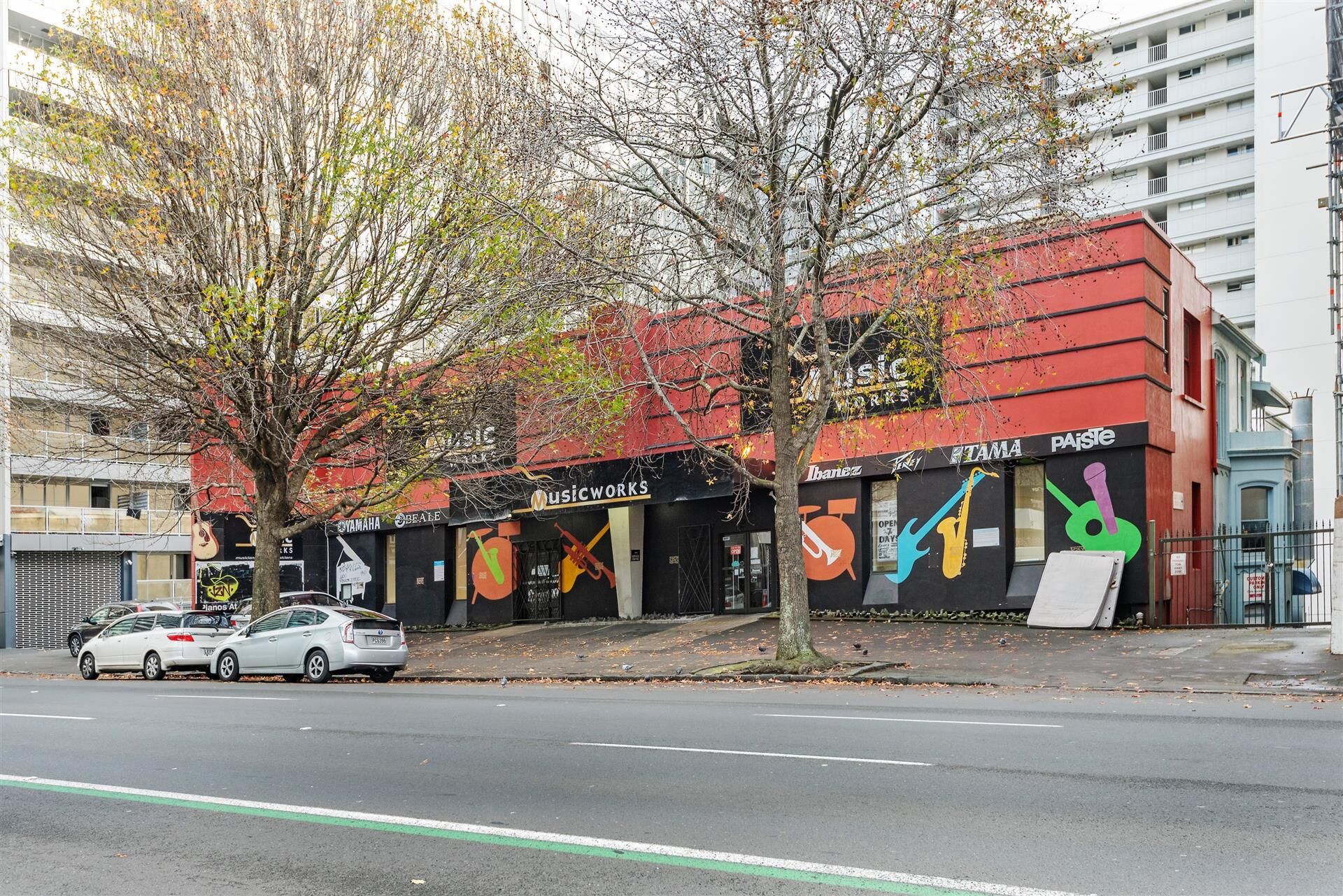 Billed as New Zealand's largest musical instrument store, including the biggest piano showroom, MusicWorks Auckland on Hobson Street became a CBD retail landmark. Its 30 metres of frontage to one of the central city's busiest streets has assured it of highly recognisable exposure.
Occupied by the same business for over 55 years, the large freehold site is now being offered vacant to new owners or tenants.
Bayleys Capital Markets Director Layne Harwood said its prime location and profile and proven retail credentials would hold particular appeal for bulk-retail operators.
"Set among high-rise apartments, hotels and offices, the property's flexibility, location and long-term potential are also likely to provide a buyer with a standout investment and/or development opportunity."
"There's good scope for an add-value investor to come in and refurbish and reconfigure the premises to maximise rental returns from new occupiers.
"Alternatively, developers will eye the potential to demolish the buildings and redevelop for residential or business uses under some of Auckland's most intensive planning provisions, including a 50-metre building height allowance," Harwood said.
The property at 141-143 Hobson Street, Auckland Central, is being offered for sale or lease by deadline private treaty closing on Thursday 28 July (unless sold or leased prior), through Bayleys Auckland Central.
Bayleys National Retail Sales and Leasing Director Chris Beasleigh said the premises consisted of two buildings with a combined floor area of some 1,565 square metres on 1,782 square metres of land, with 18 car parks.
The buildings are each positioned on separate fee-simple titles.
"The original building at 141 Hobson Street is split across three levels, with a retail showroom on the ground floor facing Hobson Street. The first floor and basement contain offices, workrooms, storage areas and a loading bay."
"The precast concrete building at 143 Hobson Street was constructed around 2001. It encompasses further ground-floor showroom space, along with a sizeable storage area."
"There's great access to parks at the rear of the property, but also numerous on-site customer car parks at the door along the Hobson Street frontage – a rare advantage for a CBD retailer," Beasleigh said.
Future occupiers would also benefit from Hobson Street's status as a high-exposure arterial route with some of the inner city's highest traffic volumes and direct motorway access about 400 metres away, he said.
"All of this makes this site particularly well suited to large format retailers, with flexible short or long-term leasing options available according to needs," said Beasleigh.
Harwood said the site's abundant redevelopment potential was underpinned by its position within the Business – City Centre zone. This supports a wide range of activities and the greatest intensity of development in Auckland in terms of floor area and height.
"A variety of residential, office, retail, community and industry related activities are permitted, and the possibilities are plain to see in the lively mixed-use surroundings. This western side of the CBD is undergoing significant urban renewal, development and growth, supported by infrastructure investment from Auckland Council."
"The area will get a further boost with the opening of the new Aotea Station, expected to be the country's busiest, as part of the City Rail Link five minutes' walk away."
"There is a wide range of amenity nearby to support both residential and commercial users. SkyCity, the Aotea Centre, the viaduct, Auckland University and AUT are within walking distance, along with Britomart Station and the Downtown Ferry Terminal," said Harwood.
Click here for more information on the listing.