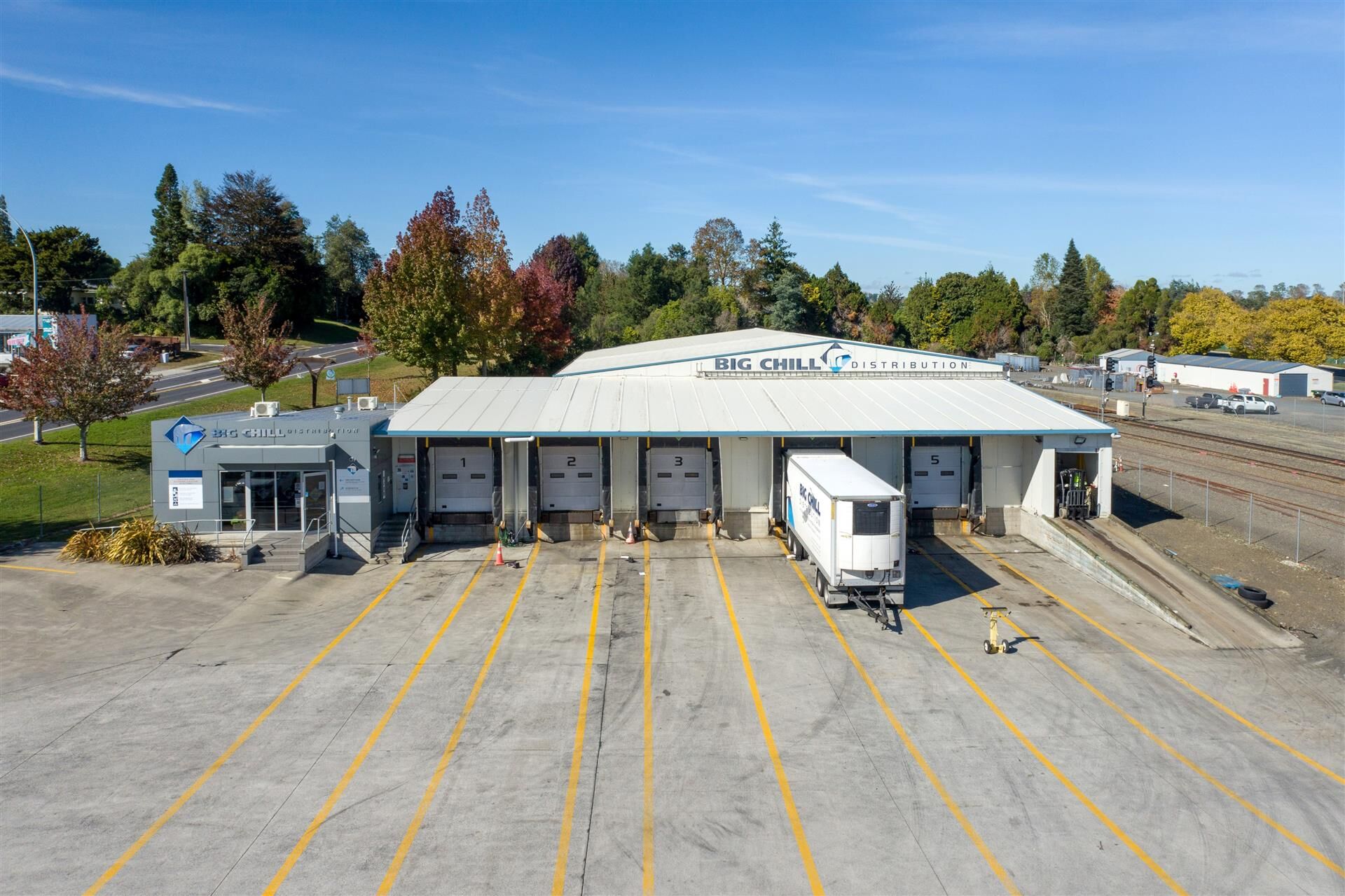 The purpose-built cool store/cold store premises occupied by Big Chill Distribution sit prominently on State Highway 1, neighboured by other national and international occupiers in a business estate in Putaruru.
From beginnings in 1996 with one truck carrying pies between Auckland and Tauranga, Big Chill has grown into a national freight carrier with nine depots in strategic locations throughout New Zealand.
Today owned by NZX-listed Freightways Limited, Big Chill handles 98 percent of its freight via its own modern vehicle fleet. It provides a trusted premium temperature-controlled transport and logistics service, from collection to delivery, for fast-moving consumer goods (FMCG) customers New Zealand-wide.
Big Chill Distribution's tenancy at the Putaruru site generates annual net rental income of $297,861 plus all outgoings and GST. The current lease runs through to 2026 with a further 12-year right of renewal.
The lease agreement incorporates annual CPI rent reviews which are currently providing strong rental growth, replaced by a market review at lease renewal.
The property at 19 Rolfe Way, Putaruru, is being marketed for sale by Brendon Bradley and Ryan Bradley of Bayleys Tauranga. Sale is by way of an auction on Wednesday 15th June, unless the property is sold prior.
Brendon Bradley said the offering consisted of an approximately 1,280-square metre building on some 5,935-square metres of business-zoned freehold land. The site presents some 150 metres of frontage to State Highway 1.
"The southern end of the site has been developed with a superbly presented single-level cool store/cold store distribution facility."
"Originally constructed around 2005, and extended in 2014, this includes more than 500-square metres of chiller rooms, some 320-square metres of freezer rooms and an approximately 300-square metre environmental loading area with five loading docks."
"These are supplemented with some 111-square metres of offices and amenities, plus a forklift charging room and compressor shed," Bradley said.
The building is constructed with concrete foundations and floor, and steel framing, with approximate stud heights ranging from 5 metres to 6.8 metres in the cool store and 5.75 metres to 6.8 metres in the freezer.
The area to the north of the building comprises a fully concreted yard area which provides for access and turning of heavy vehicles, along with truck parking and external storage areas. The site is bounded with wire security fencing.
Ryan Bradley said the property benefited from a location in the South Waikato which was pivotal to its use as a key distribution depot.
"Positioned on State Highway 1 near the centre of the North Island, Putaruru is a strategic location for both farming and forestry.
"The surrounding South Waikato area is home to major businesses such as pulp, paper and packaging leader Oji Fibre Solutions' flagship operations at Kinleith, along with Fonterra's large cheese factory at Lichfield and the Fonterra casein factory at Tirau.
"Putaruru is also famous for the nearby Blue Spring which is the source of around two-thirds of New Zealand's bottled water. The Coca Cola Amatil bottling plant lies directly opposite the Rolfe Way site.
"The site for sale forms part of the well-presented Rolfe Way Business Estate at the southern entrance to the Putaruru township. The quality of this location is reflected in the calibre of neighbours such as Coca Cola Amatil, plus the likes of Farmlands, Goldpine, National Steel, Honda and BP," said Bradley.
Click here for more information on the listing.