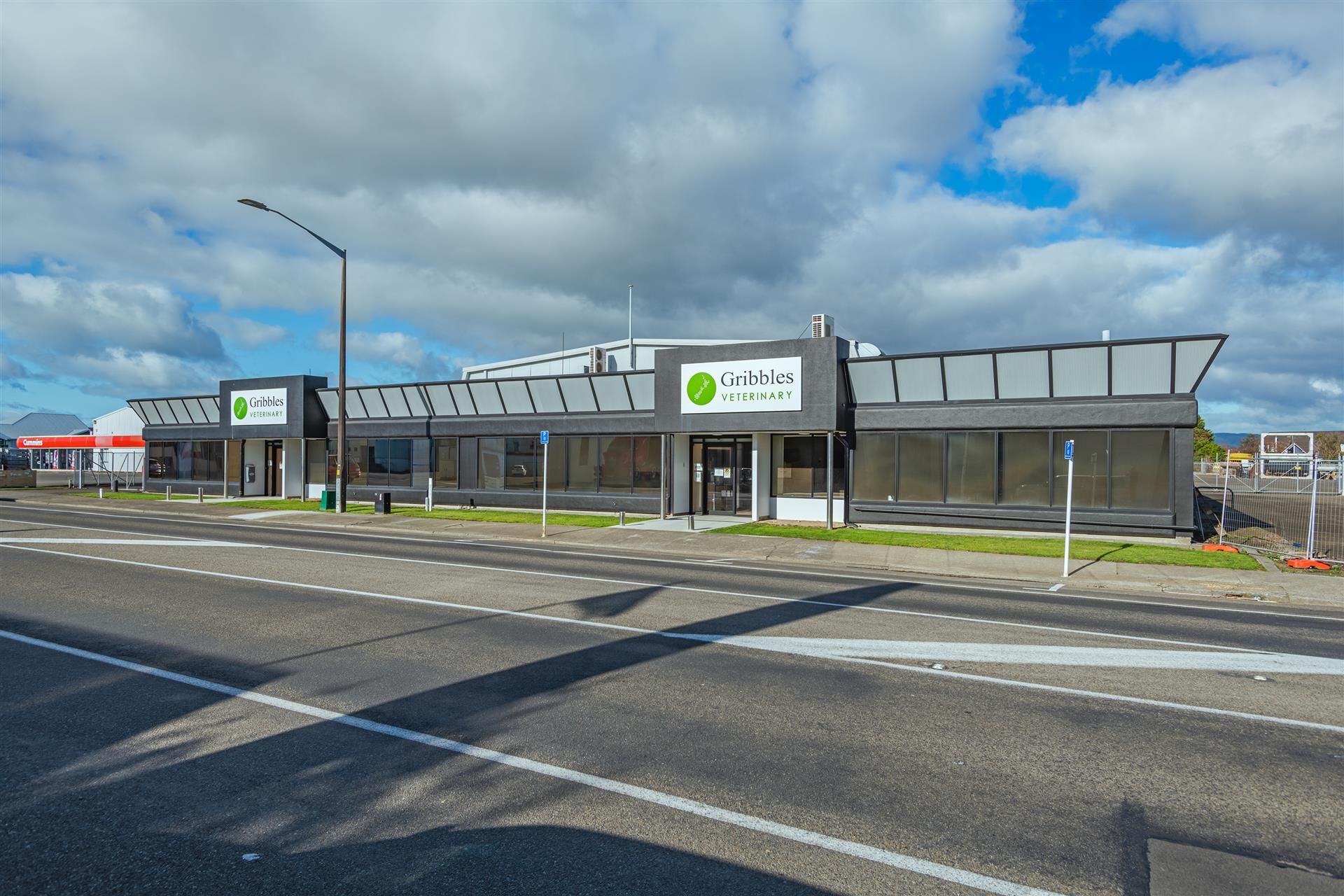 The Gribbles Veterinary laboratory lies in the heart of Palmerston North's main warehouse and showroom hub with exposure to some of the city's highest vehicle counts on busy Tremaine Avenue.
It is one of five New Zealand labs run by Gribbles Veterinary, the country's top provider of animal health diagnostic testing and pathology services. The Palmerston North lab offers New Zealand's most comprehensive commercial testing service for exporters of live animals and germplasm.
Gribbles Veterinary is a member of the Asia Pacific Healthcare Group, a New Zealand-owned national network of 25 laboratories, 150 collection centres and employers of over 2,100 people nationwide.
Gribbles fully occupy the Tremaine Avenue site, paying annual net rent of $140,000 plus outgoings and GST.
The current lease runs through to 2027 with two further three-year rights of renewal, if exercised, potentially taking final expiry to 2033. The lease agreement includes CPI rent reviews every two years, except where replaced by market reviews which are built-in at the commencement of each further term.
The property at 840 Tremaine Avenue, Palmerston North, is being marketed for sale by deadline private treaty closing on Friday 29 July, through Karl Cameron of Bayleys Palmerston North.
Cameron said the approximately 1,250-square metre laboratory building sat on some 2,216 square metres of industrial-zoned land.
The well-presented single-storey building consists primarily of offices, lab facilities and a large warehouse at the rear. There is generous on-site parking, and the property is fully security-fenced.
The site presents around 50 metres of frontage to Tremaine Avenue.
"This represents exceptional profile to a key arterial which carries some of the city's highest traffic volumes."
"The nearby Rangitikei Street intersection, one of the busiest in town, has recently had a major upgrade to improve traffic flows in the area."
"The growing traffic count will likely drive increased pressure for commercial activity on Tremaine Avenue as the industrial influence diminishes and as tenants seeking larger sites are forced to locations further afield, such as the Northeast Industrial Estate," Cameron said.
This, along with the site's flat and regular-shaped profile, would support future redevelopment possibilities and alternative uses, perhaps in keeping with Tremaine Avenue's evolving business makeup, he said.
"Once Palmerston North's most preferred industrial location, this area is already seeing an ever-increasing commercial influence. Retail showrooms have become more prominent with many business premises now incorporating a showroom component to capitalise on the outstanding exposure," Cameron said.
The Tremaine Avenue site benefits from a strategic and highly accessible location within a few minutes' drive of the city centre and about 2 kilometres from the airport.
Click here for more information on the listing.