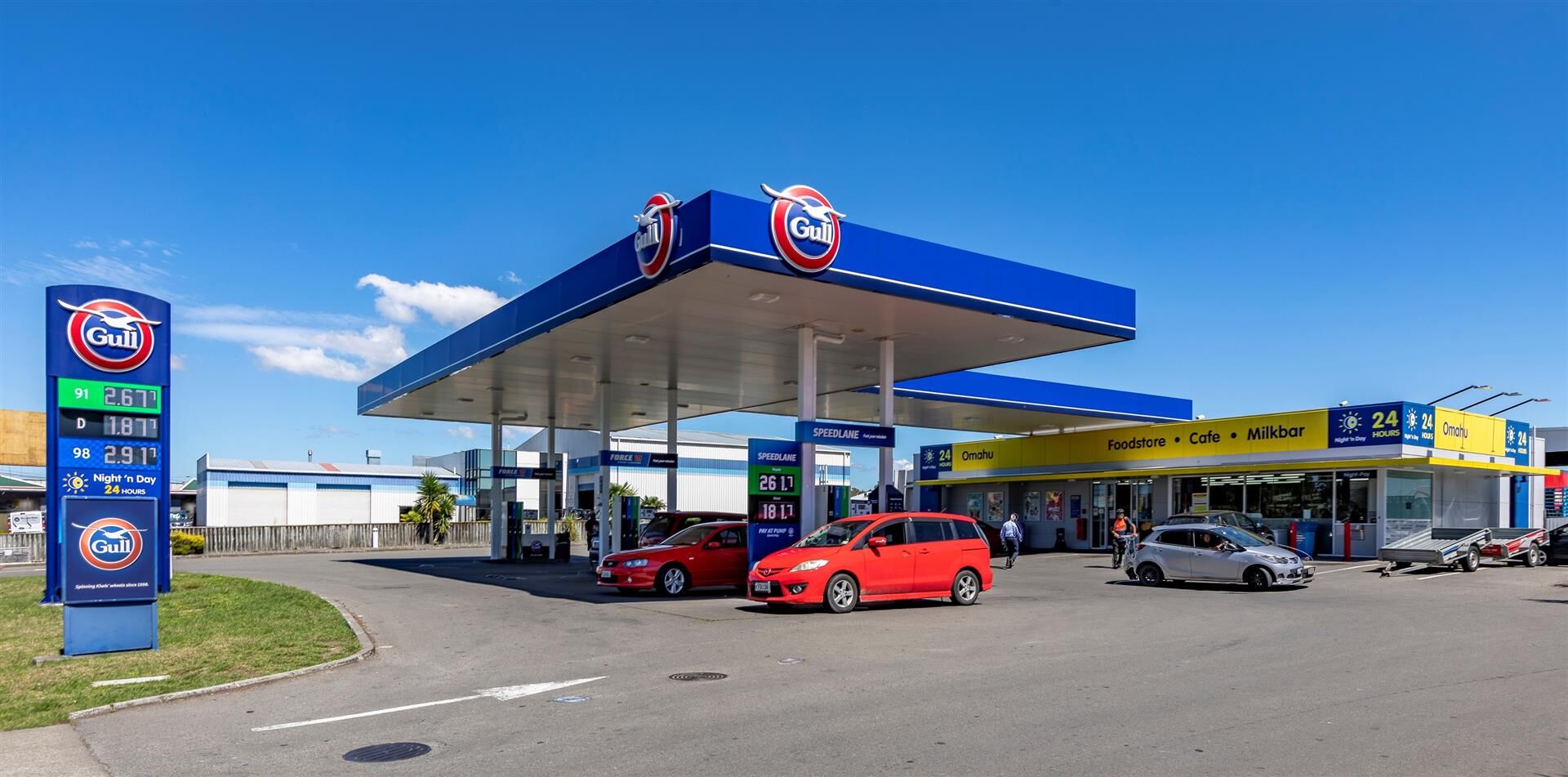 Positioned on busy arterial Omahu Road in the heart of the fast-growing Omahu industrial precinct, the site is home to a Gull service station with a substantial food store, café and retail mart as subtenants.
Gull New Zealand occupies the site on a current lease extending to 2032, with a service station offering petrol and diesel pumps, LPG swap and trailer hire.
The property generates annual net rental income of $202,419 plus all outgoings and GST, on a lease agreement that includes fixed annual rent increases.
Since its arrival on the New Zealand fuel scene in the late 1990s, Gull has grown its network to over 100 unmanned, manned and marina-branded sites across the country. The company has an approximate market share approaching 10 percent.
Currently owned by ASX-listed Ampol Australasia, Gull New Zealand is subject to a $572 million purchase by Australian investment company Allegro Funds pending regulatory approval.
The retail premises at the Omahu Road site are occupied via an underlease by Night 'n Day Foodstores Limited, an award-winning retail convenience network with over 50 stores nationwide.
Both Gull and Night 'n Day are open 24 hours a day, seven days a week at the site.
The property at 814 Omahu Road, Hastings, is being marketed for sale by deadline private treaty closing on Friday 22 April (unless sold prior), through Bayleys Havelock North.
Salesperson Rollo Vavasour said the offering consisted of buildings with a floor area of some 652-square metres on an approximately 2,308-square metre site.
"In addition to fuel pump infrastructure and tanks, structures on the site include a 320-square metre showroom/retail tenancy that operates as a food mart selling a wide range of staple food items and home products," said Vavasour.
This tenancy also incorporates associated offices and facilities, with air conditioning throughout.
A T-shaped canopy of some 332-square metres covers the fuel pumps and provides sheltered customer access to the retail premises.
Vavasour said the property presented some 50 metres of frontage to Omahu Road, a very busy arterial route connecting Stortford Lodge to the Hastings-Napier Expressway.
"Less than 300 metres from the site for sale, the expressway has seen a steady increase in traffic volumes in recent years due to its good access to Hawke's Bay airport and New Zealand's fifth-largest port at Port Napier.
"The property, and tenant businesses, also benefit from a location in the heart of one of Hastings' fastest-growing industrial precincts."
Near neighbours include Hawke's Bay Base Hospital, Crown Relocations, VTNZ and horticultural and industrial machinery provider Hydralada.
The Omahu Road site is zoned General Industrial under the Hastings District Plan, providing for a variety of industrial and semi-industrial activities, including limited retail and office uses.
"Opportunities for commercial property investors to secure such a well-located site housing a big-brand service station are few and far between.
"With essential service tenant Gull well established on a long lease with built-in rental growth, the Omahu Road site is sure to fuel keen interest among buyers seeking a quality bottom-drawer investment," said Vavasour.