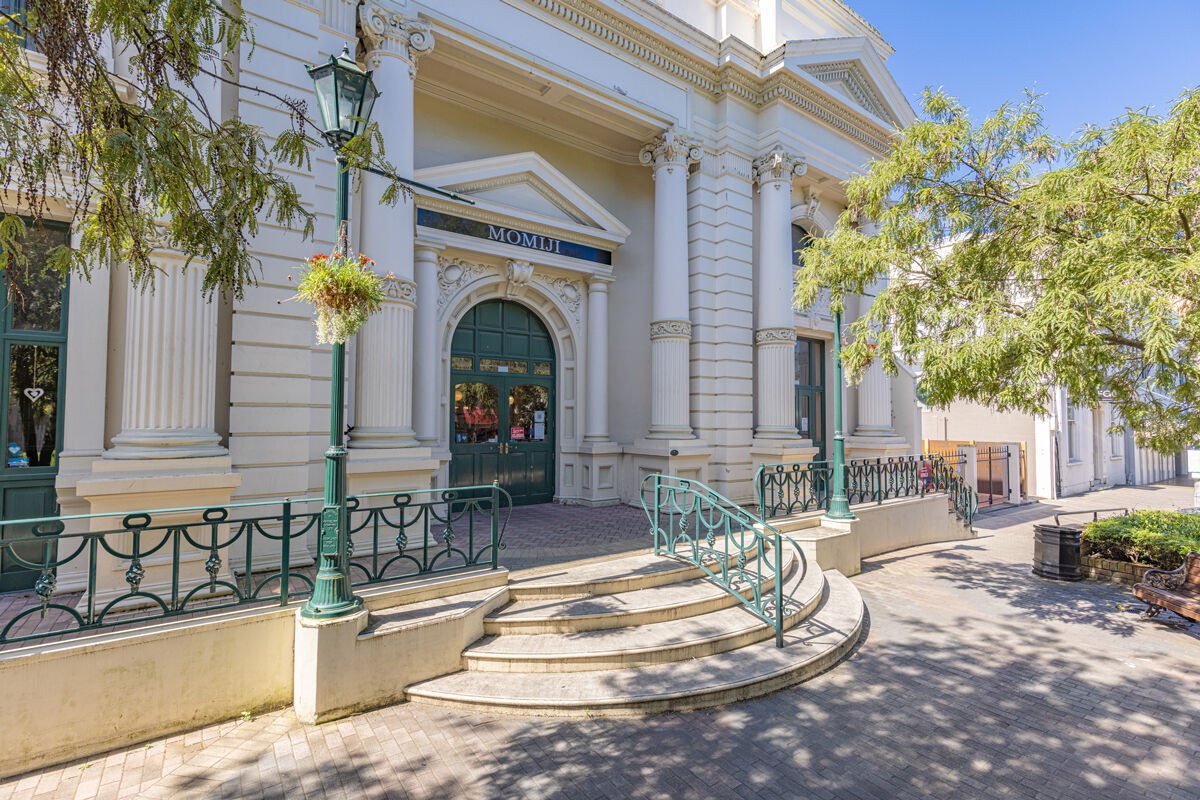 Strong regional growth prospects and upside income potential is attracting investors to a historic mixed-use premises on Whanganui's main hospitality strip.
The former BNZ Bank premises and neighbouring site are set on two titles totalling 1,334sqm (more or less) at 22-26 Victoria Avenue, in a prime position within Whanganui's central hospitality hub, which is positioned to benefit from continued regional growth.
Bayleys Whanganui & Ruapehu managing director John Bartley says the property is offered to the market at a time of high demand for regional investments as purchasers look beyond main centres for value.
"Whanganui saw significant positive growth across all key economic indicators in 2022, leading the country's GDP growth and outperforming its neighbours New Plymouth and Palmerston North.
"Employment is high, retail is performing well, and sentiment is improving thanks to the reboot in tourism, which continues to underpin demand for commercial and accommodation operators.
"Benchmark yields are on their way back up locally, particularly for modern and well-located retail assets, of which there is a shortage in prime areas," he says.
Mr Bartley is marketing the Victoria Avenue premises for sale with colleague Jordan Davis.
The property is offered for sale by tender closing at 4:00 pm on Thursday, 13th April 2023 (will not be sold prior).
Comprising multiple tenancies with a net lettable area of 795sqm (more or less), the two-storey landmark is occupied and benefits from access to an adjoining site, currently used for outdoor dining by the restaurant tenant.
The property is capable of generating an annual net rent of $149,000 plus outgoings and GST from one occupant of multiple tenancies and a sublease.
Japanese restaurant Momiji has a proposed new lease to March 2026 with two further renewal rights of three-years each. The lease provides annual CPI adjustments.
Bayleys Whanganui salesperson Jordan Davis says the property's configuration, which could support up to three independent tenants, provides a split-risk opportunity for future leasing with rental upside potential.
"With a seismic assessment of 66 percent of New Building Standard, the premises has stood the test of time and is a landmark symbol of the city's history and culture. It is immediately impressive from the street with an ornate façade, columns and intricate detailing throughout," he says.
The ground floor features a high-stud height, wooden floors and heritage mouldings.
The restaurant tenancy features a commercial kitchen, a large dining area and access to the adjoining secure courtyard, bar and private function room. There is also an office and storage area.
From the restaurant, there is elevator and stair access to the first floor which features an additional dining/bar area with a curved ceiling and character features which showcase the property's original heritage design.
"A central pyramid skylight provides natural light for the dining space below and an attractive design element for occupants," Mr Davis says.
In addition to the restaurant, there is also a smaller retail space on the ground floor, occupied by a hair salon with a sublease agreement.
Separately accessible, above the restaurant, a two-bedroom apartment features high ceilings, two bathrooms and a modern kitchen.
Both properties back onto a service lane, providing secure car parking for 16 vehicles.
Mr Davis says the premises presents a rare chance to own an exceptional, modernised heritage property, which has been seismically strengthened in Whanganui's central hospitality hub – an attractive investment for purchasers seeking a blend of immediate value and upside potential.
"Proximate to the city's main attractions, including the river, parks and the prime retail centre, the property benefits from high passing foot traffic and an impressive façade.
"At the same time, growth prospects in Whanganui are excellent, and we continue to look forward as the region attracts and retains talent across various sectors, creating demand for commercial and residential accommodation."
Click here for more information on the listing.