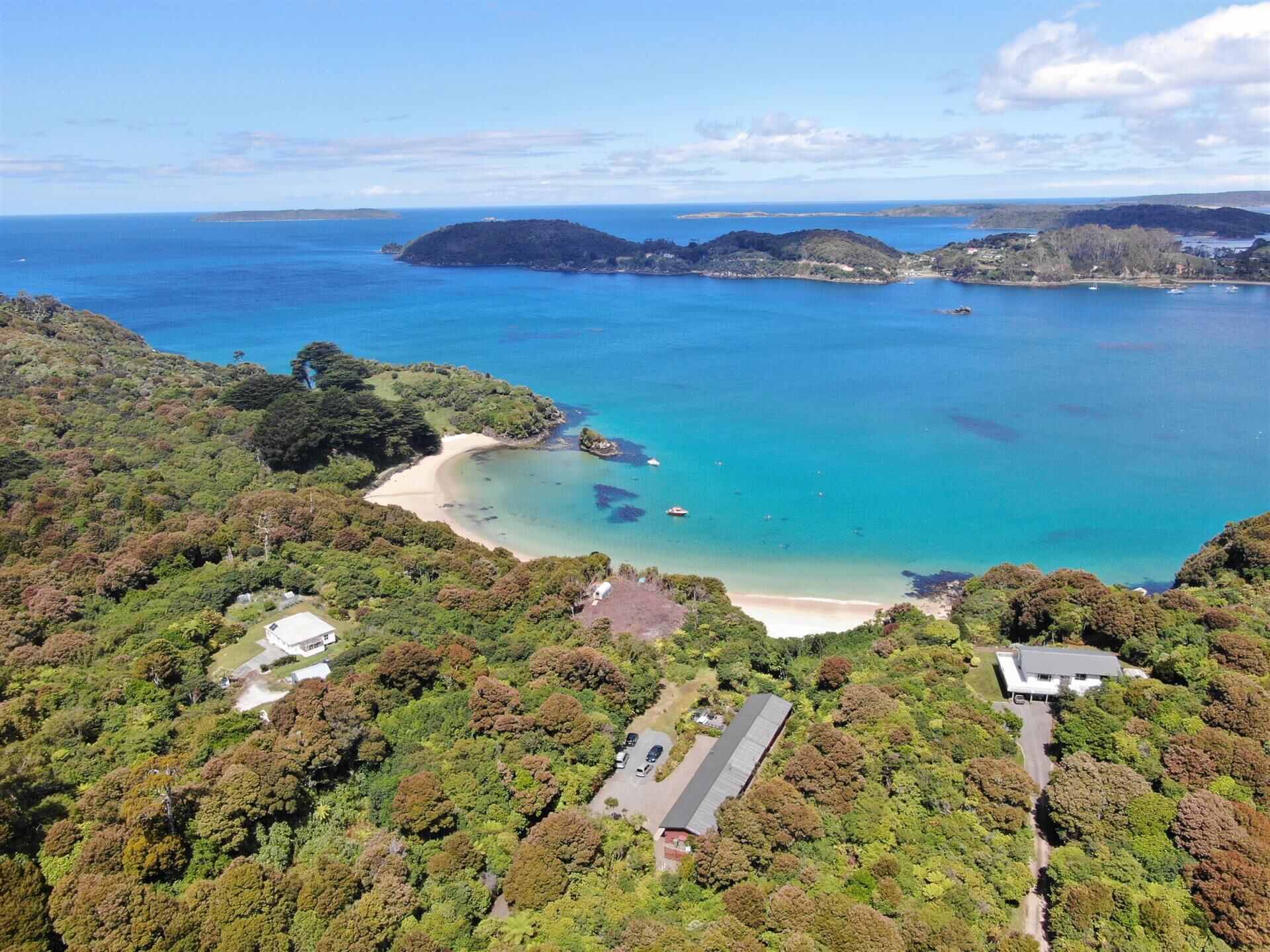 Stewart Island Apartments + Cars provides their guests with not only a comfortable and roomy, fully self-contained unit to stay in, but also a car to tour out and around this pristine environment - visiting beaches, bush walks, the nearby settlement of Oban, checking out points of historical interest and not forgetting late-night kiwi spotting.
Set in native bush, this private and secluded property is the location of the Rakiura Retreat, home to kaka, kiwi, tui, kereru, and other birds. It has stunning views over both Braggs Bay and Halfmoon Bay and a stepped pathway down to an almost completely private beach below.
Within walking distance are three other beaches the Motorau Native Gardens and access to several walks including the Rakiura National Park.
The five units within the motel complex comprise a trio of two-bedroom units sleeping up to six guests each, and a pair of single one-bedroom units capable of sleeping up to four guests each. Nightly rates at Stewart Island Apartments + Cars currently range from $200 for one to $250 for two.
Constructed in 1979, these five easily maintained concrete block units comprise 242-square metres, sitting on approximately 4,573-square metres of freehold land with access along a cobbled driveway off Horseshoe Bay Road.
All of the centrally-heated 3 – 3.5-star rated apartments feature super king-size and single-size beds, bathroom, and living room with full kitchen amenities. The fleet of five guest-use vehicles and one manager's vehicle are included in the sale package along with all the motel chattels.
There are two BBQ areas, a communal area overlooking the bay, and a more private shaded area. The building also houses an office, linen and storage room, laundry, and utility space. Guests have easy access to full laundry facilities and an outside drying area.
The land, buildings and going concern business trading as Stewart Island Apartments + Cars is situated at 156 Horseshoe Bay Road and is being marketed for sale by negotiation through Bayleys Canterbury. Salesperson Kate Mullins said it was rare for businesses like this to come up for sale on Stewart Island.
The Rakiura Retreat has been successfully run and expanded by its current owners for the past 16-years with excellent managers and administrated remotely. This is a wonderful opportunity for any new owners to continue the business in its proven format, or subject to council consents, expand more guest accommodation, or create a glamping business. There is plenty of land for an owner's/managers residence, or to convert existing buildings into a residential property.
"The provision of a reliable, professionally-serviced vehicle for guest use creates a complete point of difference to other accommodation providers on the Island and delivers a 'one-stop-shop' option for tourists coming to Stewart Island – a destination which along with the likes of the Chatham Islands, has long held appeal for many New Zealanders who have it on their 'bucket list' of places to visit," Mullins said.
"The decor of Stewart Island Apartments + Cars is totally in keeping with the general 'vibe' of the island. The units have been maintained to high standards over their lives to ensure consistently high levels of ongoing guest comfort.
"With an abundance of surrounding bush on the property and the magnificent unobstructed water views, future expansion of the accommodation offerings within the business could evolve along the lines of an 'eco-lodge offering or for the construction of an owner's private residence."
Mullins said the Stewart Island Apartments + Cars business was being sold with a solid number of forward bookings right through to the summer of 2022/23.
"The motel has strong appeal to both domestic and international markets. It has fared particularly well due to a boost in domestic travellers choosing to vacation within New Zealand while international travel is a burden. Of course, in time, the international market will come back too," she said.
Mullins said Stewart Island Apartments + Cars could run under multiple different business models:
• As a business investment with a day-to-day manager/operator in place
• As a leased business – commonly seen in the motel sector
or
• Under an owner/manager structure such as the one currently in place – with the existing managers open to discussing continuing on their involvement with the property.
Lounge and bedroom furniture, whiteware, and Manchester chattels are included in the sale package and are being sold 'as is, where is.'
Click here for more information on the listing.