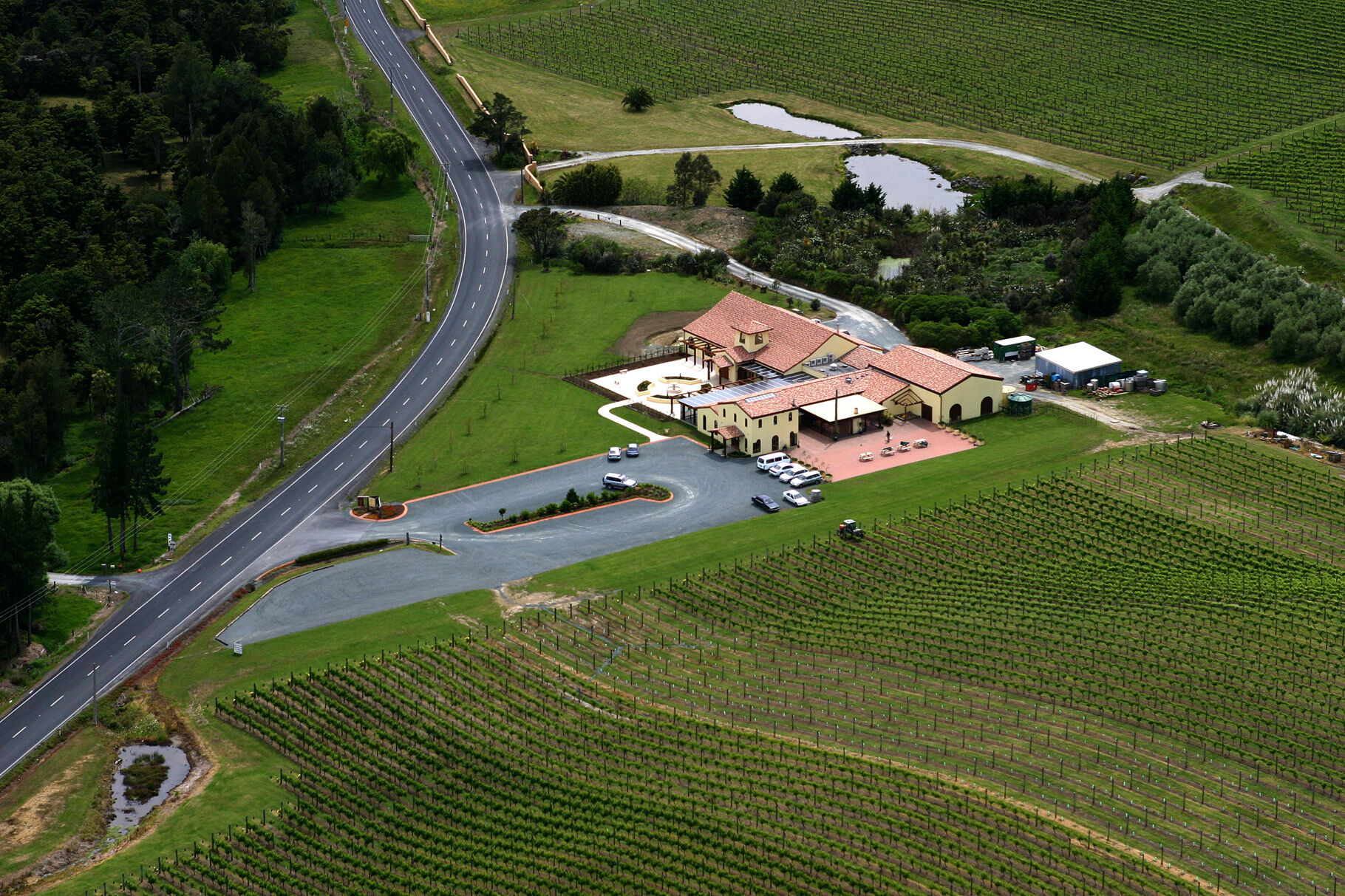 The hospitality operation sits within the Ascension Wine Estate at Matakana just north of Auckland. Ascension Wine Estate was established in 1996, with the 220-seater Spanish-styled restaurant and function venue complex added in 2000 in the style of the Spanish Mission at San Luis Obispo in California.
Both Ascension ventures were at the forefront of the Matakana region's emergence into a now highly prosperous hospitality and domestic tourism scene which has seen the evolution and expansion of Matakana town centres' retail zone, the refurbishment and modernisation of the village's hotel, and the establishment of multiple mid' to high-end commercial boutique accommodation providers in the region.
During its heydays amongst the forefront of 'winery tour' music concert venues throughout New Zealand, Ascension Wine Estate hosted major crowd-pulling gigs with artists including The Hollies, Jimmy Barnes, Solo Mio, Toni Childs, The Irish Rovers, Dave Dobbyn, Sir Howard Morrison, and Dragon.
The building housing Ascension's various hospitality entities sits within 7.6 hectares of land on a high-profile corner leading into Matakana Valley. The property has four hectares planted in vines, surrounded by mature gardens and lawns.
Now Ascension's food and beverage operations – but not the associated vineyard or winery entities – have been placed on the market for lease by negotiation through Bayleys Real Estate. Salespeople Carolyn Hanson and Mike Peterson said that leasing out the hospitality operations on site was designed to allow Ascension's owners to concentrate on the viticulture side of the business.
Terms and conditions of the business lease would be open for negotiation with any interested parties, said Ms Hanson. The venue's 710-square metre fully air-conditioned function centre, named The Belfry, can be configured into multiple spaces with the potential to host up to 300 guests in various seating styles.
"The opportunity at Ascension would suit a food and beverage operator with experience in marketing and business development – to reinvigorate Ascension's standing in the wider Matakana and Auckland regional hospitality scene," Ms Hanson said.
Within The Belfry area is a VIP dining room suitable for intimate dining occasions of up to 20 people, while the venue's main restaurant - a four-time national winner in the Hospitality New Zealand Awards for Excellence programme.- is licenced to serve up to 200 guests in indoor and alfresco courtyard areas.
Both areas are jointly serviced by a full commercial-grade kitchen encompassing walk-in chiller/freezer units, combi' ovens, gas hobs, deep fryers, substantial stainless steel food preparation benching, and crockery washing/cleaning equipment, Ms Hanson said.
"The lease will also include the right to operate Ascension's cellar door tasting facility located at the entry to the restaurant and function areas," she said.
"The venue operates all-year round – catering to walk-in diners throughout the week, with a strong corporate trade mid-week for small conferences, and weddings on most Saturdays. In summer, these sectors run at near 100 percent capacity. The business is being leased with a robust number of wedding reservations booked right through until this time next year."
Ms Hanson said the big opportunity for any new operator of Ascension's food and beverage operations would be to reinvigorate the winery concert and show business.
"Matakana's proximity to Auckland - combined with the high number of commercial accommodation options available in the immediate vicinity, along with a substantial supply of short-term holiday home lets at nearby Omaha Beach - means the region is perfectly suited as a weekend break destination," she said.
"While the winery tour circuit around New Zealand has now grown to include regions such as Hawke's Bay, Wairarapa, Marlborough and Queenstown, Matakana is still the premier choice for such events in Auckland north of the harbour bridge. The market is definitely still there for such events drawing in crowds of up to 3000 party-goers."
Ascension's hospitality activities employs eight fulltime-equivalent staff, with additional part-time service staff taken on during functions. The total staffing complement swells to 30 employees over the Christmas/New Year holiday period – making it one of the biggest food and beverage employers in the Rodney region.