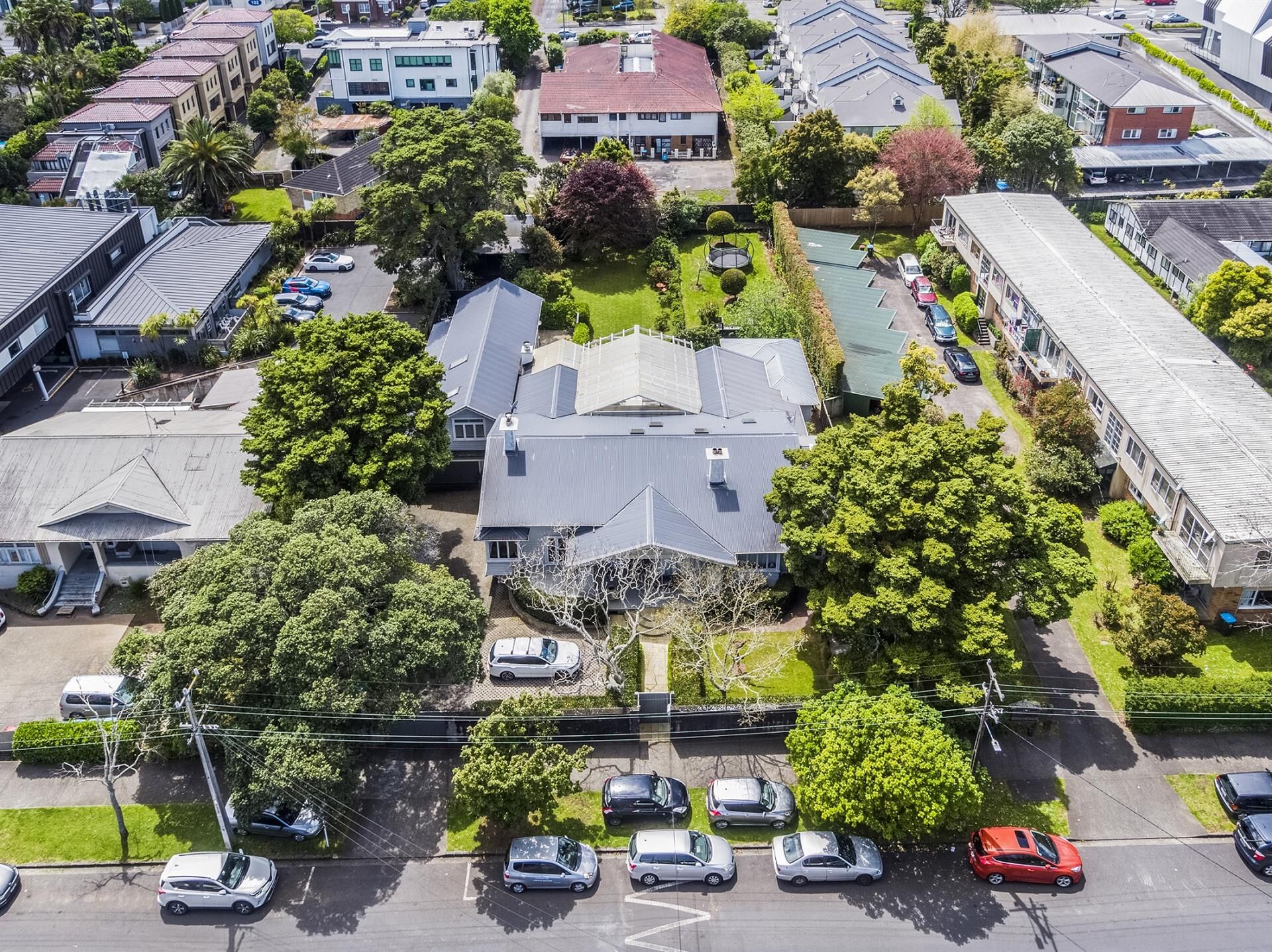 A large site containing a luxury home in one of Auckland's most sought-after locations has been placed on the market for sale ripe with potential for new mixed-use development.
The property at 6 MacMurray Road, Remuera, forms part of a traditionally residential area which has long been in demand from families seeking to live in zone for Auckland Boys' and Epsom Girls' grammar schools.
However, the area has seen significant residential and commercial property development in recent years. The MacMurray Road site is now being touted for potential future construction of apartments, townhouses, medical facilities, retail or commercial accommodation.
The freehold land and buildings at 6 MacMurray Road are now being marketed for sale with vacant possession. They will be sold by way of a tender closing on 1 December (unless sold prior), through Bayleys Auckland Central.
Salespeople Alan Haydock and Damien Bullick said the existing improvements consisted of a five-bedroom character home and a self-contained two-bedroom second dwelling, plus a dedicated office tenancy, on some 1,821 square metres of freehold land.
"Positioned on the northern side of MacMurray Road, this property represents a highly-desirable and prestigious residential home in one of the country's most sought-after locations," said Mr Haydock.
"But that's just the start of the site's potential. The large size of the landholding, combined with its Business – Mixed Use zoning under Auckland Council's unitary plan, holds out exciting possibilities for future development.
"The zoning allows for a myriad of options – including apartments or terraced housing, and medical and commercial developments, for which this area is already in demand. Other permitted activities range from offices to retail, entertainment facilities or visitor accommodation," Mr Haydock said.
The planning rules allow development at the site up to a maximum height of 16 metres, plus two metres for roof form.
Mr Bullick said the commercial success of any future development would be supported by the property's location amid one of the country's most affluent residential and commercial catchments.
"The property at 6 MacMurray Road is conveniently positioned just a few minutes' walk from the Newmarket Train Station and the busy shops and restaurants along Broadway, as well as the new Westfield Mall, with a retail catchment area that is home to an estimated half a million Aucklanders," he said.
Properties in the vicinity are largely a mix of original character homes, new luxury apartments and boutique commercial and medical facilities.
Mr Bullick said the area's mixed-use potential was illustrated by recent successful projects such as the up-market St Marks apartment and commercial complex developed directly across from 6 MacMurray Road.
The precinct had also continued to prove highly popular with healthcare businesses, which had seen the development of a number of new medical and healthcare-related facilities, he said.
Health-related premises clustered in the immediate vicinity include Remuera Rest Home and Hospital, Dilworth Hearing, OneHealth Accident and Medical Care, Lumino Orthodontists, Eastwood Orthopaedic Clinic, and Auckland Family Medical Centre.
"Accessibility is another major drawcard for the MacMurray Road site. The Newmarket Train Station is a short walk away and access to the Southern Motorway is just around the corner down St Marks Road. Future residents will not only benefit from being in zone for Auckland Boys' and Epsom Girls' grammar schools, but also from the site's positioning within handy reach of many of Auckland's top private schools," said Mr Bullick.
"But perhaps the most exciting thing about the property for sale is its potential. This is a rare chance for a buyer to secure a site of this scale in a popular and rapidly developing mixed-use enclave. New owners stand to reap significant benefits from a flexible site which is ready for immediate development, land-banking or occupation."