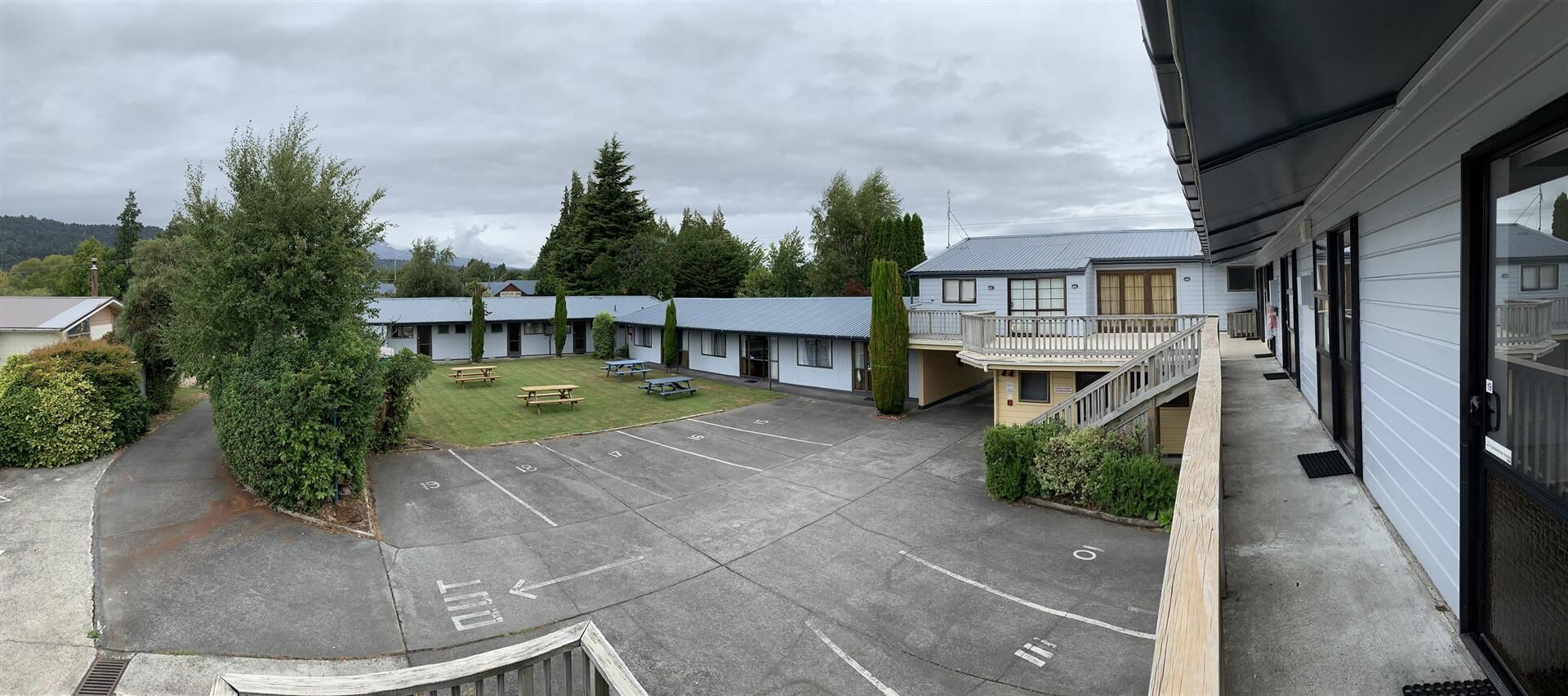 The Ohakune Court Motel in the Central North Island township of Ohakune is an
18-room property encompassing a range of studio, one, two, and three-bedroom units. Ohakune township sits on the southern gateway to Tongariro National Park.
The buildings also include a two-storey/three-bedroom manager's residence with adjoining ground floor office and reception area, as well as a block garage unit utilised for storing guest's recreational equipment - such as mountain bikes, motorcycles, snowboards and skis, and kayaks.
The 808-square metres of Ohakune Court Motel buildings sit on some 2,288-square metres of freehold land at 101 Goldfinch Street, and have a 75 percent new build standards rating. The accommodation units are immediately adjacent to a central tar sealed car parking space and flat grassed lawn area.
The Ohakune Court Motel land and buildings are being marketed for sale at auction at 11am on April 10 through Bayleys Real Estate. Salespeople Nicolas Ching, James Chan and Jenny Dekker said the tenant business was on a 30-year-lease running through to 2044, generating annual rental of $108,300 plus GST.
"The Ohakune Court Motel was constructed in 1978, with subsequent additions and alterations made in a planned expansion spanning between 1993 and 2004 as guest nights continually grew and more rooms were needed," Mr Ching said.
"The venue's accommodation units are split across two L-shaped wings – one a two-storey structure with dual stairways leading to access decking at the front of the upper units, and the other a single-level block. Construction of both ground floor portions consists of concrete foundations with reinforced masonry walls and timber partitions.
"The business benefits from being located within Ohakune's town centre - enabling guests to walk to the array of retail services and hospitality venues the town has to offer. Most of the accommodation units have views of Mount Ruapehu and Tongariro National Park."
Mr Ching said the Ohakune Court Motel land and buildings offered an entry-level property investment opportunity into New Zealand's robust tourism sector – underpinned by a tenant with a long lease in place.
"The motel's core target market is active leisure travelers - split predominantly across the summer and winter seasons, with shoulder periods stretching into autumn and spring, the length of which varies depending entirely on the weather," Mr Ching said.
"In the winter months between June to late October, Ohakune Court Motel sustains high occupancy rates from skiers and snowboarders at both the Whakapapa and Turoa ski fields, while in summer December to February the venue is heavily booked by hikers walking the alpine crossing and cyclists riding the region's bike trails.
"The motel provides complimentary transport to the starting or finishing points for the Bridge to Nowhere, Old Coach Road and Tongariro Crossing walking and cycling tracks."
Ruapehu District Council's 2015 – 2025 economic development strategy paper identified trail cycling and walking in the region as one of the big economic opportunities for growing tourist numbers in towns such as Ohakune.
"Aside from benefits to individual businesses, our new cycle trails and established walking trails have attracted more visitors to Ruapehu and increased the value of tourism," the report said.
"It is important – given the many other cycle/walking trail opportunities are being developed around the country – that Ruapehu capitalises on the success of the Tongariro Alpine Crossing, the Timber Trail, and the Mountains to Sea Cycle Trail."
Mr Chan said that to facilitate growing the number of cyclist and walker visitor numbers to the region, Ruapehu District Council had committed to maintaining existing tracks, working with vested-interest groups to develop new trails, and advocating for new trail opportunities within Tongariro National Park.
"Ohakune's tourism infrastructure was historically built on the traditional activities taking place on the Tongariro National Park ski fields. However, with the rise in popularity of both trail walking and cycling the tourism sector has grown horizontally to spread its appeal over a longer portion of the year," she said.
"This has created a positive flow-on effect for businesses in the tourism sector, and of course the commercial properties they occupy."