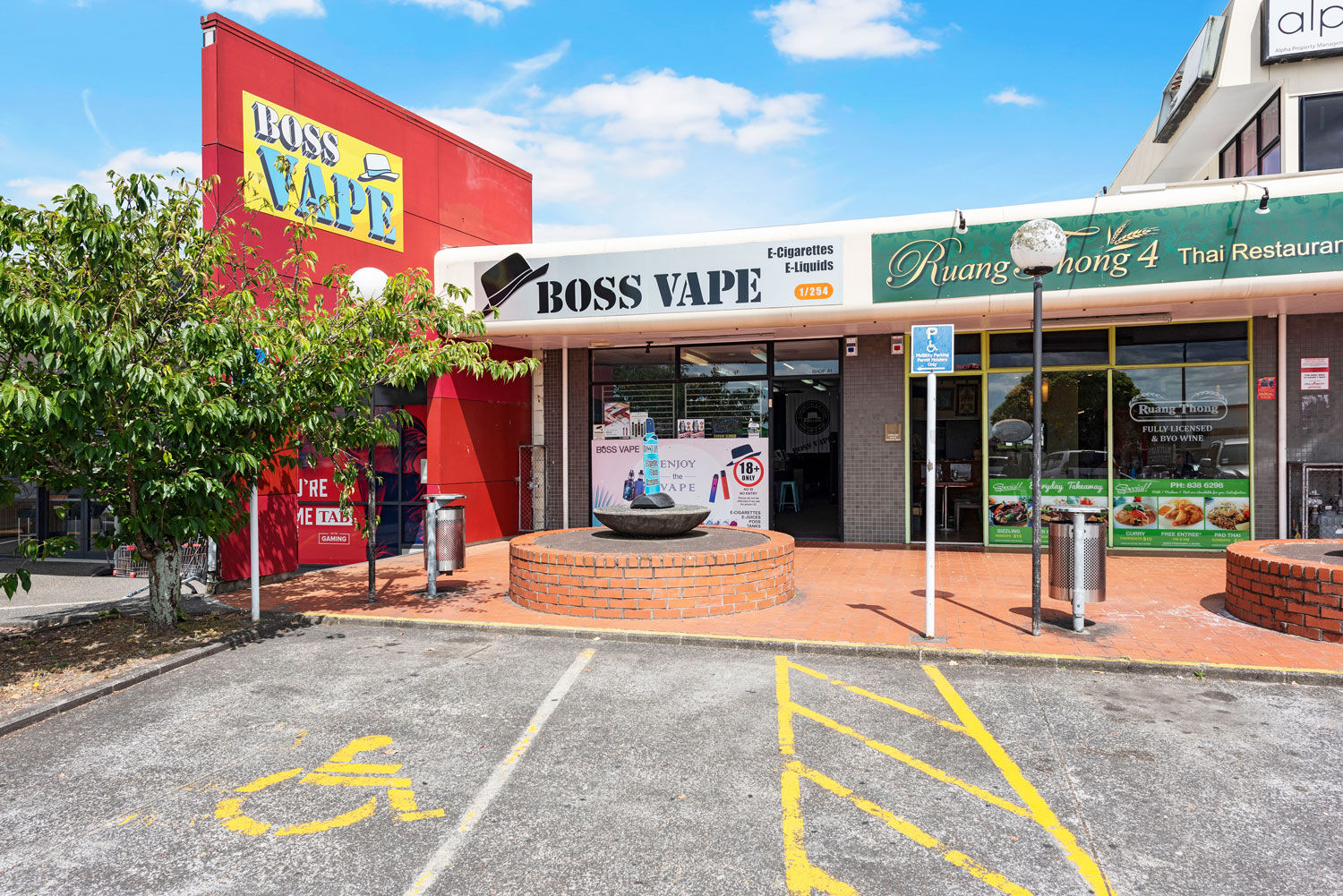 The Henderson retail units are among a block of nine adjoining shops located at 254 Lincoln Rd and are being offered to the market for the first time in 18 years.
One is a 96 sqm unit occupied by a Boss Vape shop which is generating net annual rental income of $26,000 on a three-year lease. The other is 88 sq m, tenanted by an established superette, and which is currently returning $31,570 net plus GST per annum with a monthly tenancy in place.
Bayleys Auckland agent Matt Lee says the units are expected to sell for well under $1 million and offer an excellent entry level opportunity for an investor or owner occupier to directly own a well located retail investment property in a busy and high profile precinct. He is marketing the units with Bayleys international division colleague James Chan and they will go up for auction separately on March 11, unless sold prior.
Chan says they will be among 24 properties featured in Bayleys' first 2020 Total Property portfolio that are scheduled to be auctioned in the agency's central Auckland auction rooms on that day. "This is the largest number of properties we have had up for auction this early in the year for quite some time which will provide plenty of opportunities for investors, owner occupier and developers.
"These Lincoln Rd units will have particular appeal to those looking to acquire their first commercial property for not too much of an outlay or wanting to expand an existing portfolio," says Chan.
"Located just off the corner of Lincoln Road and Universal Drive, one of Auckland's busiest intersections, the units are situated in a popular strip retail block consisting of an established tenancy mix with zero retail vacancy."
Situated next door is Lincoln North Shopping Centre, which was developed in 2006 and is home to a range of high profile national and international tenants including BNZ, ANZ and Westpac banks, KFC, Pizza Hut, Subway, Dunkin Donuts, Columbus Coffee, St Pierre's Sushi, SuperCheap Auto, Snap Fitness, Animates and Lollipops.
Massive Pak'n Save and Mitre 10 Mega stores are also located close by on the other side of Universal Drive. Directly across from Pak'n Save and Mitre 10 is a planned retirement village on a 4.5ha site. Ryman is intending to provide accommodation for about 400 people.
The nine units at 254 Lincoln Rd share common customer car parking located at the front of the shops with direct frontage onto and access from and to Lincoln Rd. Each of the two units for sale also comes with an allocated (accessory unit) car park positioned at the rear of shops. These are accessed off Universal Drive through the Lincoln North Shopping Centre.
Vape Boss has occupied its premises (Unit A) since their initial three-year lease commenced in February 2019 and it has a further three three-year rights of renewal. Open six days a week, the business supplies a range of Vape-related products, with a strong retail and online presence. The rear portion of the premises is utitised as office space and contains toilet facilities.
Lee says the Lincoln Superette has a long trading history and has occupied Unit H since at least 2002 when the current owner purchased the property. In addition to the shopping area, the unit has toilet facilities and a kitchenette at the rear. Lee says the superette's monthly lease means the unit may suit an owner occupier or add value investor who could either source a new tenant or endeavour to negotiate a new lease with the current occupant.
James Chan says over recent years the heavy traffic flows that Lincoln Road and Universal Drive carry in conjunction with a sizeable, growing surrounding residential population has prompted significant retail and commercial office development in this location.
Lincoln Road is the busiest arterial road in west Auckland, extending from Great North Road in the south to the North Western Motorway system in the north and used by 45,000 to 48,000 vehicles per day. A planned Lincoln Rd upgrade project aims to increase capacity and reduce congestion, plus improve traffic flow and travel times. Universal Drive is a significant link road to West Auckland suburbs such as Massey, Ranui and Swanson as well as the Waitakere Ranges
Henderson is a key part of the Henderson-Massey Local Board Area, which, according to the 2018 NZ Census, recorded a population of 118,425, an increase of 10,446 people, or 9.7 per cent, since the 2013 Census. Since the 2006 census, the population of the area has grown by 19.9 per cent.