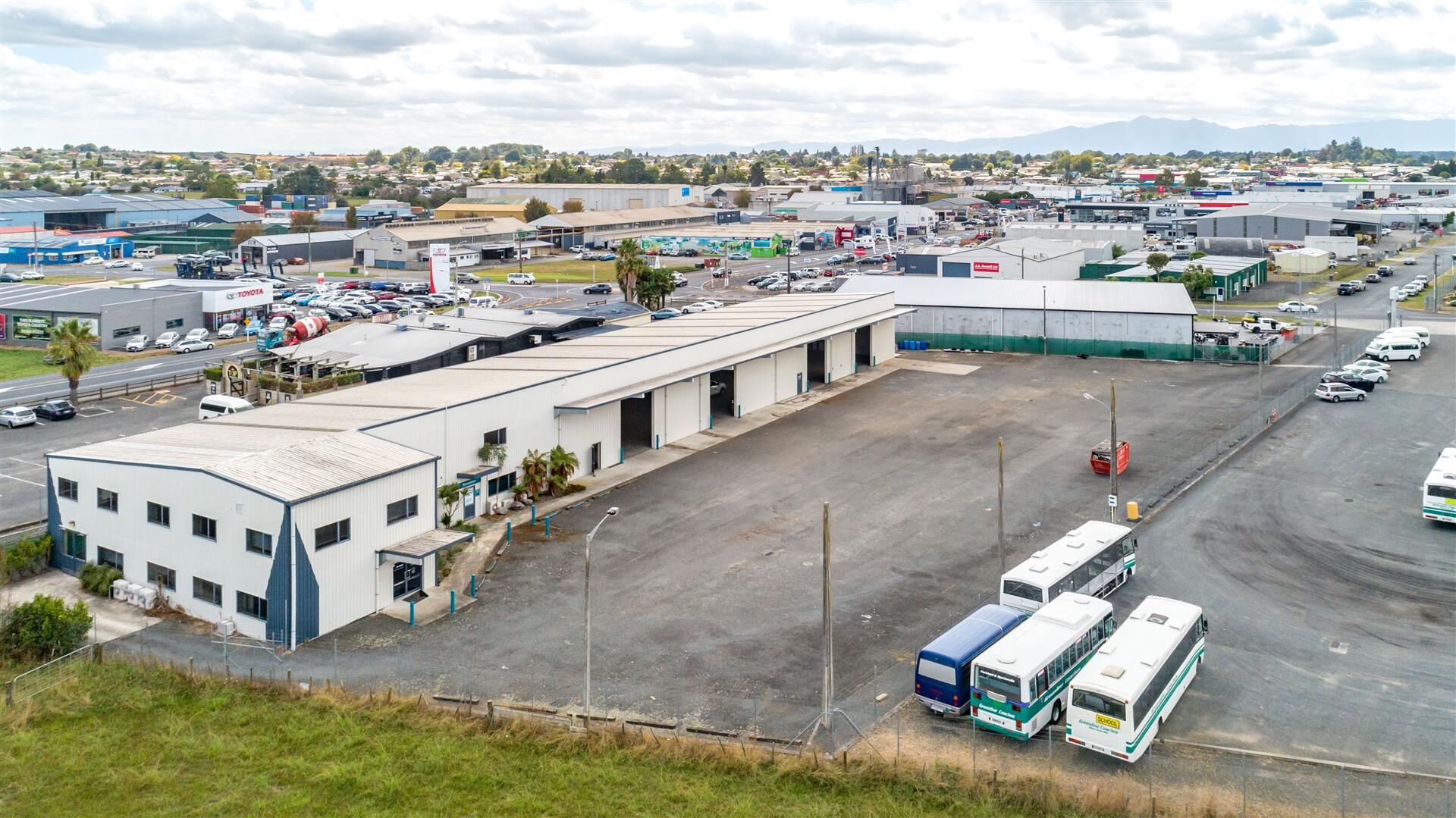 The 5,496-square metre property in the Waikato township of Morrinsville consists of an expansive truck parking yard adjacent to a 1,196-square metre high stud warehousing and administrative office complex.
The concrete-floored open plan warehouse is accessed through a quartet of five-metre-high heavy roller doors allowing for easy entry by truck and trailer units, with separate entry points for administration staff entering the office portion of the premises.
Adjoining the warehouse on the lower level are staff kitchen and bathroom facilities, an office and reception area – all covered in hardwearing vinyl flooring. The rear of the building contains two levels of additional carpeted offices, boardrooms, breakout spaces, staff facilities and kitchenettes in a more corporate styled interior.
Located beside State Highway 26, the generally regular-shaped property is zoned commercial under the Matamata-Piako District Council plan.
The freehold land and buildings at 71 Avenue Road in Morrinsville are now being marketed for sale at auction on April 26 through Bayleys Hamilton. Salesperson Josh Smith said the property's building infrastructure and lay-out would amply suit a freight forwarding or logistics operation.
"The 690-square metres of warehousing space allows for large truck and trailer units to move quickly and efficiently on to and out of the warehousing floor. The building occupies less than a third off the entire site – allowing for considerable parking outside, or for the outdoor loading and unloading of freight and goods," said Smith.
"There is also the potential, subject of course to council approval, to extend the warehousing structure further toward its boundary and increase its capacity by an additional 25 percent without impacting on the yard area.
"Additional warehousing – either fully enclosed or partly open - could also be built in a currently underutilised corner of the yard space for additional goods or vehicle storage," said Smith.
"There are very few buildings of this size, proportion, and usage potential available in Morrinsville. The external yard space could easily accommodate 10 large haulage trucks, or park up six big rigs with trailers.
"Under this dynamic, the site would suit an earthmoving, infrastructure engineering, or civil works business, with the warehouse space suitable for use as a mechanical or engineering workshop."
Smith said the Avenue Road property was being sold as vacant – in a 'turnkey' state ready to be occupied by a new tenant.
"As industrial land values rise in Hamilton's northern and southern urban boundaries - and space availability concurrently decreases - a growing number of companies are looking for more cost-effective alternatives in the satellite townships of Te Awamutu, Cambridge…. and Morrinsville," said Smith.
"The connecting roads close by the Avenue Road premises deliver an ease of access to all points of the 'Golden Triangle's' state highway network - via State Highway 26 to Hamilton, State Highway 1B to Auckland via Gordonton, or across to Tauranga via state highways 27, 24 and 29.
"With freight movements forecast to be predominantly from and to the west in the direction of Hamilton, The Avenue Road location will minimise the need for heavy vehicles to travel through central Morrinsville."
Smith said the property's location on the edge of Morrinsville would suit a tenant with a business-to-business structure, and minimal requirements for passing trade or general public customer contact.
Neighbouring tenants around the Avenue Road industrial and manufacturing locale for sale feature a mix of automotive-related sales and repair firms, a bus depot, engineering operations, and tradie-style businesses.
Smith said the flat topography of the property meant it would be relatively straightforward to enclose the block with security fencing.
Click here for more information on the listing.