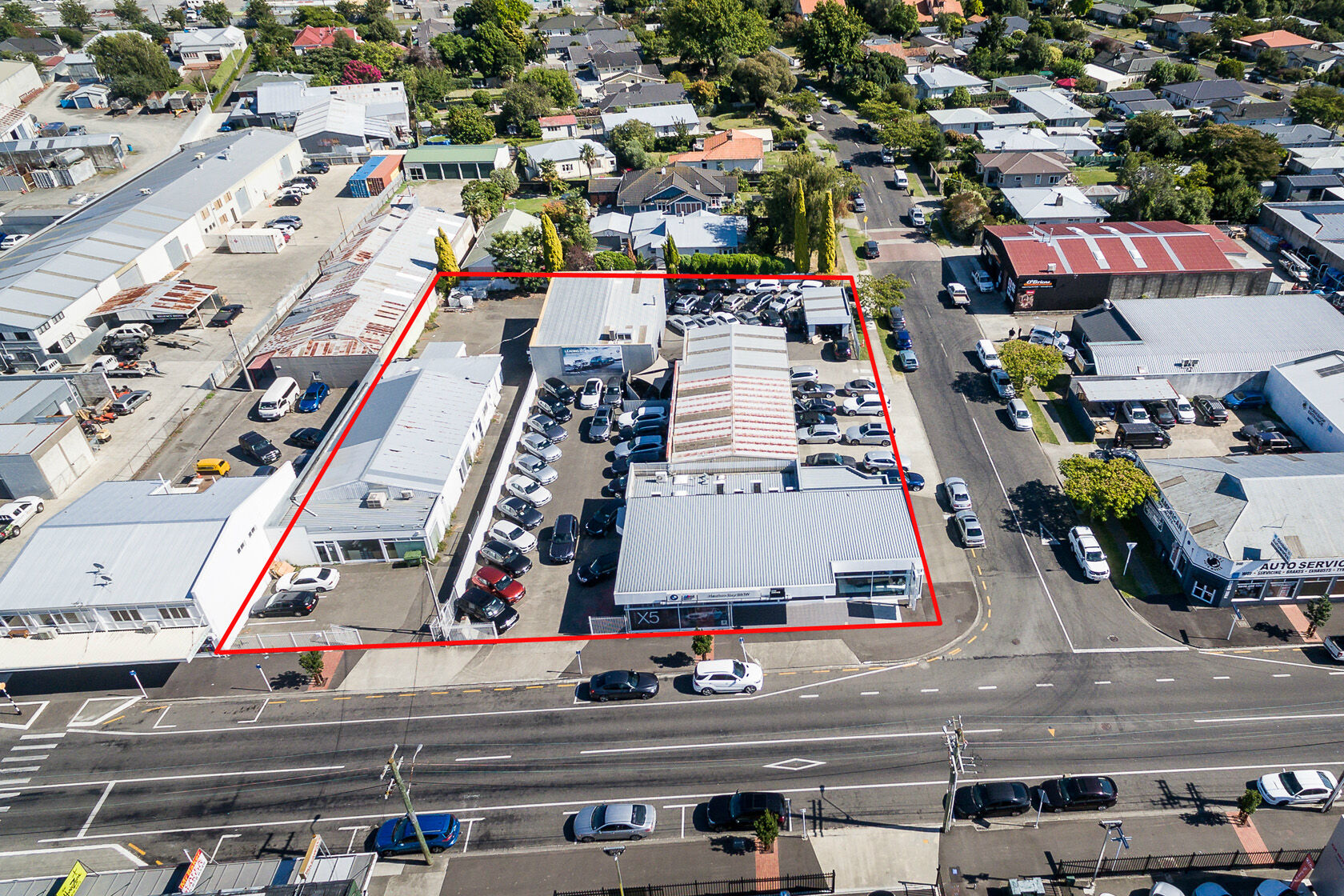 The joint property listing gives potential buyers flexibility - with multiple options including a long-term passive investment or owner-occupier potential, said Bayleys Hastings salespeople Rollo Vavasour and Daniel Moffitt.
The luxury car dealership has been on the same leased site at 824 Karamu Road North for the past two decades in premises that have been steadily upgraded and enhanced to meet the exacting standards of BMW New Zealand and its parent company in Germany.
Next door, there is a short term lease on 820-822 Karamu Road North, a much smaller property on a separate title, which could easily be on-sold by a new owner, said Mr Vavasour and Mr Moffitt, who are marketing the property for sale by private treaty closing on May 16.
For the majority of BMW's history, the prominent corner property was leased by Jeff Gray BMW, but with a change of ownership it now has a two-and-a-half year lease to BMW Manawatu and Hawke's Bay - generating a net rental of $140,000 a year. It has a Hastings District Council rating valuation of $1.6 million.
The smaller property has a rating valuation of $500,000. Previously occupied by a pharmaceutical company the three-year lease started in 2017 and returns $50,000 a year. The sit comprises a 345-square metre building that has a single-level office, showroom, cool rooms and warehouse on a 915-square metre site.
On the main site, BMW sells and services cars from a 710-square metre building split into showroom and offices of 286-square metre, garage, workshop and parts office of 253-square metre, grooming and maintenance shed of 140-square metre and a tyre bay of 29-square metre on a 2,121sq m site. In addition, there is a forecourt car display yard of about 1,300-square metres.
Mr Vavasour said the site was in close proximity to the Mega Park Centre where two of Hastings' biggest big box properties had been snapped up recently by out-of-town buyers. Properties comprising Cracker Jack, Briscoes, Rebel Sport, Pet Stock and Noel Leeming were sold for $21 million to a Wellington buyer who weeks later also bought The Warehouse for $19.76 million.
Mr Vavasour said both property portfolios had sold on low yields which reflected the buoyant nature of the Hastings and Hawke's Bay market and particularly the interest from national buyers.
The development of the Mega Park Centre and surrounding properties in Karamu Road had seen a major shift in the "centre of gravity" for Hastings and spending habits for the city, said Mr Moffitt.
"Historically, commerce had been confined to the strip retail spine of Heretaunga Streets West and East. Now all the who's who of New Zealand's big-box retailers and trade operators had shifted to the Mega Park Centre and associated commercial precincts. This had produced a notable increase in commercial activity in this area with the consequent trend of steadily increasing rents and investment values," he said.
In addition, Karamu Road is renowned as the "car alley" of Hastings with other major brands including Holden, Toyota, Mitsubishi and Kia. A vacant commercial property on the busy arterial was a rarity, Mr Vavasour said.
Nearby to Karamu Road is the Heinz Wattie complex, the largest food processing facility in the southern hemisphere and which is the province's major exporter through the Port of Napier.
"Due to its central geographic position, Hastings is the engine room for the regional economy. Less than 20 kilometres separate Hastings and Napier and the two are grouped together as the Twin Cities. They are increasingly treated together in official statistics," Mr Vavasour said.
Their combined population is 131,000 making the urban area the sixth largest by population in New Zealand, closely following Tauranga (134,000).