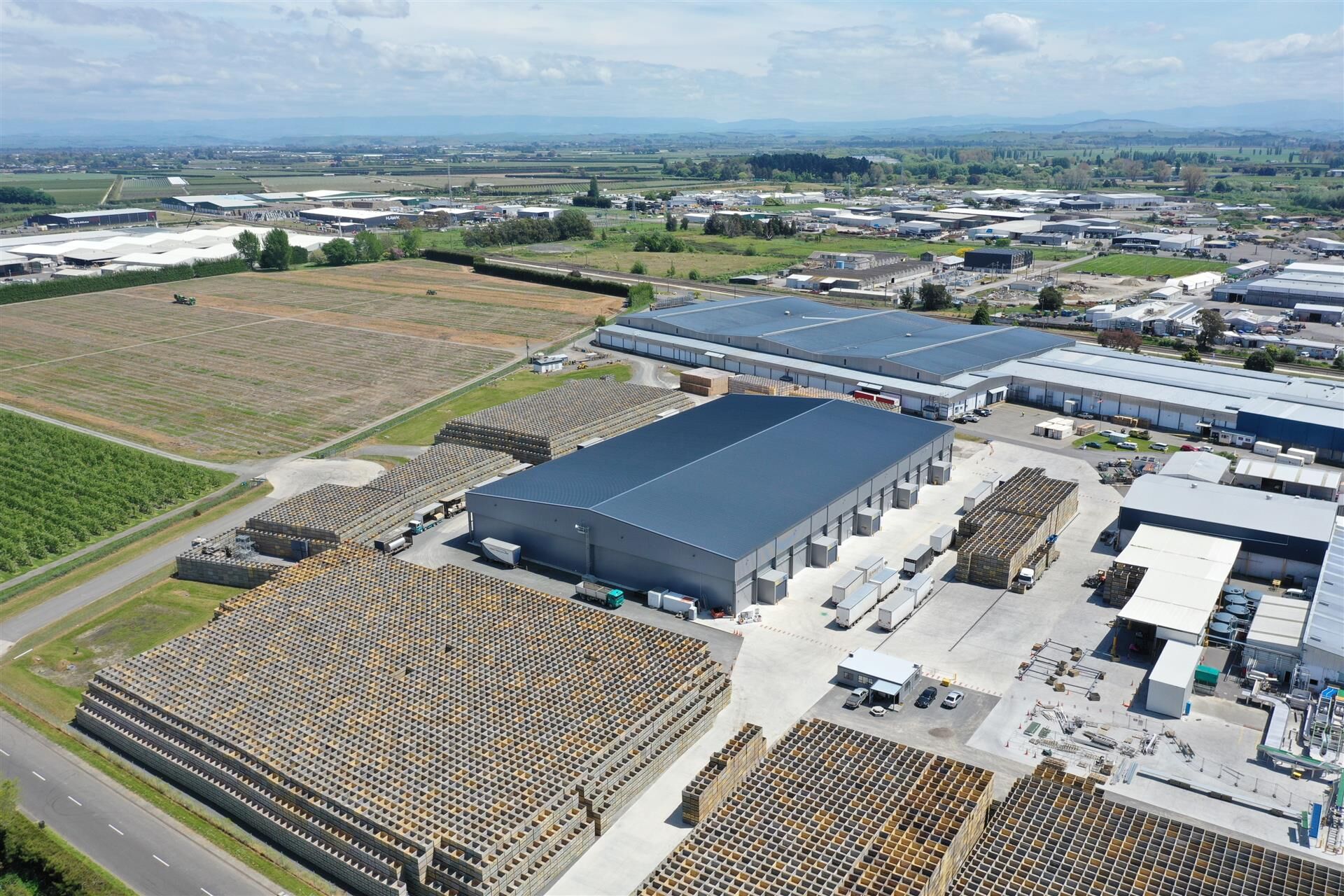 A state-of-the-art coolstore premises, purpose-built for New Zealand's largest apple producer, provides investors with a growing opportunity to capitalise on export demand and a tight supply of post-harvest facilities.
The state-of-the-art facility on 3.932ha plus a half share in 1,235sq m (more or less) at 14 Groome Place is in a prime industrial location, currently experiencing a new wave of growth as wineries, food processors, bottlers and manufacturers maximise accessibility to main transport links across the region.
Bayleys Investments and Land associate director, Stephen Scott, says the property's condition is superb, having been completed just 18 months ago.
In addition, a new 20-year lease from settlement to apple industry leader – Mr Apple – with triple-net lease terms and 2.5 percent built-in market rent reviews, provides an exceptional tenant covenant and passive investment opportunity in a high-growth sector.
"Boasting an exceptional location amongst some of the industry's largest operators, the purpose-built facility has been constructed to provide for increasing growth and will attract passive capital.
"Horticultural producers are being tapped to unlock growth alternatives for New Zealand's primary industries, and with the dollar value of apple exports doubling over the last decade, at the same time global demand is increasing, there is significant potential for asset-owners to capitalise on the growing appetite for post-harvest facilities.
"Hawke's Bay remains one of New Zealand's leading food-producing regions, with an estimated 7,000ha planted in apples and pears.
"In addition to the land in production, modern planting methods have increased growers' yields significantly. Thus, the quantum of fruit-growing coolstore space is expected to increase significantly as the new and replacement plantings come on-stream over the next few years, increasing demand for high-quality and modern facilities," he says.
Mr Scott is marketing the property for sale with Bayleys colleagues Layne Harwood and Kerry Geange.
The Groome Place property is offered for sale by tender, closing at 4:00 pm on Thursday, 16th March (unless sold prior).
Bayleys Capital Markets director, Layne Harwood, says the supply of coolstore space across the Hawke's Bay region is insufficient to meet current and increasing demand.
"Existing producers have prioritised land purchases and new plantings over the construction of new accommodation with temperature controls. At the same time, construction costs have increased, which acts as a handbrake on the market provision of new facilities.
"This presents an opportunity for the new owner to capitalise on product scarcity and the high-demand for modern, large-scale facilities which are likely to attract longer-term lease commitments and security from big-name producers."
He says the property at Groome Place provides a blue-chip lease covenant with long-term security to Mr Apple, including 20 years with three renewal rights.
The lease provides annual net rent of $1,400,000 plus GST, with all operating expenses, including plant and machinery equipment, being the tenant's responsibility.
Mr Apple is New Zealand's largest apple producer, growing 11 varieties and exporting around 25 percent of the total New Zealand apple crop.
The business is part of NZX-listed agribusiness and logistics company Scales Corporation – a stalwart in the sector with origins dating back to 1897.
Comprising 6,925sq m of lettable temperature-controlled accommodation, the property features an 11-metre stud height, supported by 2.15ha (more or less) of sealed yard, bin and storage operations.
Bayleys Hawke's Bay Investment, Commercial and Projects director, Kerry Geange, says the coolstore features its own title and a generic design which would allow the building to meet the storage requirements of a variety of users – not just those associated with the apple industry – providing a flexible opportunity for investors.
"Completed in 2021, the facility features state-of-the-art, world-class cooling infrastructure positioned to meet rapidly increasing demand for high-quality coolstore space.
"Serviced by modern cooling systems, a high-capacity plant, extensive sealed yards for total loading and operational areas including for bin storage, this asset represents one of the best export-rated controlled atmosphere facilities in the region.
"This particular facility represents a long-term strategic investment opportunity with a low risk and secure return. In addition, investors will be attracted by a combination of industrial sector, domestic and export food market demand, which offers confidence for the potential of this asset class," he says.