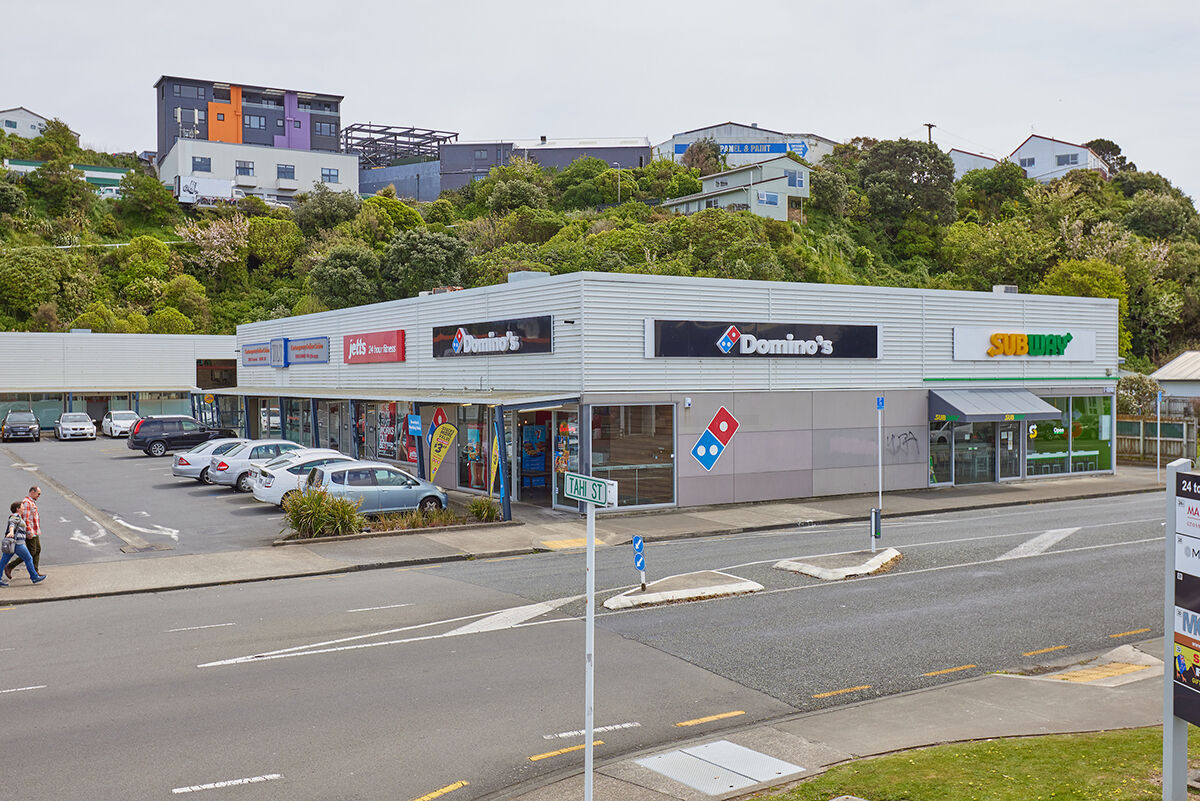 A fully-leased high-profile retail investment offering in the eastern Wellington suburb of Miramar is expected to draw strong interest from passive investors looking for a modern building, and a spread of risk across the leases.
Zoned Business 1 and comprising four individual retail tenancies, Unit 3, 9-11 Tauhinu Road, Miramar is located on the northern side of the Miramar Metro commercial development, a U-shaped retail complex with a central common car parking area for 60 vehicles.
National retailers Subway, Dominos and Jetts, along with the Miramar branch of the locally-renowned Tulsi Indian restaurant brand, have occupied the modern, well-presented subject property since it was completed in 2007.
Unit 3 returns a current net income of $242,318 per annum plus GST, with occupiers on varying lease terms that include rights of renewal.
Miramar Metro is also home to neighbourhood bar Iron Horse, Alamir Bakery, Metro Seafood, Harrington's Small Goods and Big Barrel liquor store.
Unit 3 is being marketed by Grant Young and Sarah Lyford of Bayleys Wellington Commercial by tender, closing 4pm Wednesday 7th December.
Young said the property for sale has a total floor area of 791sqm, separate toilet facilities in each tenancy, and a long frontage to both the main road and central shared parking area, giving good profile to the tenant businesses.
"It's a well-performing all-rounder property with the tenancies having a mix of sizes from 110-300sqm which future-proofs the property as it provides options for a wide array of occupiers.
"The Miramar Metro complex has a good balance of occupiers, meeting a broad range of needs for locals in this popular suburb, and with its generous car parking ratio, is well-patronised."
Young said Miramar continues to leverage the Peter Jackson effect, with the downstream benefits of significant investment and spending activity from the film industry and its personnel bolstering the suburb's appeal as a place to live, work, visit and invest in.
"The suburb has tracked upwards over the past 20 years, with Weta Workshop and its associated property interests supporting growth.
"When we look at the unit for sale in the Miramar Metro complex, the tenant mix of food and beverage and fitness meshes well with consumer spending patterns that are tending to reflect affordable dining options and health and well-being."
Suburban shopping precincts generally weathered the pandemic "storm" favourably as locals shopped close to home and opted to support businesses in their neighbourhoods.
"These patterns are remaining as life returns to normal and when looking at this commercial investment opportunity, investors can take confidence in the fact that the tenants have been on site for 15 years and are now part and parcel of the Miramar community."