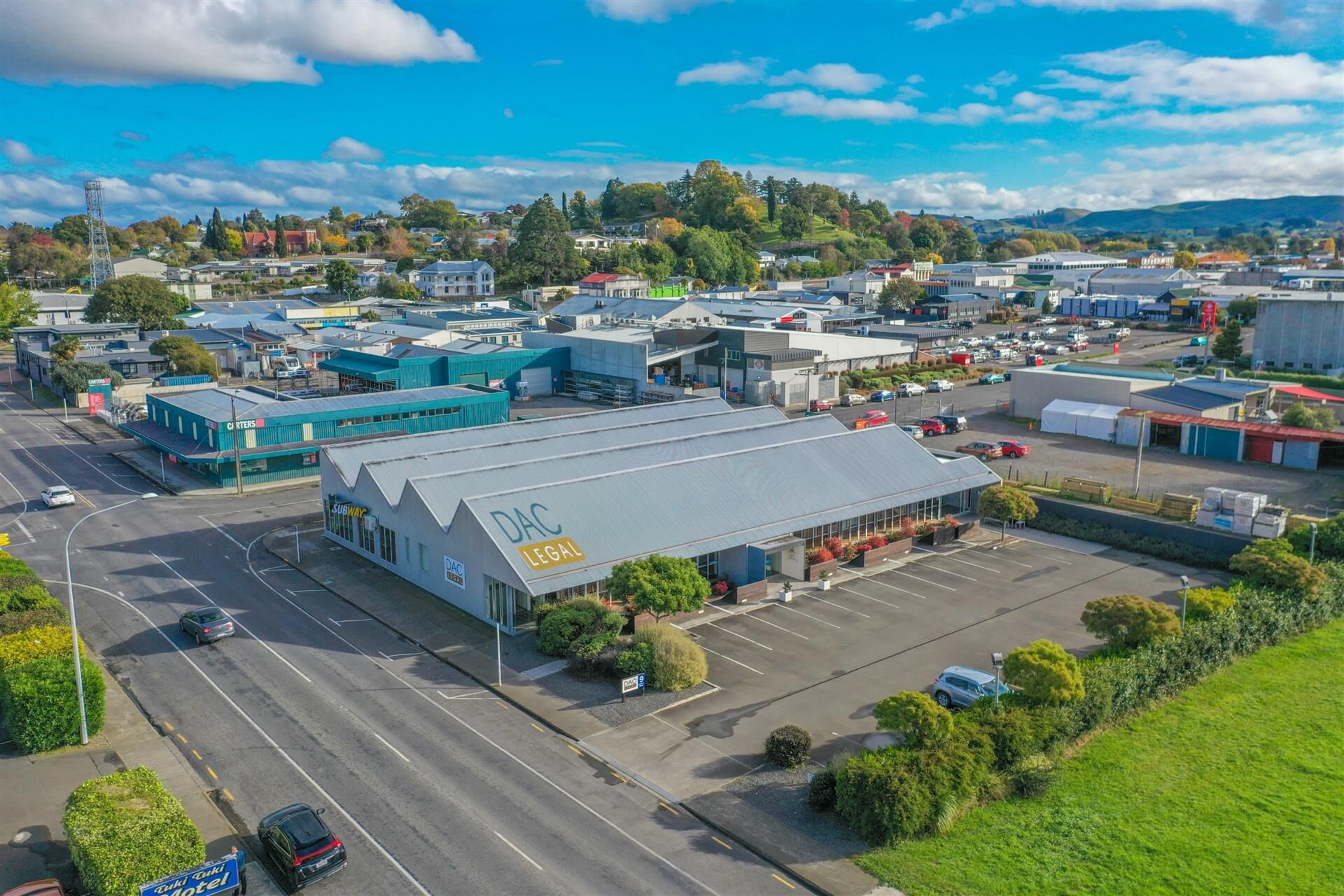 The 2,126-square metre site includes a 1,350-square metre industrial-styled office building and is located at No. 9 Herbert Street in the centre of the Central Hawke's Bay township of Waipukurau.
The original industrial building was converted into an architecturally designed law office, utilising the design nous of renowned architects, KebbellDaish from Wellington. The result is an impressive professional space with a strong underlying sense of the district's rural backbone.
KebbellDaish describe the project on their website as an "idea farm" which remains an appropriate description of the property's current mix of professional tenants who all have strong roots in the rural community.
The renovation involved an extensive upgrade of the exterior building envelope and the construction of pod type offices within the large open plan space. The extensive use of clear finished timber and sound control systems in each individual office space provides an effective and attractive aesthetic. The macrocarpa flooring, stepped trellis, and baffles all nod to the rural theme.
The main tenant is DAC Legal which has been part of Hawke's Bay's business community since 1907 when a legal practice was formed by solicitor W C Hewitt.
Also within the building is convenience food retailer Subway, which is the world's largest submarine sandwich chain with more than 44,000 locations around the globe – including 246 sites in New Zealand.
A further tenant is project management consultancy firm ProjectHaus who work alongside both central and local government on land management and other projects.
A branch of The Surveying Company HB is also located in the building, and is a sub tenant of DAC Legal. The Surveying Company have successfully completed thousands of land surveys, subdivisions, and surveying-related activities in New Zealand.
Rounding out the tenancy schedule within the building is farming IT consultancy Cloud Farmer who provides digital solutions for day-to-day farm recording.
The land and building is being marketed for sale by negotiation through Bayleys Napier. Salesperson Kerry Geange said the property offered a true 'split risk' investment opportunity with the five tenants operating in various industries.
The land is zoned Business 1 – Inner Commercial under the Central Hawke's Bay District Council Plan. The four lead tenancies generate net annual income of $159,736 plus GST, and encompass:
• Law practice DAC Legal on a lease running through to 2024 with two further five-year rights of renewal. generating annual net rental of $101,250 plus GST, with rent reviews every five-years
• Convenience food outlet Subway on a lease running through to 2026 with two further six-year rights of renewal, generating annual net rental of $30,100 plus GST, with rent reviews every two-years
• Project management consultancy ProjectHaus on a lease running through to 2023 with two further two-year rights of renewal, generating annual net rental of $18,386 plus GST, with rent reviews every two-years
• Land surveyors The Surveying Company HB on a sub-lease to DAC Legal
and • Farm management IT firm Cloud Farmer on a lease running through to 2024, generating annual net rental of $10,000 plus GST.
The property is located on a high-profile corner in Waipukurau's central business district in close proximity to the town's major retailers and service providers. Herbert Street also comprises part of State Highway 2 which runs through Waipukurau's town centre.
The building is serviced by some 30 car parks for staff and visitors and it's zoning underpins intensive commercial activities in Waipukurau.
The sawtooth design of the building has been highlighted as a feature allowing for high stud ceilings and an expanse of natural lighting through the clever use of part of the sawtooth angled roofline.
A reconfiguration of some of the front offices and workspaces has created separate modern work environments comprising a mix of polished concrete, richly-grained wooden flooring, closed and open-plan spaces. A feature has been made of both the trellised steel beams and the original wooden beams which span the overhead space that is lined with acoustic dampening material.
Floor to ceiling hush glass runs along the northern side of the building capturing all-day sun in the cooler months and the integration of the northern sawtooth overhang provides protection from the strong HB sun during the summer months.
Meanwhile, Subway's footprint within the building is a replicative foodservice format and is one of the company's biggest sites in New Zealand. The Subway premises include a dining floor, public-facing food preparation benching, and walk-in chiller storage units and staff amenities housed in the rear portion of the premises.
With a population of 4,580 people, Waipukurau is the largest town in Central Hawke's Bay and is only 6km from neighbouring Waipawa. State Highway 2 and the rail line pass through the town which has a strong rural support/service industry.
The Central Hawkes' Bay District Council identifies Waipukurau as an area of current and projected growth in line with the district's unprecedented rate of growth in the past few years. The Council forecasts the construction of 1,449 new houses and a population exceeding 18,000 in Central Hawke's Bay by 2031.