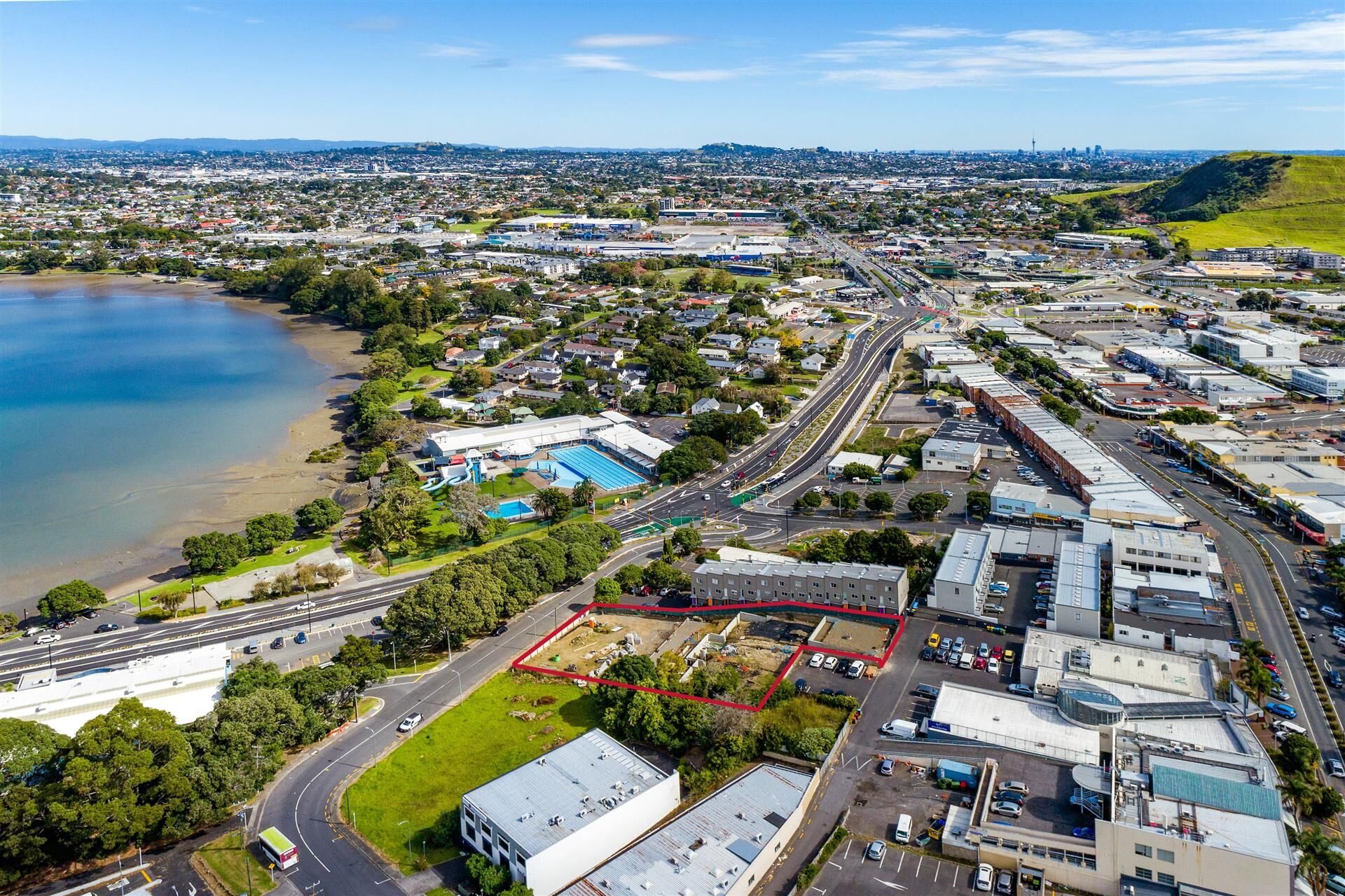 The more than 2,100-square metre freehold site for sale sits at the edge of Panmure town centre, in an area identified by city planners for growth and intensification.
Consents are in place for a 12-terrace-house development on nearly two-thirds of the site, with development underway.
The rest of the land is resource consented for a four-storey apartment/retail building, with the possibility to explore more intensive development now allowed under the Auckland Unitary plan.
The property at 13-15 Domain Road, Panmure, Auckland, is being marketed for sale by Alan Haydock and Damien Bullick of Bayleys Auckland Central.
Sale will be by way of a mortgagee tender closing on Thursday 5 May unless the property is sold or withdrawn prior.
Haydock said the offering consisted of approximately 2,173 square metres of fee simple land with intensive zoning across two titles.
The site offers dual frontages and access points off Domain Road to the south and Gifford Lane to the north.
"Consent has also been obtained to subdivide the site into two lots, one containing the terrace house development, and the other containing the proposed apartment project," Haydock said.
Existing consents also allow for subdivision of the terrace house site into 13 lots – one per terrace house, plus a central shared lot. Significant preliminary works have been completed on the terrace housing project, offering a buyer the chance to step in and complete the development.
"The other lot measures approximately 813 square metres. While the existing resource consent allows for a four-level apartment/retail development, there's an opportunity to apply for a more intensive development on this lot in line with what is now allowed under the unitary plan.
"A new owner will be able to explore these opportunities, or alternatively to carry out the subdivision and land bank or sell this resulting fee simple site," said Haydock.
The Domain Road landholding is zoned Business – Town Centre under the unitary plan, with a 27 metre height overlay potentially allowing a building significantly higher than that envisaged under the existing resource consent.
The zone aims to provide a focus for commercial activities and growth, enabling wide-ranging activities including residential, commercial, leisure, community, and civic services.
Bullick said development at the Domain Road site would be well supported by its location in a popular and highly convenient area with pleasant views.
"Future residents and commercial occupiers will be just metres from Panmure's shopping and dining precinct, close to popular parks and domains, and a short walk from Panmure Train Station.
"The wider area has been identified by Auckland city planners as a key location for intensified development and regeneration, with considerable investment already made in upgrades of transport centres and public spaces.
"Panmure Train Station and Bus Interchange have been extensively upgraded. The hub provides easy access to surrounding suburbs and the Auckland CBD. By car, the CBD is around 20 minutes' drive away.
"Together, this gives the Domain Road property all the benefits of a relaxed and highly liveable setting with great access to suburban and city amenities," said Bullick.
Click here for more information on the listing.