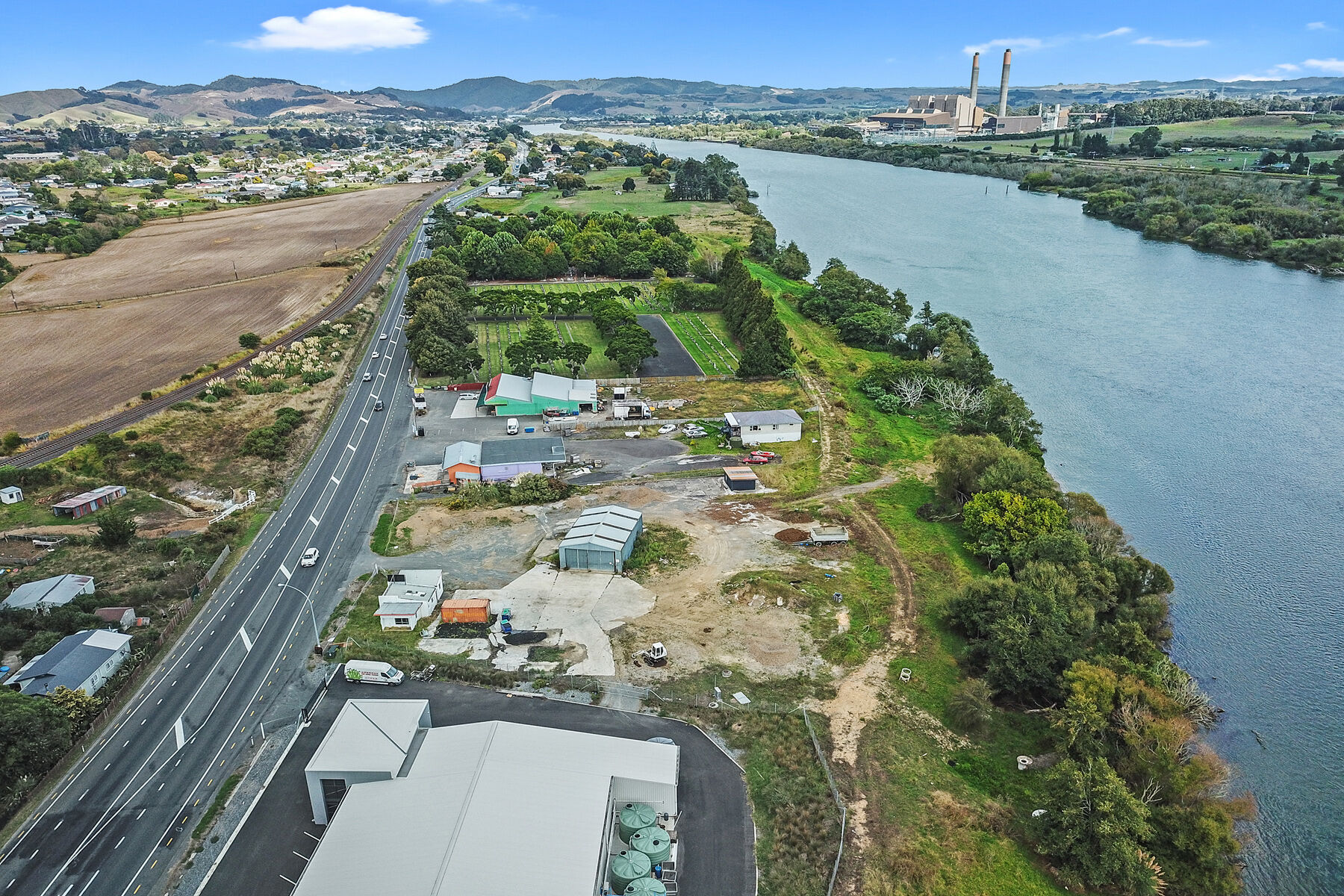 New Zealand Transport Authority's $409 million 15.2 kilometre four-lane project bypasses the town to the east – snaking past Lake Kimihia and the Taupiri mountain range – and rejoining the highway at Gordonton Road interchange.
The bypass is being built on greenfield land and will divert heavy traffic away from the township early next year - making the locale more accessible for businesses and home buyers.
Bayleys Hamilton salesperson Josh Smith said the bypass will have a major effect on Huntly. He cited Pokeno as a scenario of how a state highway bypass has led to positive growth in all areas. Mr Smith said he expected the same for Huntly.
Sitting on the existing SH1, at 6 Great South Road, the 2,647 square metres property has a large vacant high-stud workshop and office block. The land and vacant buildings are being marketed for sale at auction on May 16. Mr Smith said the tenant moved out in early April.
Mr Smith said that although the existing title notes the property covered 7050 square metres of land, there were easements to the Waikato District Council - bringing the usable land down to about 2,500sq m. The property has a council rating value of $260,000.
Mr Smith said the property offered a multitude of options using the steel framed, iron clad 140sq m workshop, 72sq m office block and concrete and metal yard.
"It could be divided into multiple tenanted units, an owner-occupier could tidy up the property and use the existing buildings, or the entire site could be redeveloped,"
Previously part of a large council depot that was carved up, the property is owned by an Auckland-based businessman who relocated his alfalfa sprout growing factory to a neighbouring site. The 6 Great South Road block is now surplus to his operational requirements.
"The neighbouring sprout factory is a good example of how the site could be redeveloped for the right tenant or owner-occupier," Mr Smith said.
"The Auckland factory was a quarter of the size of the new Huntly plant that was established at a reasonable price because the land was so much cheaper. The owner plans on tripling the size of the business and will be able to do that easily in Huntly."
Mr Smith said businesses from Auckland and Hamilton were recognising the value of being in Huntly - where land was considerably cheaper and there was the ability to service two of the country's largest cities easily because of quick access to SH1.
"Huntly hasn't had a good image because it was mainly a mining town but it is now in a position to become a Pokeno - where business and residential growth has boomed since the bypass was finished," Mr Smith said.
"The Huntly bypass will open up the commercial and industrial part of town where there is not a lot for sale and a lack of sites that can be expanded for business. It will also be far easier to get around without trucks rumbling through day and night."
"Easing traffic congestion, which plagues travellers to and from the Waikato region, is a major benefit and will make setting up business in Huntly much easier for companies looking for a midway point between Auckland and Hamilton where the big advantage is being able to operate a lot more cheaply," Mr Smith said.
While there has been some disquiet the bypass could drain the life out of Huntly, Waikato District mayor Allan Sanson said two years ago he was not concerned about that aspect. Mayor Sanson has said he sees it as a chance for Huntly to expand.
'These bypasses actually unlock a town's potential –- so when you've got a main highway or railway running through your town it does actually cause problems around expansion and having to deal with NZTA,' Mayor Sanson said
When completed - the entire $100 million+, 102 kilometre Waikato Expressway is expected to shave at least 35 minutes off the journey from Tirau to Auckland.