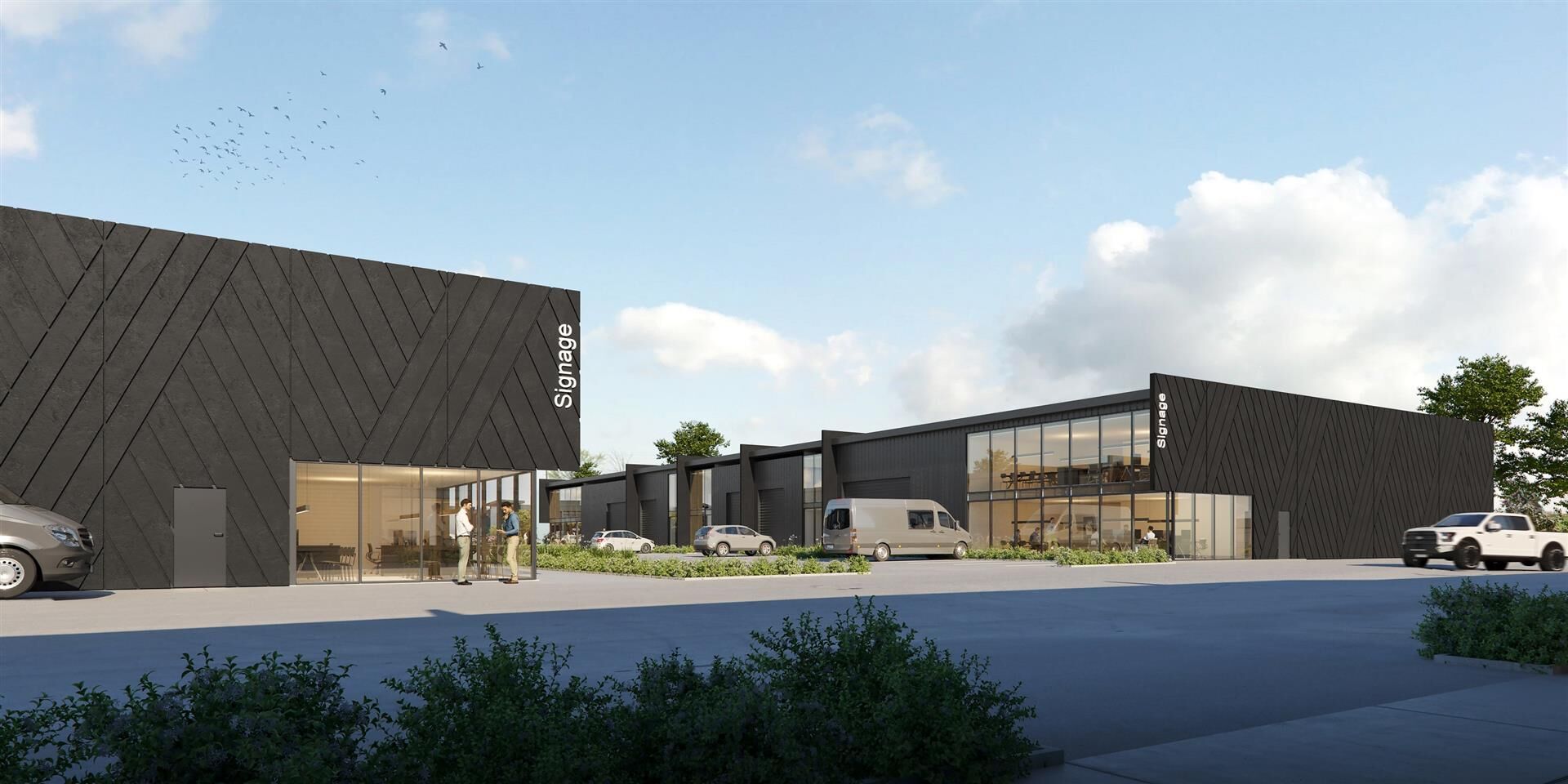 22 Popes Road, Takanini, Auckland (artist's impression only)
The sleek units are within an as-yet un-named new warehousing hub on a greenfield location just a few hundred metres from Takanini's existing light industrial urban boundary running down Takanini School Road. They consist of approximately 500-square metre premises comprising both high-stud warehousing space with adjoining dual-level office or showroom floorplates.
Auckland Council's Integrated Area Plan for Manurewa/Takanini/Papakura describes the locale as the "spine of the south." Takanini's commercial and light industrial property precinct serves an immediate residential catchment area comprising Connifer Grove, Wattle Downs, Manurewa, and Alfriston.
Auckland Council's Business Light Industry Zone classification for the freehold units at 22 Popes Road allows for occupation by manufacturing, logistics, storage, transport, and distribution activities which operate without generating high levels of odour, dust, or noise. The units are scheduled for completion in early 2024 and will have a new build rating standard of 100 percent.
The six warehousing and commercial units at 22 Popes Road in Takanini being marketed for sale off plan by expressions of interest through Bayleys Manukau. Salespeople Peter Migounoff, Piyush Kumar, and Nelson Raines said units within the hub would appeal to both owner-occupiers looking for new premises to relocate their businesses to, and to investors looking to tenant the location.
"This warehousing block will very much be at the cutting edge of Auckland's growing urban boundary – with the only other commercial entities in the immediate vicinity being a substantial data centre operated by telecommunications provider Spark, and a builders' supply yard around the corner on Porchester Road operated by PlaceMakers," he said.
"The floor plan configurations of some of the Popes Road units mean they are eminently suitable for sustaining showroom space. The units are being built with structural steel portal frames and precast concrete walls on concrete flooring – delivering a clear span warehouse area under an eight-metre ceiling. That height will allow for the installation of substantial racking for storage facilities.
"Each unit will have its own allocated on-site car parking spaces for employee and visitor vehicles, while staff amenities within the commercial two-storey portion of each address will include bathroom and kitchenette facilities.
"There is the potential, subject to negotiation for buyers committing early to look at increasing individual warehouse space to allow for slightly bigger, or smaller, footprints more closely suited to their specific business needs."
Kumar expected the Popes Road units would be suitable for building and construction-related 'tradie' businesses such as builders, plumbers, gas fitters, and electricians who required both storage capacity, and administrative office space. The address is situated approximately one kilometre from the Takanini on-ramps to both the north-bound and south-bound routes on State Highway 1.
Alternatively, the units were suitable for tenanting by small logistics-based companies selling products online – and requiring covered storage and loading space for the delivery and collection of fast-moving consumer goods on a daily basis, he said.
"The complex has been designed with minimal grounds landscaping or infrastructure maintenance required by the tenants. The three units with road frontage profiles could also take advantage of showroom space and signage branding on the side of their buildings," he said.
Raines said the process of marketing the units for sale with a negotiable fixed price would enable prospective buyers a greater degree of certainty when approaching their funding channels – rather than the vaguer sale process of purchasing at auction where pricing levels are unknown until the hammer falls.
"With completion of the warehousing hub scheduled in two years' time, the scenario provides owner-occupiers with an ample timeframe to exit from their existing tenancies knowing with some degree of surety that they will have a new premise ready for occupation on a set date," he said.