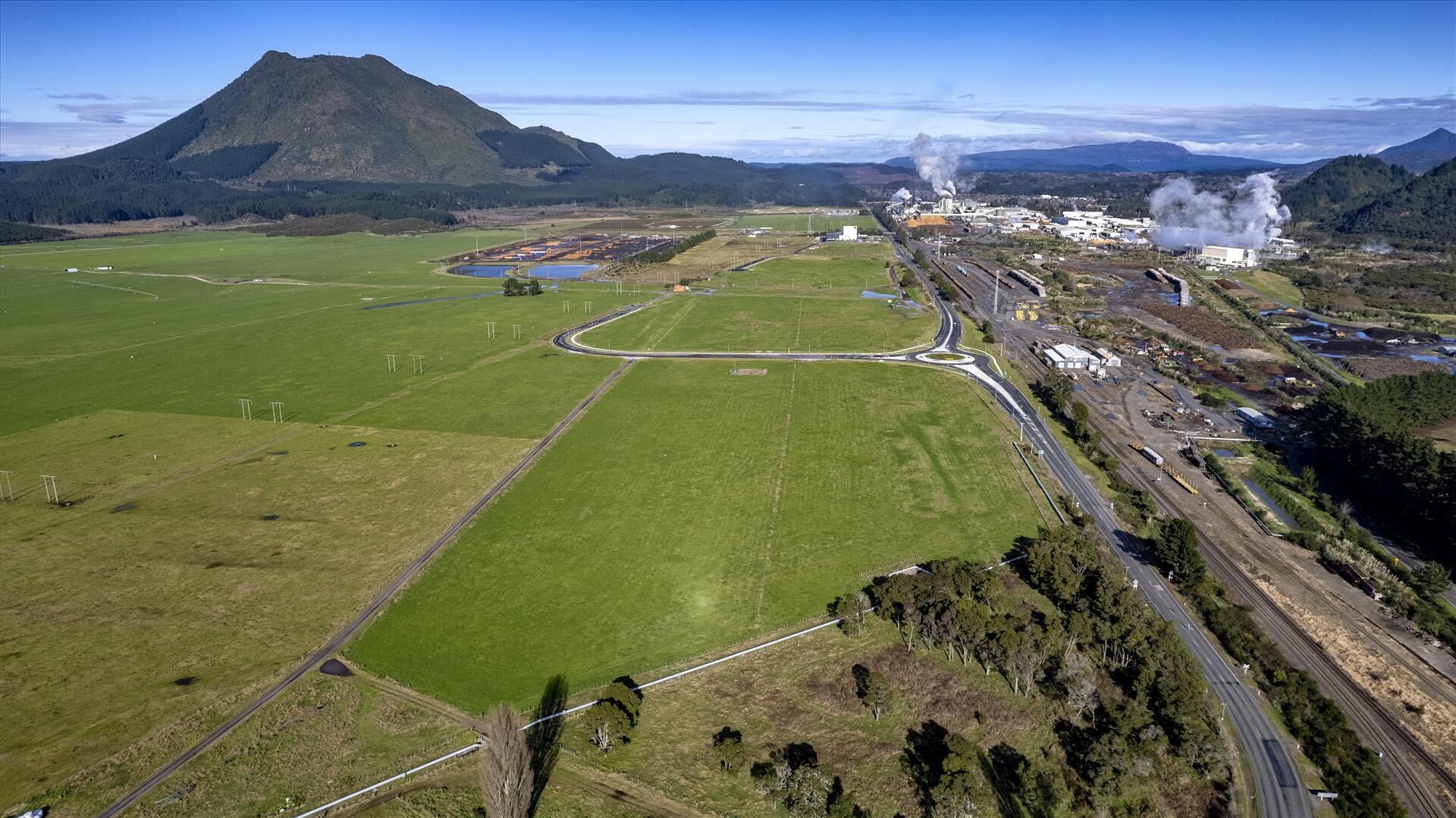 With a combined area of over 55 hectares, the available lots come in a variety of sizes. They are being offered with long-term leasehold tenure enabling the construction of new industrial facilities.
The sites form part of the new Putauaki Trust Kawerau Industrial Estate, on State Highway 34 just northeast of Kawerau township.
Owned by the Putauaki Trust, the subdivision is zoned for light to medium industry. It is expected to bring new businesses and jobs to the geothermal energy hotspot which was previously dominated by the former Tasman paper mill.
The Trust says creation of the subdivision itself has provided employment for up to 100 people over the life of the project.
The venture received a government boost as part of a $19.9 million cash injection for Kawerau from the Provincial Growth Fund in 2020. Around half of this went towards an inland container terminal linking to the Port of Tauranga, due to be constructed soon opposite the Putauaki estate.
Other essential infrastructure and services are in place at the new sites and the Putauaki Trust is keen to lease them to long-term sustainable operations that will create jobs.
The Trust says the location offers a unique opportunity to harness renewable resources and the area's geothermal energy.
Lots 1, 2, 4, 5, 8 and 13 in the Putauaki Trust Kawerau Industrial Estate, State Highway 34, are being marketed for lease by negotiation through sole agent Larissa Reid of Bayleys Whakatane.
Reid said the sites ranged in size from approximately 0.6 hectares to over 17.5 hectares, with the flexibility to tailor sizes to suit tenant requirements.
Initial lease terms, commencement date and rights of renewal were also up for negotiation, she said, with long-term leasehold tenures likely to see rentals starting from about $20,000 per hectare.
"These six new greenfield sites are ready to build on, with wastewater, stormwater, power and communication services in place, along with access to geothermal steam resources.
"They have been developed in park-like surroundings overlooked by local landmark Mount Putauaki, offering a unique working environment.
"Industrial zoning under the Kawerau District Plan opens the way for a wide range of industrial uses which could complement and add to Kawerau's existing cluster of key business operations," Reid said.
Neighbours include renewable energy giant Mercury's 100-megawatt Kawerau geothermal power plant, along with a Putauaki Trust dairy farm and the Waiū Dairy processing plant, which is owned by the Trust and other Māori businesses along with Japanese-owned company Cedenco.
Reid said businesses locating to the Kawerau subdivision would benefit from superb road and rail connections.
"Kawerau is the terminus of the East Coast Main Trunk Railway with access directly into the Port of Tauranga. The new inland container terminal will leverage this to deliver a step change in local businesses' ability to get goods to and from New Zealand's busiest port.
"The Provincial Growth Fund-backed project added a turning bay and roundabout on State Highway 34 and a new container terminal to be constructed soon," Reid said.
Positioned on State Highway 34 in the Eastern Bay of Plenty, Kawerau also enjoys easy road access to Rotorua, Tauranga and Whakatane and is home to a BP truck stop and Caltex diesel stop.
Click here for more information on the listing.