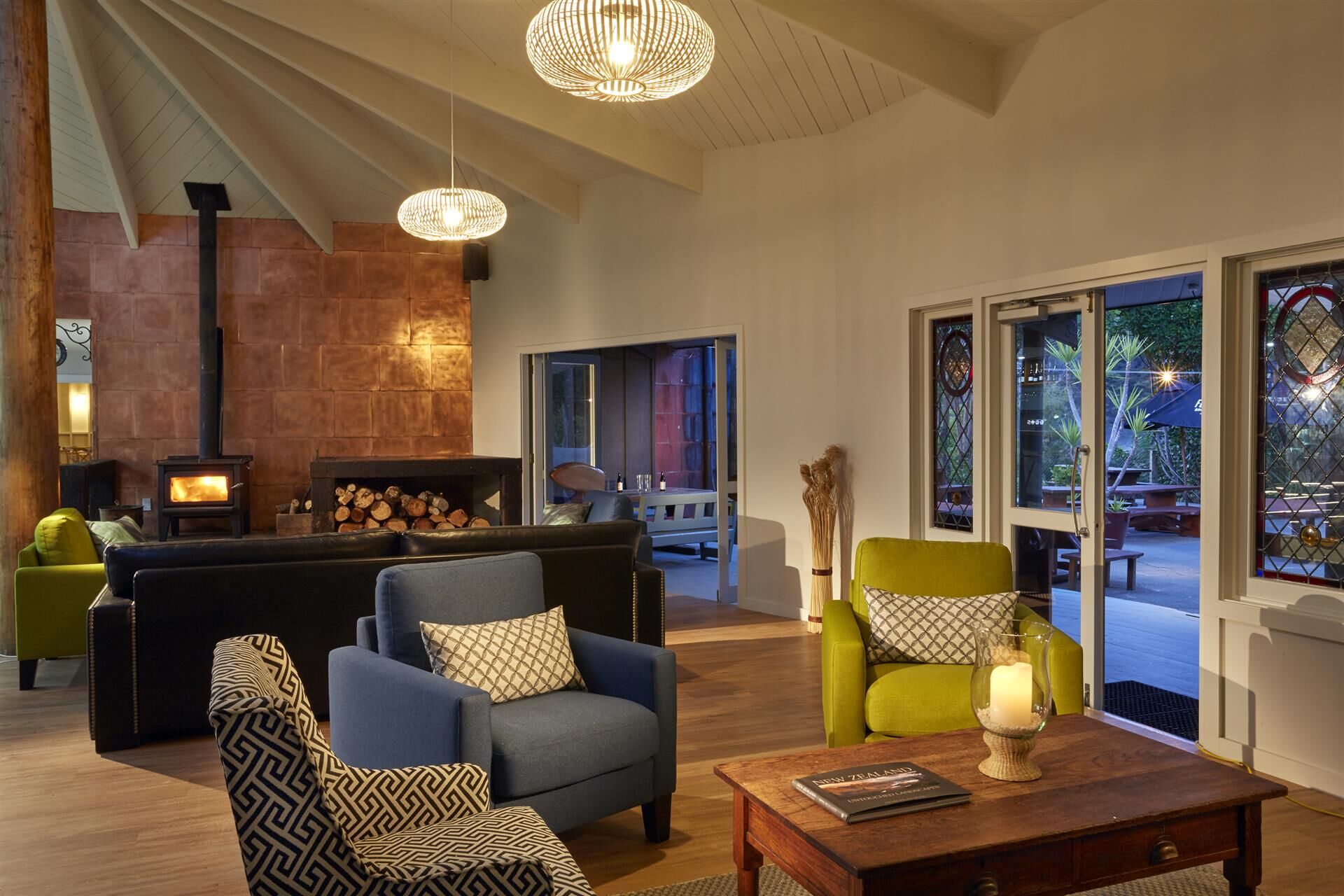 With no road access and being the only resort of any scale in the Abel Tasman National Park, Awaroa Lodge is accessed directly off Awaroa Beach and can be reached by boat, on foot via the Abel Tasman Coast Track, or by air.
Awaroa Beach gained notoriety when it was purchased by the New Zealand people via a crowdfunding initiative in 2016 after many years of private ownership.
Now managed by the Department of Conservation and widely-known as "The People's Beach", Awaroa Beach was officially adopted into the Abel Tasman National Park in 2016.
Awaroa Lodge was awarded Silver under the Sustainable Tourism Criteria by Qualmark and is a visitor drawcard in The Abel Tasman National Park offering quality accommodation, along with leisure activities and hospitality options for both in-house guests and day-trippers.
Occupying nearly 20 hectares with almost all of the land in original native bush and wetlands, the lodge itself is positioned to the front of the site just a short walk to the golden sand beach and clear waters that typify this part of the world.
The land, buildings and business interests will be sold by private negotiation through Bayleys.
The lodge has 26 guest rooms in various configurations including standard, family and superior options, a substantial food and beverage component with a fine dining restaurant and pizzeria, a manager's apartment, separate on-site staff accommodation and a day spa facility – all underpinned by sustainable values.
The facility is under management by New Zealand owned and operated Capstone Hotel Management, which is based in Nelson, making the offering a compelling passive investment opportunity for a new owner.
Wayne Keene and Gill Ireland of Bayleys' national hotels, tourism and leisure team are handling the sale on behalf of its now-offshore domiciled vendors.
"The property's overseas owners had been regular guests at the lodge before – and after – purchasing a nearby beachfront bach in Awaroa Bay, and splitting their time between New Zealand and Europe," explained Keene.
"After buying Awaroa Lodge in 2014, they embarked on an ambitious project to refurbish and completely upgrade the whole facility and under their guardianship with extensive capital investment, it has gone from strength to strength to be repositioned at the forefront of visitor accommodation in the region."
One of the vendors, New Zealander Tania Jones who now lives in London, says when viewed through an international lens, Awaroa Lodge and the wider Abel Tasman National Park, is a "pocket of paradise".
"I am yet to find a place that is so magical elsewhere in the world and it's an area to be cherished and protected for future generations," she said.
"I am most proud of the fact that today, after significant capital expenditure, the Lodge is accessible to all.
"From New Zealanders walking one of the most famous tracks in the country, to foreign tourists having the great outdoors experience while enjoying the comforts of high-class accommodation with fine food and wine, it is a very special place to stop and draw breath."
Jones said when appointing a management company to handle the day-to-day running of the lodge and its amenities, it was important to partner with a team that understood the uniqueness of Awaroa Lodge and could leverage that to build up its reputation without compromising customer service.
"Being a locally-based company means Capstone has hands on the ground, strong relationships with local suppliers and can respond to any situation swiftly.
"Awaroa Lodge has gone from strength to strength under Capstone's care and management and the business model they have executed has enabled us to attract returning staff from one season to the next, with up to 25 employees on-site through the season."
The Lodge operates at almost full capacity from October through to May each year, catering for domestic and international clients who come to the region for some of the best walking and outdoor experiences that New Zealand can offer.
"There's a definite global trend towards conscious travel focusing on wellness, fitness and eco-friendly values and Awaroa Lodge meets this brief admirably," said Keene.
"As a television-free space with limited internet connectivity, this is a place to really unwind and get back to nature.
"The Lodge has also been proactively involved with wildlife and ecological initiatives within the Abel Tasman National Park, mindful that there is a responsibility as custodians of this land."
The land where Awaroa Lodge sits today was part of a larger holding bought in 1964 by the Crawford family and later subdivided, with family members sowing the seeds for a sustainable hospitality business in the late 1980s.
While still considered remote and being off conventional tourist radars, Abel Tasman track walkers embraced the concept of a refreshment stop at Awaroa with mention made of it in the 1990 Lonely Planet travel guide.
Resource consent for accommodation and a café was sought and gained in 1991 with Golden Bay locals enthusiastically helping clear gorse before earthworks could commence and utilities infrastructure could be installed.
Building materials were trucked to Awaroa Inlet from Tākaka, then loaded onto a barge, shipped across the tidal waterway, loaded onto a trailer, then carted the last 1km to the site.
Opening in December 1991 with two open-plan chalets each sleeping eight guests, plus two chalets each divided into three private double rooms, connected to shared bathroom facilities among the native bush, this was essentially upmarket backpacker accommodation.
An outdoor café fed and watered track walkers, and gradually, Awaroa Lodge began to attract a wide range of visitors looking for a retreat, an escape, and a wilderness experience.
As the years went by, and visitor expectations changed, self-contained accommodation was built and the lodge went through several changes of ownership and direction before evolving into a boutique eco-lodge offering.
"Under its current ownership, Awaroa Lodge has become a sought-after destination garnering international media coverage and having occupancy levels that are quite frankly, very impressive – even when New Zealand was effectively shut off from the world during the pandemic," said Keene.
Click here for more information on the listing.