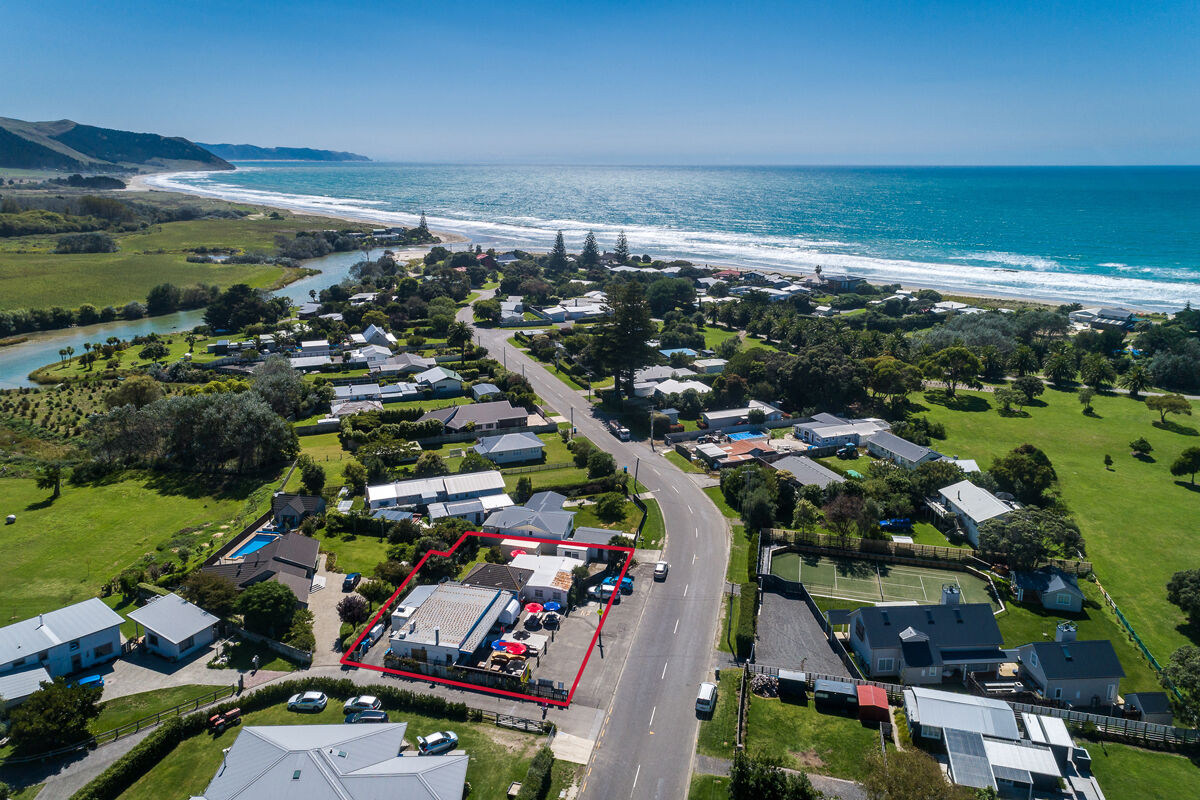 The Waimarama Beach Store in the seaside suburb of Waimarama south-east of Havelock North sits on the only commercially zoned land in the suburb. Serving the local community and tourists, the retail outlets operate as both a general store frequented by locals, and a takeaways café attracting tourists.
Its shelves are packed with day-to-day household products ranging from bread and milk through to pasta and baking ingredients, while the café and takeaways side of the operation sells ice creams, standard Kiwi fish and chips or hamburgers, as well as coffees and milkshakes. The Waimarama Beach Store is also a licensed bottle store selling beers, wines and spirits.
Sitting on some 989-square metres of freehold land, the generally rectangular-shaped property has an extensive frontage onto Airini Road – with its profile enhanced by the substantial array of outdoor wooden picnic table customer seating and umbrellas dotted around its concreted front yard.
The freehold land at 20 Airini Road in Waimarama, along with the pair of commercial and residential buildings and the going concern Waimarama Beach Store are all being marketed for sale by expressions of interest through Bayleys Napier, with the process closing on March 31. Salespeople Kerry Geange and Michael Su said the property and business could be viewed as either an owner/operator opportunity, or as an investment prospect.
"The store and café as a combined trading entity is a viable 'turn-key' retail and foodservice operation ready for any new owner to walk in and take over. The business enjoys a loyal local customer base who frequent the grocery as their neighbourhood convenience store to pick up something from the frozen foods chiller or a beer or wine," said Geange.
"Meanwhile the store and café's proximity to the beach at the end of the road makes it the perfect stop off for visitors to Waimarama… as there's nowhere else around to get a delicious ice cream or a cool bottle of soda or juice.
"The business proposition is enhanced by having an owner's residence immediately attached to the store.
"Alternatively, the property and business could be purchased as an investment – with a new owner looking to have a manager running the retail and foodservice business."
The 164.8-square metre commercial portion of the Waimarama Beach Store comprises some 84.7- square metres of retail space, a 24.2-square metre kitchen fitted out with commercial-grade food service equipment such as deep fryers and hot plates, a 5.2-square metre walk-in chiller room, and a 50.7 dry goods storeroom.
The takeaways/cafe portion of the premises, and adjoining grocery shop, each have their own individual doorways. Outside facing onto Airini Road is an additional 26.7-square metre covered canopy area, some 120-square metres of courtyard seating, and 140-square metres of off-street customer car parking.
Meanwhile, the property's residential component comprises a 103.2-square metre three-bedroom home with a private deck area.
Su said Waimarama Beach Store's owners would also consider selling just the business on its own – with the potential to lease the accommodation as part of the arrangement.
Located some 29-kilometres from Havelock North, the peaceful coastal settlement of Waimarama has more than 350 dwellings in its immediate area, with the number of residents swelling over summer as people make greater use of their beach house accommodations.
Preferred by many beachgoers ahead of the stone-lined Haumoana Beach coastline to the north, the settlement of Waimarama also has a surf lifesaving club overlooking its surf beach breaks, as well as a traditional Kiwi-style holiday caravan and camping ground facing directly onto the expansive golden sand beach coastline.
"Over the Christmas and New Year holiday periods, Waimarama Beach Store benefits substantially from the large number of campers staying at the nearby holiday park who pop in on a near daily basis to stock up on food and beverage supplies to take back to their tents and caravans, or for their daily ground coffee fix," Su said.
During the peak summer period, the business employs 12 part-time staff. Showing great innovation, the store's owners also combine their regular visits to Hastings with a 'click and collect' grocery pick up service stopping off at both Pak 'n' Save and New World – meaning Waimarama residents don't have to travel into town.
Click here for more information on the listing.