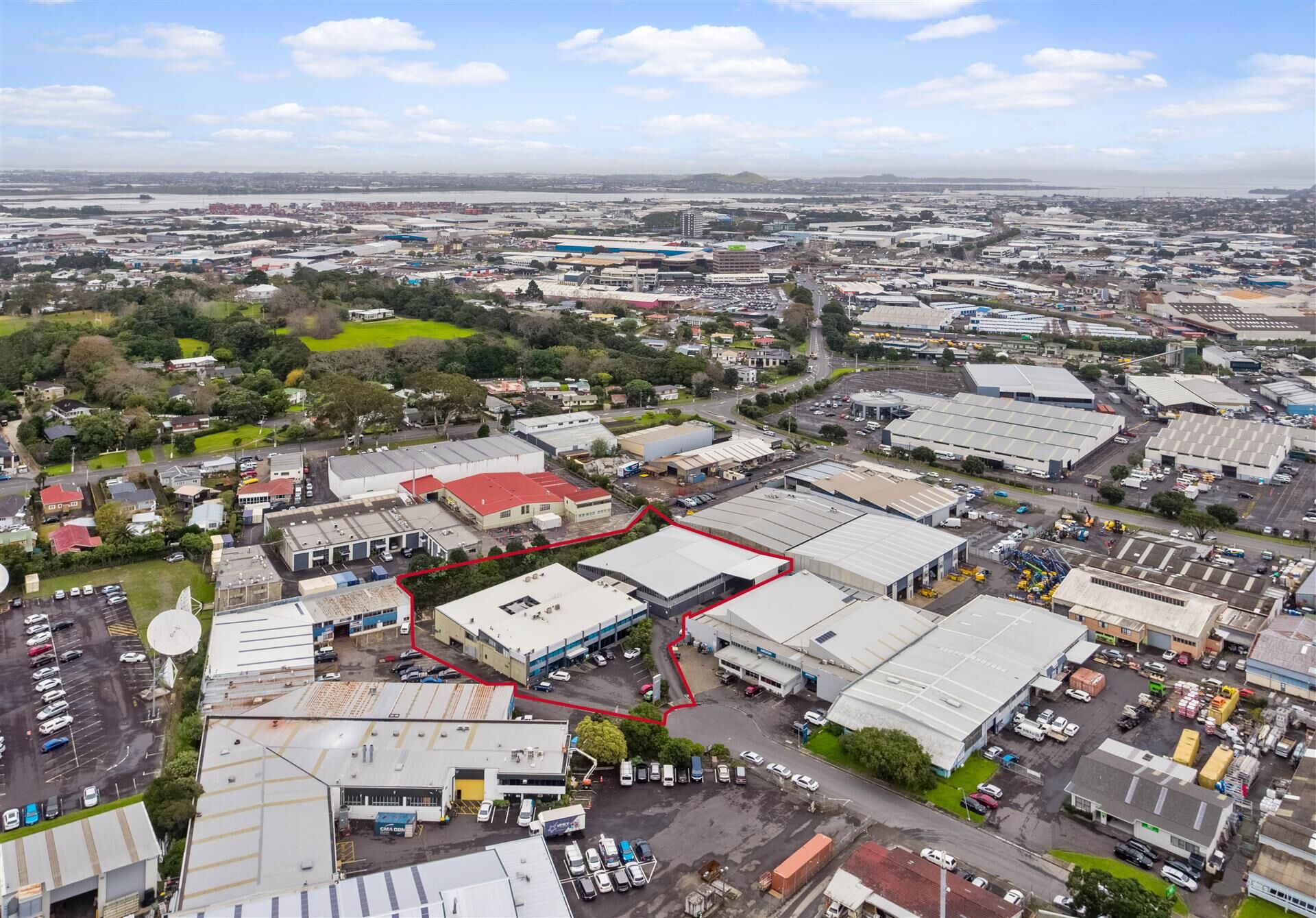 The strategically located property at 6 Monier Place has a land area of 4,570sqm and 2,835sqm of lettable space, with two core leases across two substantial buildings on the site.
The 1,606sqm two-level office building has approximately 58 associated car parks and is at 100 percent new building standard (NBS). Sky Network Television Limited has the head lease and having relocated some of its business team to offices in central Auckland, has subleased the office space on varying short-term agreements to other occupiers.
The separate 1,229sqm warehouse building, with offices, amenities, canopy, and 10 car parks is at 75 percent NBS and is occupied by New Zealand-owned and operated Parcel Express couriers.
The property returns a total annual net income of $476,307 plus GST with Sky having a 5-year lease from April 2019 plus two, three-year rights of renewal, and Parcel Express Limited having a final expiry of November 2025.
Zoned Business-Light Industry, the property offers multiple options in the current market with owner-occupiers and add-value investors likely to see intrinsic value in both the location and the offering itself.
James Hill, James Valintine and Sunil Bhana of Bayleys are marketing the property with sale or lease options, via Deadline Private Treaty closing Tuesday 23 August, unless sold prior.
While there are leases currently in place across the two buildings, Hill said there is flexibility with multiple possible options available.
"We'd encourage investors, owner-occupiers, and office tenants to explore the opportunities the property presents because there is a deal – or deals – to be done here and our motivated vendors want to see some action," he said.
"A new owner could look to redevelop the site in time, renegotiate the existing leases to optimise the income, look to sign on a new long-term tenant and/or negotiate to occupy all or part of the site
"Add-value investors and owner-occupiers should bring an open mind to the property as given the shortage of large-scale sites in the wider area and the potential to maximise the value of the property – it's multi-faceted."
Hill said securing land parcels of this size has become increasingly challenging throughout the Mt Wellington/Penrose/Ellerslie area in recent years, as major players have been on the acquisition trail.
"Goodman Property Trust purchased Sky's large Mt Wellington campus as part of its strategic growth strategy across Auckland's core industrial suburbs, while James Kirkpatrick Group also has a strong foothold in the immediate area.
"When you see institutional and high net wealth entities acquiring significant tracts of commercial, and industrial property in a suburb, you know that the fundamentals and the value-proposition stacks up.
"The subject property in Monier Place offers a buyer or occupier confidence, given the market research these entities will have undertaken before making their purchasing decisions.
"Occupiers are really keen to be in the Mt Wellington vicinity as evidenced by space company Rocket Lab which is expanding into a new 2,230-plus sqm research and development facility adjacent to its existing premises in Mt Wellington as it grows its operations."
Hill said the underlying land value of the subject property is significant and will offset any market corrections around pricing and yields expected to be seen as the market finds a new equilibrium.
"There is an appetite for the redevelopment market if the buyer can secure a property at the right price," he said.
"An add-value investor will recognise the inherent benefits of the property, with its healthy income stream providing a buffer as plans to refurbish or reposition all or part of the wider property are consolidated.
"Upping the specs of the sizeable office portion would not be lost on the market as we are seeing good demand for large footprints of office space from the likes of call centre businesses and expanding government agencies.
"It's difficult to find offices in Mt Wellington with large floor plates and good carparking so we'd expect a revitalised office offering to find traction with occupiers."
Likewise in the industrial arena, the growth of ecommerce has meant the Mt Wellington area has become increasingly popular for its last mile logistics capability, with warehousing in strong demand.
"The streamlined arterial and motorway access elevates it in the market, and vacancy is minimal in the Mt Wellington industrial market," said Hill.
Click here for more information on the listing.