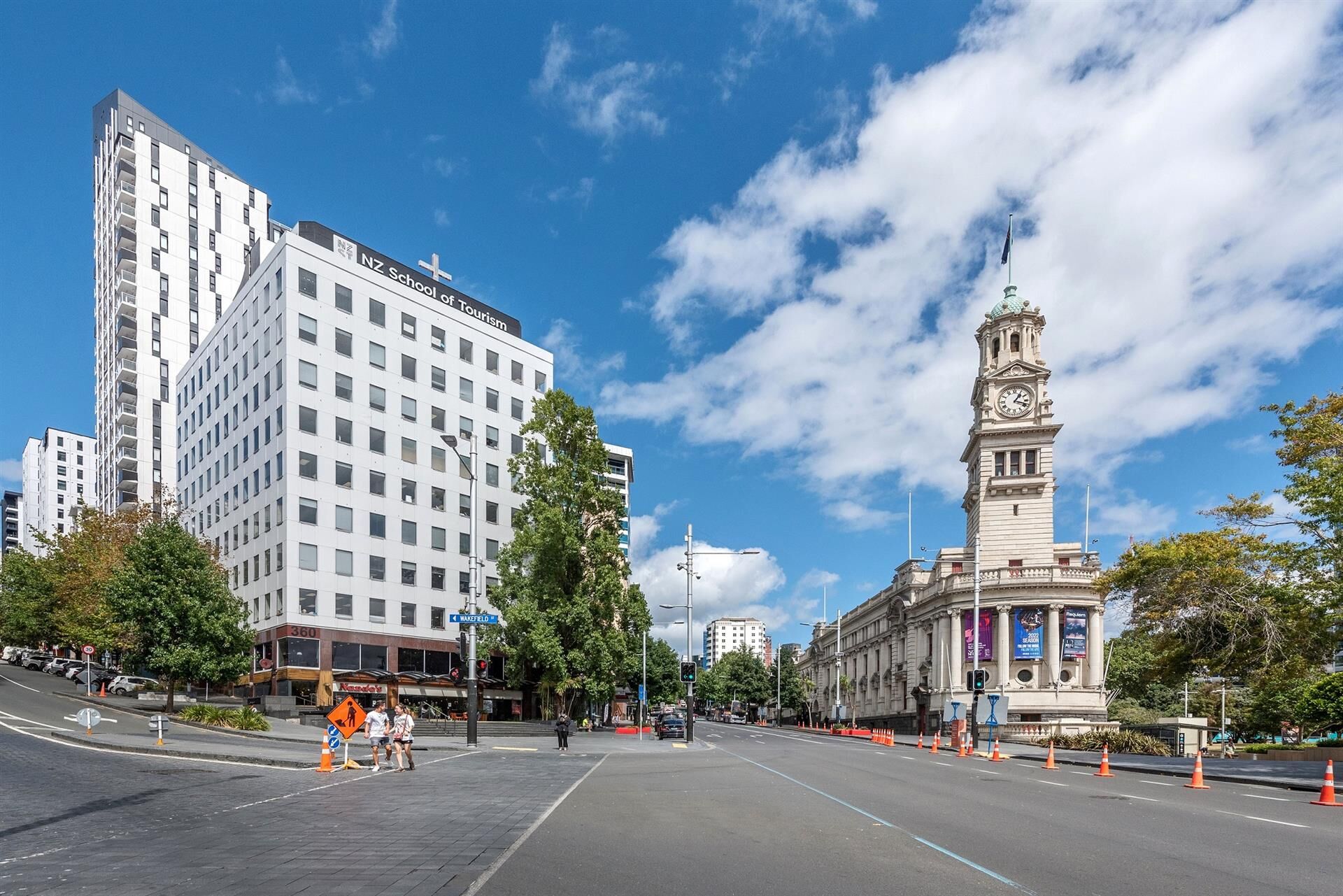 The 5,729-square metre building on the busy intersection of Queen Street and Wakefield Street, comprises a 10-storey block with an international-branded foodservice operation at street level, and eight levels of commercial office space above occupied by the New Zealand School of Tourism, with an investment company on the top floor.
Sitting on 665 square metres of flat contoured freehold land zoned Business – City Centre – Queen Street Valley Precinct under the Auckland Council Unitary Plan, operative in part, the building is one of Queen Street's most instantly recognisable office towers - sitting directly across from Aotea Square and the Auckland Town Hall.
The location is at the gateway to the city's education precinct – housing the likes of the University of Auckland and Auckland University of Technology. Reflecting this education hub, the lead tenant in the 360 Queen Street office block, the New Zealand School of Tourism, has been training students for 35 years and specialises in training programmes for the airline, travel and tourism industries.
In addition to its Queen Street campus, the New Zealand School of Tourism has learning centres in Hamilton, Rotorua, Wellington, Christchurch and Dunedin.
The property at 360 Queen Street is currently 96-percent leased – generating total net annual income of $1.785 million + GST and outgoings. When fully leased, the annual rental figure is forecast to lift to $1.959 million + GST and outgoings. The building has a New Building Standards (NBS) rating of 77 percent – with the office areas recently refurbished to a superior standard.
The freehold land and building at 360 Queen Street in central Auckland are now being marketed for sale by international tender through Bayleys Auckland, with tender offers closing at 4pm on Thursday, May 5, 2022 (unless sold prior). Salespeople James Chan and Owen Ding said the property provided a diversified income stream.
"Sitting strategically as it does so close to multiple major education facilities, foodservice operator Nando's benefits from substantial foot traffic consisting mainly of hungry and thirsty tertiary students at three different institutions," said Chan.
He said that in addition to increasing the rent roll by tenanting the currently vacant space, the property also had considerable development upside.
"There is also extensive future potential, subject to appropriate council consents, to convert the location into an apartment block after the current leases expire," he said.
Office floor plates within the building are generally square-shaped and range in size from 553 square metres to 566 square metres for the floors occupied by the New Zealand School of Tourism, and 320 square metres for the top floor. As the building sits well away from neighbouring premises because of its location on two major streets, all floors enjoy excellent levels of natural light. The upper floors have unobstructed views over Queen Street and Aotea Square.
Tenants within the building include:
• fried chicken eatery Nando's occupying 320 square metres on the ground floor on a current lease running through to 2025 with one further five-year right of renewal;
• SHNZ Investment Limited occupying 207 square metres on the ground floor on a current lease running through to 2023;
• Cosdo Investment Ltd occupying 320 square metres on the top floor on a current lease running through to 2023; and
• The New Zealand School of Tourism occupying space on the ground floor as well as all of levels one to nine on multiple leases running through to 2026 with various rights of renewal equalling a further term of 12-years.
Ding said the location was set to substantially benefit from major infrastructure upgrades in the immediate area - including the City Rail Link with nearby Aotea Station predicted to be the busiest station in New Zealand on completion, and the New Zealand International Convention Centre due for completion in late-2024.
He said the property was also perfectly positioned to benefit from residential, office and infrastructural developments currently underway in the area.
"The new City Rail Link (CRL) is New Zealand's largest transport project ever, with the southern entrance of the new Aotea Station only a short 350 metres away. Once completed, Aotea Station is forecast to be New Zealand's busiest train station, with rail capacity set to double when the CRL is fully operational," said Ding.
"The property at 360 Queen Street presents an exceptional, strategic location positioned in the heart of the Auckland CBD and the wider education precinct. The building's location is highly accessible to arterial roads and motorways as well as Auckland's main bus, ferry, and train hubs, including the new City Rail Link.
"The area is also popular for hosting multiple cultural events throughout the year and includes a myriad of venues including Auckland Town Hall, the Aotea Centre, Civic Theatre, Q Theatre, Auckland Art Gallery, and Auckland Central Public Library."