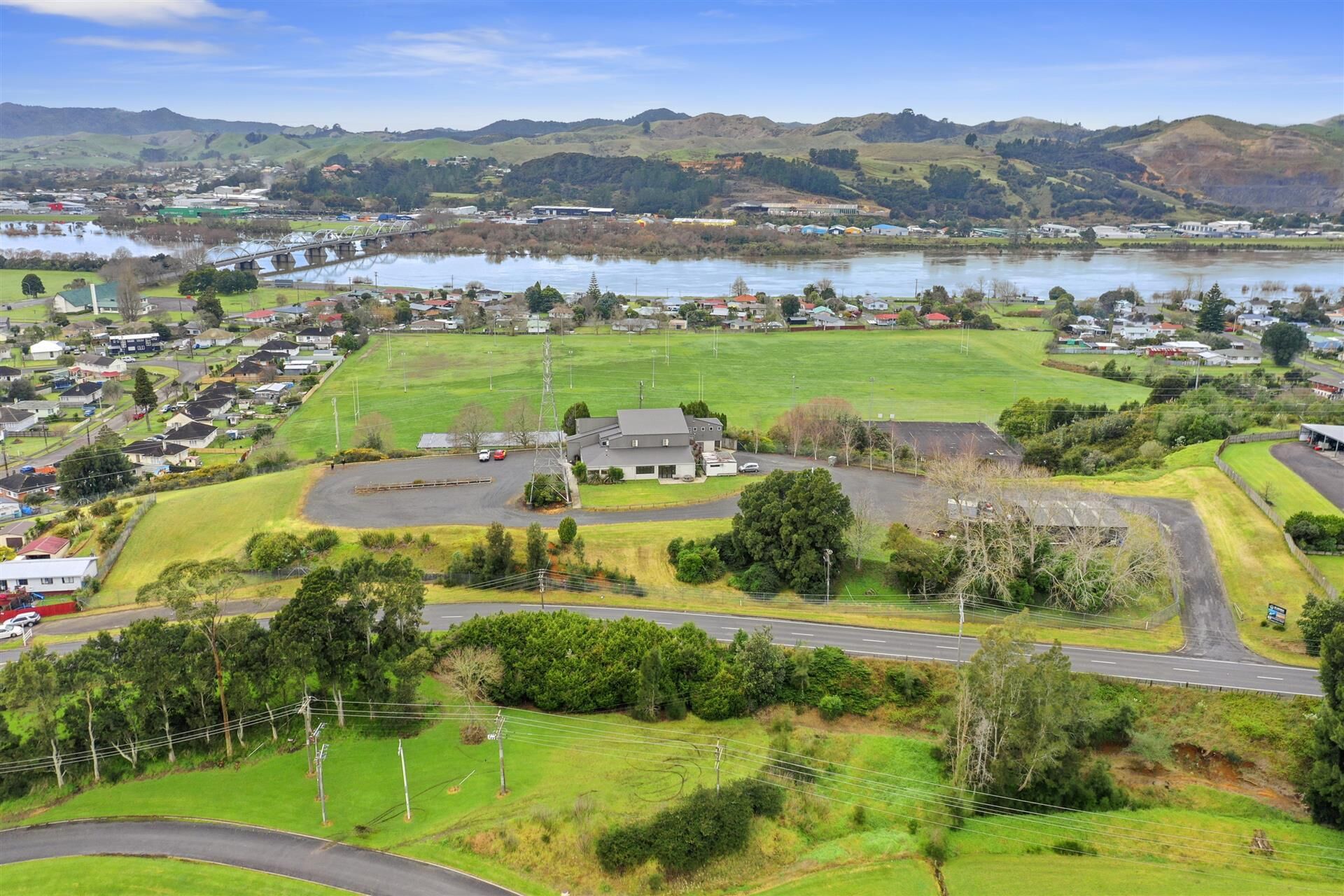 The 12,890-square metre property in the North Waikato township of Huntly comprises a 795-square metre office building originally designed and built as the clubrooms for Huntly Rugby Club which plays at the adjoining sports grounds.
When the club moved to new premises overlooking its pitches, the premises was transformed into a wedding and function venue – making good use of the extensive car parking space. It was later used as a tertiary education centre.
The property is zoned commercial 8 business zone under the Waikato District Council plan. The land use classification allows for uses such as offices, professional consulting rooms, places of assembly, and community centres - with an allowance for a limited amount of residential use. It is situated beside one of Huntly's council-run recreational parks – housing rugby fields with grandstands, and netball courts.
The property has security fencing running around its perimeter, with an electric security gate, and a large, metalled yard vehicle parking space.
The elongated-shaped freehold land and building at 63 Rotowaro Road in Huntly are being marketed for sale at auction on August 25 through Bayleys Hamilton. Salespeople Alex ten Hove, Mike Swanson, and Luke ten Hove said the site would appeal to both owner/occupiers looking for substantial office space in Huntly, and to developers looking to make more efficient use of currently underdeveloped land within the property.
"From an infrastructure perspective, the layout and format of the existing building would suit a community services or religious organisation which could make use of the open plan internal space for meetings and gatherings," said Alex ten Hove.
"The building also has a large commercially-orientated kitchen area, officing, and bathroom amenities, with extensive parking space outside. The two residential tenancies are located on the upper floor of the building.
"A reconfiguration of the modern and well-maintained premises could also easily sustain the creation of a new centralised medical or healthcare hub for Huntly – bringing together the likes of a medical practice, dental surgery, optometrist clinic, physiotherapy rooms, podiatrists' suite, audiologist, or osteopath.
"With an expansive area of undeveloped land and enclosed by security fencing along with the coded gate entrance, the Rotowaro Road site would also be suitable for a self-storage entity to open up – servicing a catchment area from Hampton Downs and Te Kauwhata in the North, through to Ngaruawahia and Northern Hamilton to the south."
"A large portion of the site is bare land – opening up the opportunity of development of both commercial and residential premises in a variety of configurations subject to appropriate council consents," he said.
"With an extensive street frontage along Rotowaro Road, multiple new entry/exit points could be created to allow for any new premises on the site."
With a population of approximately 10,000 residents, Huntly is arguably the foremost industrial hub for regional North Waikato – with the ability to efficiently service the towns and settlements of Mercer, Ngaruawahia, Te Kauwhata, and Northern Hamilton within easy driving distance – and access to State Highway One just a few kilometres to the south at the Taupiri junction.
Luke ten Hove said that with residential land values in Hamilton now at elevated levels, Huntly some 20-kilometres to the north was increasingly being seen as a satellite feeder town by people looking for entry level housing and a commute to and from the city.
"This trend has visibly accelerated lately with the opening of the Waikato Expressway - which has lessened traffic flows on the old State Highway 1 route, and consequently made commuting between Huntly and Hamilton a lot easier and less stressful," he said.
"As Huntly's residential population grows, so too will the requirement for more social infrastructure services. And the site at Rotowaro Road has the space to deliver those commercial amenities."
"With commercial land values increasing in both Auckland and Hamilton, strategically located towns within the 'Golden Triangle' – such as Huntly – are proving attractive to developers and owner/occupiers.
"Land prices in parts of Auckland and Hamilton range from $600 per square metre to more than $1,000 per square metre for example. That means that land priced at less than $100 per square metre becomes attractive."
Click here for more information on the listing.