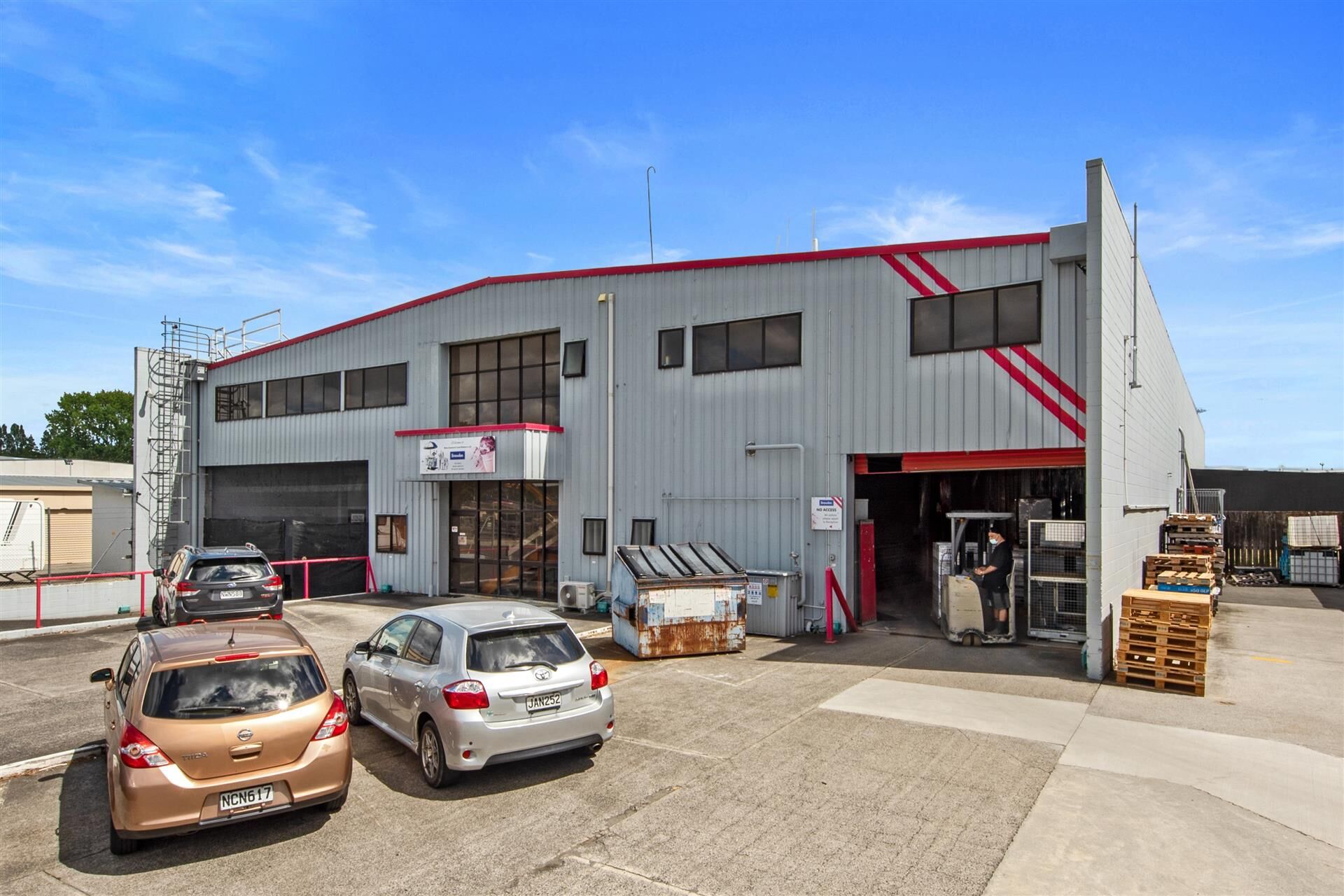 The 2,200-square metre property in the Hamilton industrial hub of Te Rapa is occupied as the operational base for New Zealand Cone Bakers Ltd and its predecessors which have been manufacturing top quality traditional ice cream cones, cake cones, and waffle cones from the location since 1987.
Located at the end of a large right-of-way driveway, the rectangular-shaped New Zealand Cone Bakers building comprises a total ground floor area of approximately 1,428-square metres, encompassing high-stud open-plan factory warehousing, ground floor offices and staff amenities and load out bay, plus a further area of approximately 270-square metres of first floor offices, and a mezzanine.
Giving the whole building an impressive total floor area of over 1,700-square metres. Operations within the Sunshine Avenue factory plant include batter mixing, cone-baking, the warehousing of both raw ingredients and finished product, the distribution of boxed product to retail customers, and all administrative functions involved with supporting the business.
Extensive floor-to-ceiling pallet racking units are located within the main concrete-floored warehouse area – which is accessed off the sealed front yard through a roller door. Producing a broad range of cones for various dessert occasions, New Zealand Cone Bakers is renowned for manufacturing edible treats using its own special flour blend – resulting in crunchy fresh cones sold throughout the country.
Food manufacturers such as New Zealand Cone Bakers are monitored by the Ministry for Primary Industries to ensure high standards of hygiene and product handling are implemented at all stages of the food manufacturing process. These regulations under the Food Act 2014 have underpinned the company's investment at its Hamiton plant.
Over the years, the New Zealand Cone Bakers has undertaken extensive capital investment in the plant and its staff to ensure high standards of food safety are maintained.
The two-storey Te Rapa building is constructed with concrete block, steel portals, and long-run roofing, and has a new building standards earthquake prone rating of 131 percent. The freehold land and buildings at 27 Sunshine Avenue in Te Rapa Road are now being marketed for sale by deadline private treaty through Bayleys Hamilton with the treaty process closing on March 31.
Salespeople Alex ten Hove and Luke ten Hove said the industrial-zoned land across Te Rapa had set up the locale to be the city's foremost industrial hub – perfectly suiting the operational requirements of New Zealand Cone Bakers. Sunshine Avenue is situated at the northern end of Te Rapa - close to all main arterial roading routes both north and south and 150-metres from Te Rapa Straight. The New Zealand Cone Bakers plant is surrounded by similarly sized and configured buildings – including a self-storage business on one side.
"Hamilton's Te Rapa corridor is contained within a council zoning which recognises existing office and retail activities which have been established under previous planning regimes. The council's industrial zoning for this property provides for the continuation of existing office and retail activities while also opening the long-term opportunity of developing the location into a more industrial use," Alex ten Hove said.
New Zealand Cone Bakers - previously known as Tawse Foods Ltd - is on a lease at the Te Rapa site running through until 2027, with a market rent review set down for 2024, generating annual net income of $144,550 plus GST and operating expenses. The property includes car parks for eight vehicles.
"Our market transaction data shows the site is currently being under-rented on a per square metre basis when compared to other similar premises in Te Rapa with a tenancy comprising both warehousing areas and facilities, and administrative offices under the same roof," said Luke ten Hove.
"Accordingly, there is potential scope for further income growth on the back of ever-increasing market rents and land values, and extremely low industrial vacancy rates within Te Rapa."