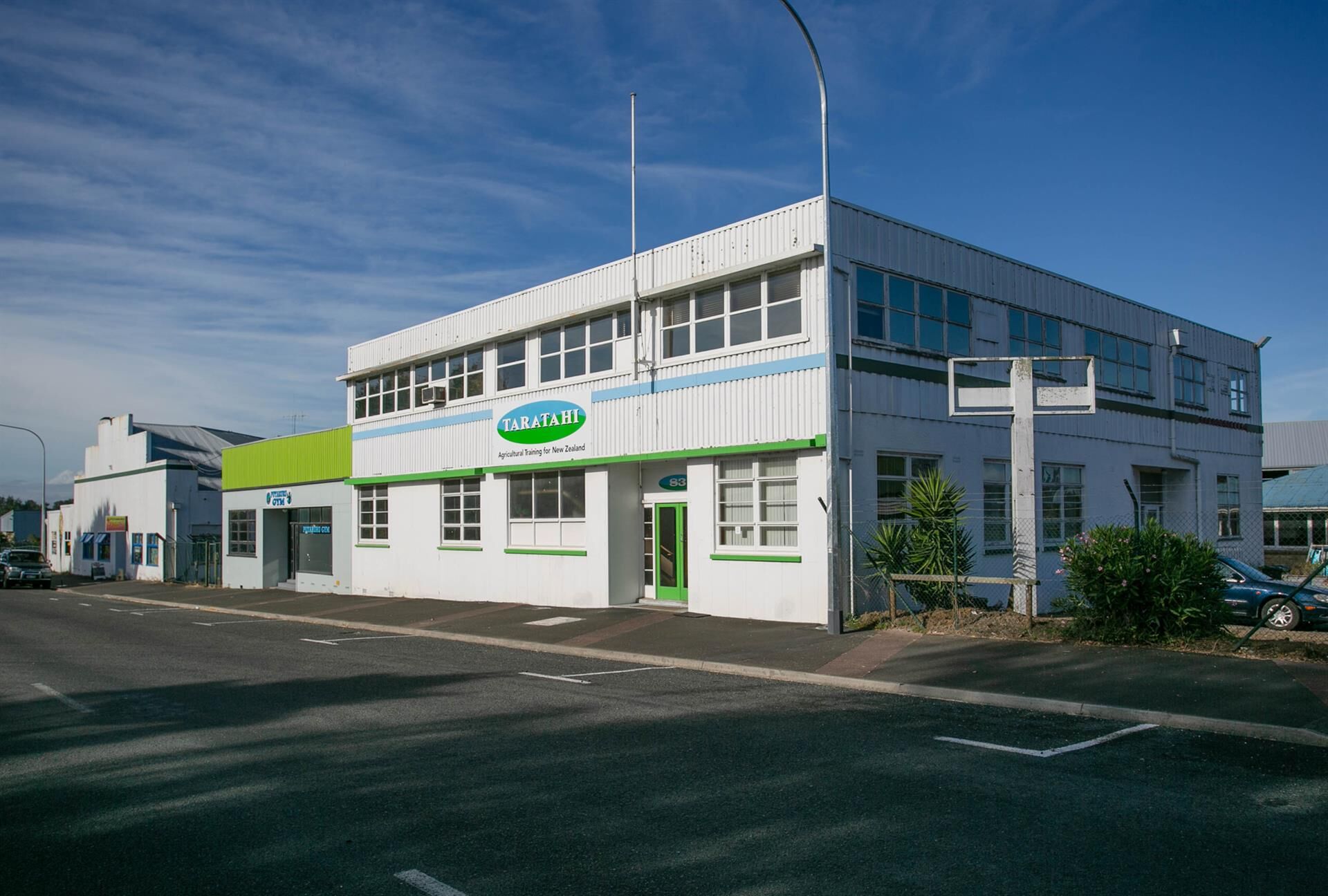 The 2.9 hectare property containing 10 buildings at 90 Princes Street has numerous options and flexibility for a range of businesses from retail through to light industrial to set up at the site.
Bayleys Tauranga salespeople Brendon Bradley and Graeme Coleman said potential business uses for the land and buildings included storage, transport, manufacturing, horticulture, engineering and rural sector enterprises. The land and buildings are being marketed sale by tender, with tenders closing at 4pm on May 16.
Owned by Buttermilk Putaruru, the freehold site has 5,718sq m of buildings which include two former administration buildings, a caretaker's house with storage shed, two older workshops/warehouses and five open pole sheds. The yards are partly security fenced.
Mr Bradley said the yard area was extensive and was suitable for storage or future development - as the block had direct access to State Highway 1 and rail links to major ports.
A holding income for $31,511 is generated by the property's tenants who are mainly on month to month tenancies. One is paying $400 gross a month for timber storage and a workshop; another tenant pays $1000 a month for casual hay storage, Putaruru Toy Library and Art Group pay token rent of $40 gross a month, while the Putaruru Gym has a three year lease to May 2021 and a three year right of renewal at net rent of $12,375 a year.
Zoned Putaruru business, the individual titles for the business park have only recently been issued. Mr Bradley said there were no rating valuations for the sites although the South Waikato District Council had indicated they would be available in July.
Mr Bradley said South Waikato District Council had a pro-business agenda - providing business support and advice, links to available funding, a smooth transition for businesses moving to Putaruru, a business case manager, and networking opportunities.
Mr Bradley said he expected the property would sell for upwards of $2 million – equating to about $70 plus a square metre, "which is only achievable in provincial areas. In metropolitan areas commercial and industrial land starts at about $250 a square metre and skyrockets upwards in places like Auckland and Tauranga."
Mr Coleman said there were additional options to buy adjoining neighbouring sites at the business park. The entire property was on the market previously as one large site, however Buttermilk Putaruru had subdivided it into smaller titles to provide more affordable lots.
"The improving economy means there are many opportunities for businesses to move to areas, such as Putaruru, where land is more affordable. The site will suit owner-occupiers, who make up the bulk of commercial property owners in provincial areas, developers or investors who can improve the site and add value," Mr Coleman said.
Putaruru is in the heart of South Waikato's dairy land. The town's economy is based on its farming and forestry heritage. Lichfield Dairy Factory, one of the largest cheese factories in the world, is only six kilometres from the town centre and has recently undergone a big expansion, enhancing South Waikato's economy and creating jobs.
Mr Bradley said Jobs were plenty at one time on the Buttermilk business park site, which was once part of the Taupo Totara Co sawmill established in the 1890s. Commonly known as TTT, it was one of the first large private companies to pioneer the early timber industry under extreme conditions.
"TTT had several mills in the region with its own railway running from Mokai to Putaruru to connect with the main trunk line. Eventually this led to a large mill being established at the Putaruru site," he said.
In the 1950's TTT transitioned to milling radiata pine and this led to a large processing plant being added to the Putaruru site. Eventually the operation covered 14 hectares of land with some 16,490 of covered buildings, becoming one of the largest milling companies in New Zealand.
"TTT was taken over by NZ Forest Products then Elders/NZPP and later by Carter Holt Harvey in the 1970s. Over this period most of the mills became absorbed into CHH's other large operations with the Putaruru sawmill finally closing in December 2008 at the beginning of the global financial crisis."