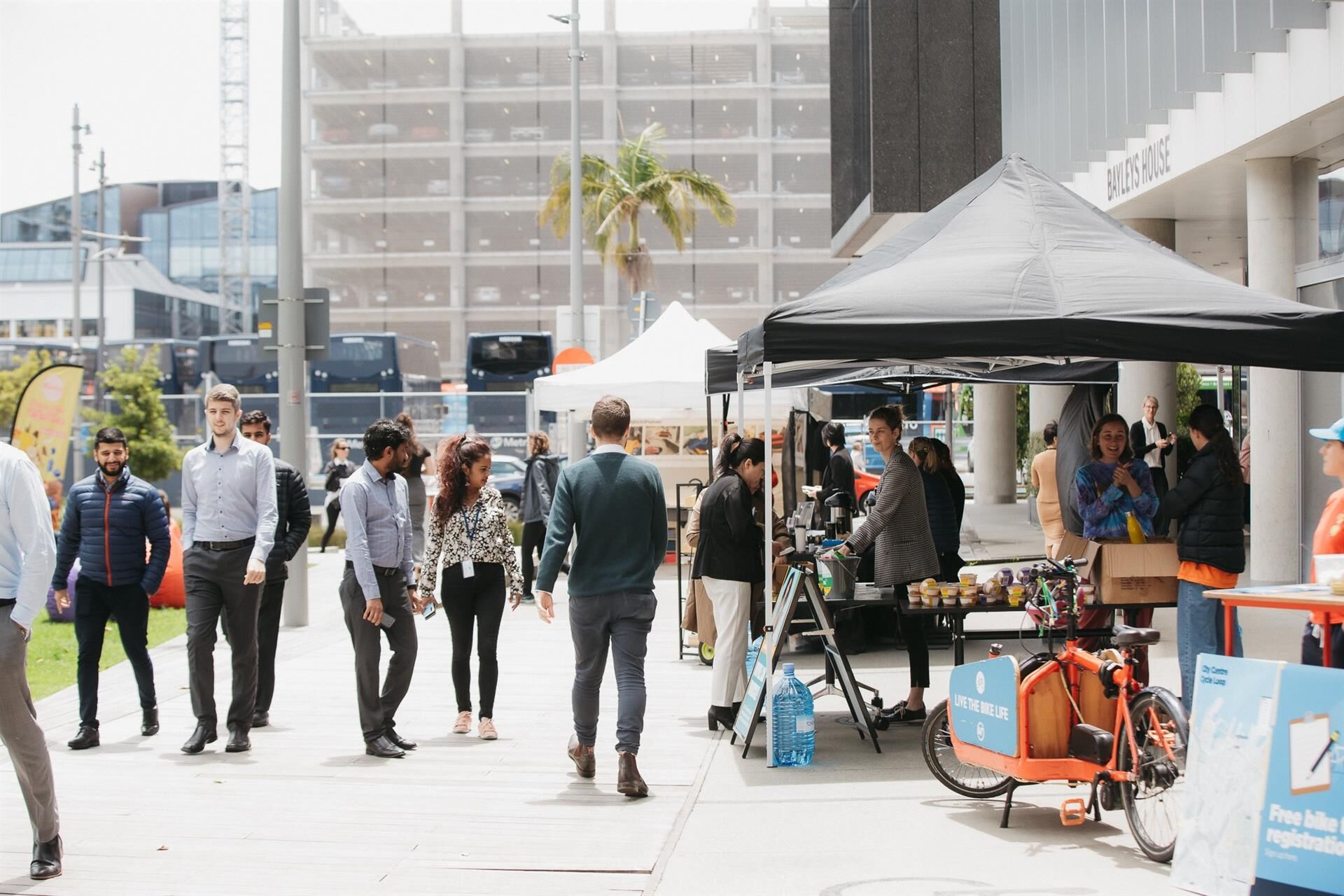 Post-pandemic working trends are spurring the transformation of office spaces, seeing corporates right-sizing for operational efficiencies and the emergence of innovative precincts to encourage connectivity, and support staff well-being.
With business owners and corporates encouraging – and sometimes mandating – a return to centralised offices after pandemic-induced remote working models, the look and feel of the office environment is playing a pivotal role in the attraction and retention of staff, as discussed in the latest Bayleys Total Property portfolio.
The flight to quality continues as the office workplace increasingly becomes packaged as a "destination" rather than feeling like an obligation, with the form, function, quality and quantity of space paramount to bottom lines and staff morale.
Chris Farhi, Bayleys head of insights, data and consulting said it's clear that the centralised office is being viewed as crucial to productivity, brand reinforcement and team culture.
"In talking to our clients and observing movement within the office sector, there has not been a wholesale slashing of occupier space and key players in the market are prioritising A-grade buildings as part of their overall real estate strategy," he said.
"Small to medium enterprises (SMEs) are opting for turnkey office suites which allow better quality office spaces, with more flexible lease terms, and minimal investment in fitout.
"The data shows that 'work from home' has primarily impacted lower quality or secondary office spaces, particularly those located away from high amenity areas with landlords of those buildings now faced with either accepting lower demand and higher vacancies, refurbishing to a higher standard, or changing use."
BNZ's workplace strategy is based around flexibility and providing space that meets the individual needs of its staff and teams, allowing them to do their best work said Kristina Martin, BNZ's workplace experience manager.
To support this strategy, the bank has committed to remodelled or new high-quality city centre spaces in Auckland and Wellington where it will bring teams together for modern ways of working.
At 1 Whitmore Street, Wellington, the new-build 12-storey home for BNZ being undertaken by Auckland developers Newcrest is targeting a 5 Green Star rating and will be one of the most seismically-advanced developments in New Zealand.
Martin said the building is nearly finished and floors are currently being fitted-out, with the bank expected to begin moving in this August.
"Meanwhile in Auckland, we're still in the early stages of planning and design for 80 Queen Street, with improvements being carried out in a way that's least disruptive to our people, as we'll be occupying the building during construction."
New and updated workspaces will include amenities like a grandstand for gatherings and a rooftop terrace to encourage social connection, along with restorative spaces, such as a retreat for rest, a yoga studio and a gym.
Over the past five years, Auckland Council's overarching office strategy has been one of modernisation and space optimisation, which will unlock substantial cost savings, and a significantly lower carbon footprint, according to Rod Aitken, council's head of corporate property.
"This strategy has included selling several legacy office buildings that were no longer required, enabling the transition to a smaller modernised portfolio of fit-for-purpose offices, aided by increased use of flexible working strategies," he said.
Council has committed to leasing around two-thirds of a new-build campus-style office building for its Albany Hub at 6-8 Munroe Lane, Albany – a development being undertaken by NZX-listed company, Asset Plus, and expected to complete in the second half of this year.
"Elsewhere across Tāmaki Makaurau, refurbishment and reconfiguration works are also being progressed with the Albert Street and Henderson Civic Building refurbishments completed, and the Manukau Civic Building refurbishment now underway, all supporting optimised workspace into single hubs in the CBD, west and south," said Aitken.
Bayleys manages Harbour Grounds, the Wynyard Quarter property portfolio spanning seven premium Auckland waterfront office buildings with around 7,000 tenants across circa-88,000sqm of space.
Harbour Grounds (previously known as the VXV precinct), incorporates the flagship Air New Zealand, Datacom, Fonterra, Bayleys, Auckland Transport, Microsoft and KPMG buildings.
Zahid Al-Abayechi, Bayleys' senior property portfolio manager oversees the day-to-day property management of this portfolio and said the current focus is the comprehensive building upgrade of 22 Viaduct Harbour Avenue.
"The refurbishment works for the ground floor Anchorpoint retail area are largely completed with prospective tenants being shown through, while the broader Anchorpoint plaza development is also nearing completion, having been delayed by recent weather events," he said.
With corporates more comfortable about real estate footprint decision-making in the post-pandemic environment, office precincts like Harbour Grounds support productivity while having tangible points of difference to aid in the attraction and retention of staff.
Leveraging the open areas around its office towers, Harbour Grounds is activating space with innovative programmes and initiatives to bring people together and support the wellness side of the staff equation, with events such as market days, live music performances, and on-site fitness and yoga classes helping foster a sense of community and fun.