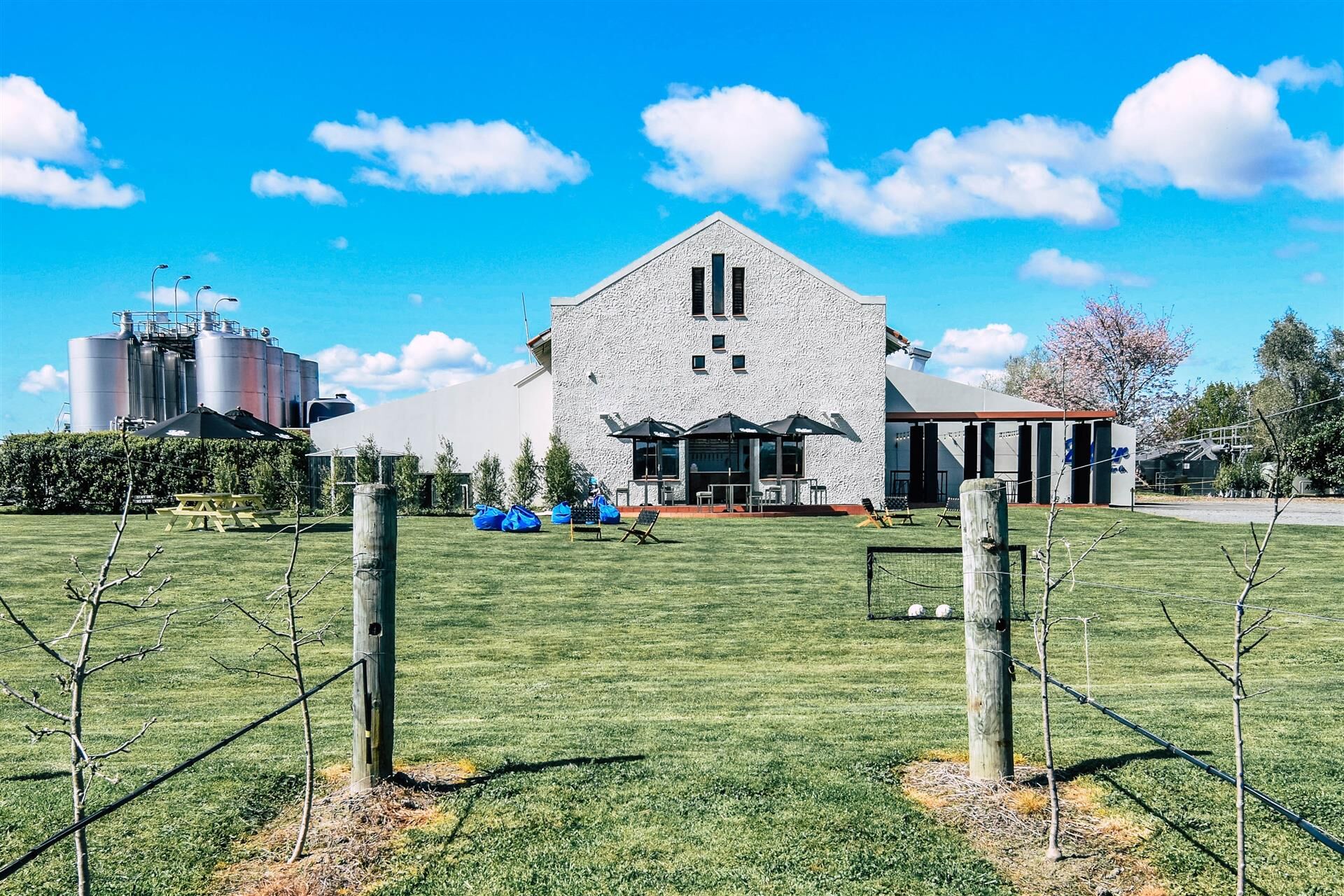 The freehold site in Fernhill sits on State Highway 50 between Napier and Hastings in an area coveted for its fertile soils and convenient regional transport links. The more than 10-hectare property is fully leased to award-winning New Zealand cider producer Zeffer Brewing and export fruit grower X Fruit.
It will offer a new owner a total net rental return of $120,633 plus GST and outgoings per annum.
Established in Matakana in 2008, Zeffer's early success drove a move to its current base in the apple-growing stronghold of Hawke's Bay. The company's all-natural craft ciders are now sold in major supermarkets and around the world. Zeffer has won multiple awards, including World's Best Cider in 2017, and lays claim to being New Zealand's first zero-carbon cidery.
Its Fernhill cidery and taproom is a popular destination hosting summer events with entertainment, music, food and drinks.
Zeffer will continue to occupy the site on a new five-year lease with a further five-year right of renewal. This will provide a net rental return of $87,130 plus GST and outgoings per annum. The lease incorporates CPI rent reviews after 2.5 and 7.5 years, plus a market review at lease renewal.
Hastings-based X Fruit grows premium quality fruits for local and export markets – including various varieties of apples, peaches, nectarines, plums, apricots, cherries and pears. Founded in 2010, the business has around 20 orchards with 220 hectares in Hastings.
X Fruit's current lease runs through to 2027. It generates annual net rental income of $33,503 plus GST and outgoings, with built-in CPI adjustments every three years.
The freehold land and buildings at 1747 Korokipo Road, Fernhill, Napier, are being marketed for sale by Kerry Geange of Bayleys Napier and Tim Wynne-Lewis of Bayleys Havelock North.
Sale will be by way of a tender closing on Friday 2 September, unless the property is sold prior.
Geange said the site was well-known for its world-class product and summer events.
"The Mediterranean façade visible from the state highway draws people into the cidery and taproom. This opens onto picturesque lawns which are ideal for events, and overlooks the heritage apple orchards that provide the raw product for award-winning ciders. Long views to the ranges beyond give a real sense of context," said Geange.
The approximately 0.7-hectare orchard is planted in a mix of some six French and English cider apple varieties. Around 80 percent were planted in 2017, and the remainder in 2019.
To the rear of the cidery is a highly productive nectarine orchard of some 8 hectares under a separate lease to X Fruit. This contains around 9,000 trees in several nectarine varieties, which were planted in 2017.
A converted cow shed provides basic facilities for orchard workers, including office and staff amenities, bathroom facilities and storage.
In total, the Korokipo Road site comprises some 10.9 hectares of productive land plus thoughtfully located and constructed character buildings with a total floor area of approximately 760 square metres.
Geange said the wastewater system had been upgraded to protect the cidery operation, including for domestic waste from the taproom.
"Discharge consents have been renewed, providing long-term security to the tenant and new owner. Groundwater consents provide for a significant volume of water on site for tenant use and irrigation, and these consents will be transferred to the new owner," he said.
Wynne-Lewis said the site's Plains Production zoning under the Hastings District Plan provided for a wide range of commercial uses, while existing consents secured current use rights for food processing and hospitality under new ownership.
"This property offers a buyer the advantage of productive land ownership with the benefit of being fully leased to A-grade tenants. The status of both tenants as essential-service providers in terms of any Government pandemic response will help protect future income.
"There is potential to add value by working with tenants to add further infrastructure supporting an increase in income," he said.
Wynne-Lewis said the Fernhill site benefited greatly from its position on the flanks of the productive Ngaruroro River plains.
"Strategically situated between Hastings and Napier, the Zeffer cidery is on the must-visit list for locals and visitors alike.
"Its location on State Highway 50, with easy links north and south to State Highway 2, positions it perfectly for simple access to and from destinations throughout Hawke's Bay," he said.
Click here for more information on the listing.