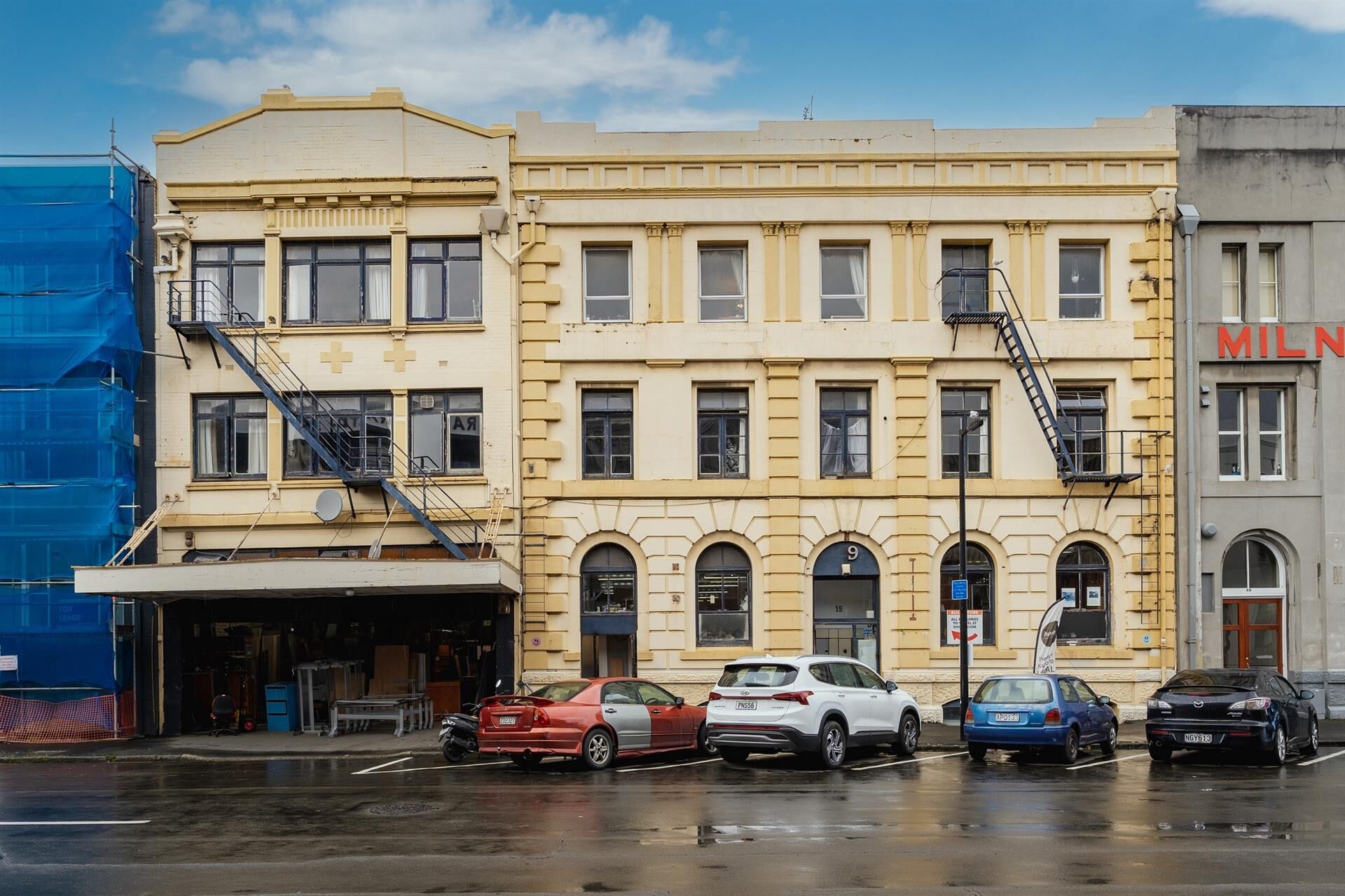 Comprising six apartments and a commercial tenancy, the leasehold land and buildings at 17 Vogel Street are in a prime position within the burgeoning area, sited on reclaimed ground at the northernmost tip of the south endowment, which once served as the city's waterfront.
Bayleys Dunedin salesperson Robin Hyndman says the precinct is enjoying a sustained period of gentrification, with once underutilised portside warehouses being converted for use as hospitality venues, residential accommodation, and attractive office spaces.
"An enhanced focus on the value of the city's period buildings, coupled with a mandate to increase efficiency across the built environment has seen Dunedin's Warehouse Precinct beautified and heritage buildings refurbished, providing improved social amenity and value for immediate property owners.
"Demand for mixed-use accommodation has surged in the area, reflective of growing appetites from occupiers seeking attractive tenancies. At the same time, businesses are also maximising the benefits of an evolving residential catchment.
"Residential revitalisation plays a significant role in creating demand for inner-city apartments, as previously derelict warehousing and vacant commercial space are refurbished to make way for stylish, industrial-style residences.
"This clutch of apartments has proven perennially popular with professional tenants, increasing their credentials as an attractive investment option."
Mr Hyndman is marketing the Vogel Street premises for sale with colleague Muir Gold.
The property is offered for sale by tender, closing at 4:00 pm on Wednesday 17th May 2023 (unless sold prior).
Occupying a 563-sqm (more or less) site with dual street frontage to Cumberland Street/State Highway 1, the premises has a ground lease for 21 years, renewable in perpetuity at $27,930 per annum plus GST.
Rent reviews occur every seven years, with the next review scheduled for 1st January 2027.
The building features 1,982-sqm (more or less) of net lettable floor area with six residential apartments on the two upper floors and a commercial tenancy plus basement below.
The property generates a net passing income of $111,797 per annum plus GST and outgoings from seven tenants with varying lease arrangements.
Bayleys Dunedin salesperson Muir Gold says he expects the property to integrate well with the goals of private investors and developers who recognise the inherent value of the evolving central location, prominent corner position, and development potential.
"The attractive apartments feature large open spaces in New York architectural style – all of which meet Healthy Homes Standards. In addition to strong tenant demand, there is potential to capture additional value through development.
"The current configuration, which features two separate buildings on two lots within a single title, allows for redevelopment of the upper floors, which could yield additional income by creating auxiliary apartments.
"A new investor may choose to maximise the building's underlying rental potential this way, which serves the dual purpose of seismic strengthening works.
"Enhancement would fit with the local council objectives under the Warehouse Precinct – Commercial and Mixed-Use zoning, which encourages restoration of heritage buildings and a variety of inner-city living, visitor accommodation, entertainment, exhibition, and commercial activities.
"These principles have maintained the integrity of the central business district and continue to underpin the value offering of the asset now and in the future."