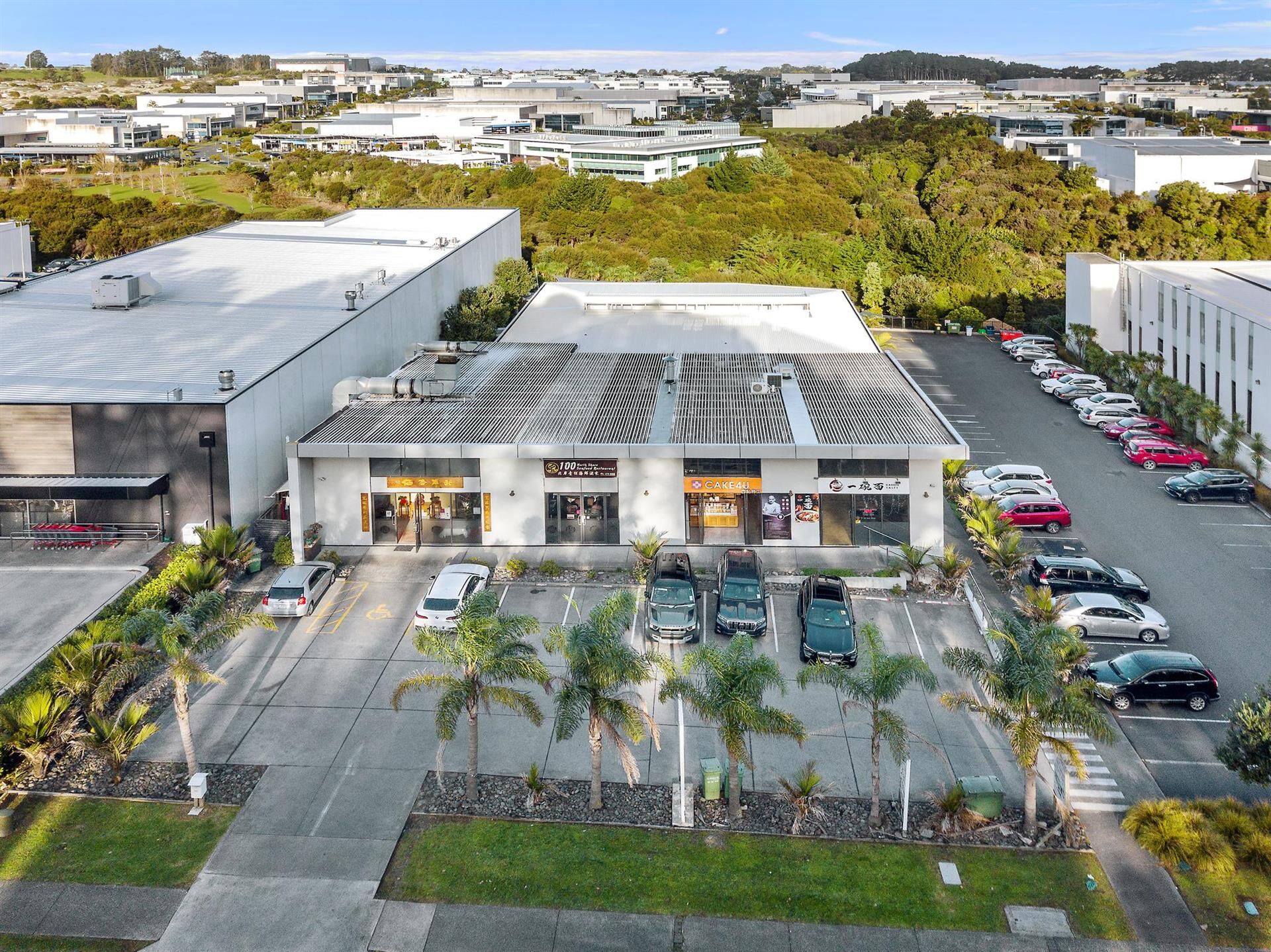 The approximately 1,923-square metre Rosedale Road site sits prominently next to Rosedale Retail Centre. It is made up of two units on separate titles.
Buyers have the opportunity to purchase one or both of the units, which enjoy excellent profile and exposure to some of the Albany area's highest traffic flows on busy Rosedale Road.
Now on the market for the first time, Units 1 and 2, 100 Rosedale Road, Rosedale, Auckland, are being marketed for sale together or individually through Steven Liu, Ranjan Unka and Michael Nees of Bayleys North Shore Commercial.
Sale is by deadline private treaty closing on Thursday 21st July, unless the properties are sold earlier.
Liu said the approximately 943-square metre building was made up of two freehold units of some 547 square metres and 397 square metres.
"The smaller unit, with 15 on-site car parks, is fully occupied by three tenants: a ramen noodle and dumpling outlet, a bakery/cake shop and a skincare provider.
"The larger unit is currently home to owner-occupier North Shore 100 Seafood Restaurant. There is the potential for another restaurant operator to own and operate the main restaurant tenancy along with a vacant 93-square metre tenancy. This unit comes with 16 on-site car parks," said Liu.
Unka said the units were strategically located next to Rosedale Retail Centre, which brings together two supermarkets and a range of restaurants, retail and service providers.
"This location serves an established residential catchment and is close to Apollo Business Park and North Harbour Industrial Estate.
"It benefits from superb exposure to one of the busiest main roads in Albany, with an average of more than 19,000 vehicles passing each day, according to Auckland Transport (AT)," said Unka.
The location enjoys excellent connectivity within the North Shore thanks to its proximity to East Coast Road and Albany Highway, and is minutes from the Northern Motorway providing easy access to Auckland's CBD less than 20 kilometres away.
Waka Kotahi NZ Transport Agency and AT are working on plans for a new busway station in Rosedale, to be constructed alongside the new Northern Busway Extension, improving public transport options in the area.
Nees said Rosedale had experienced nearly two decades of substantial growth and continued to see new development.
"Todd Property Group, Goodman, Argosy, Willis Bond, Haydn & Rollett, Northbridge Properties and Westfield are among the major players behind design and development work in the area, with a wide range of retail and commercial projects in the pipeline.
"The Rosedale Road site's General Business zoning under Auckland's unitary plan provides for various activities from light industrial to limited office, large format retail and trade supplies. Future redevelopment potential is underpinned by an allowable building height of 16.5 metres," Nees said.