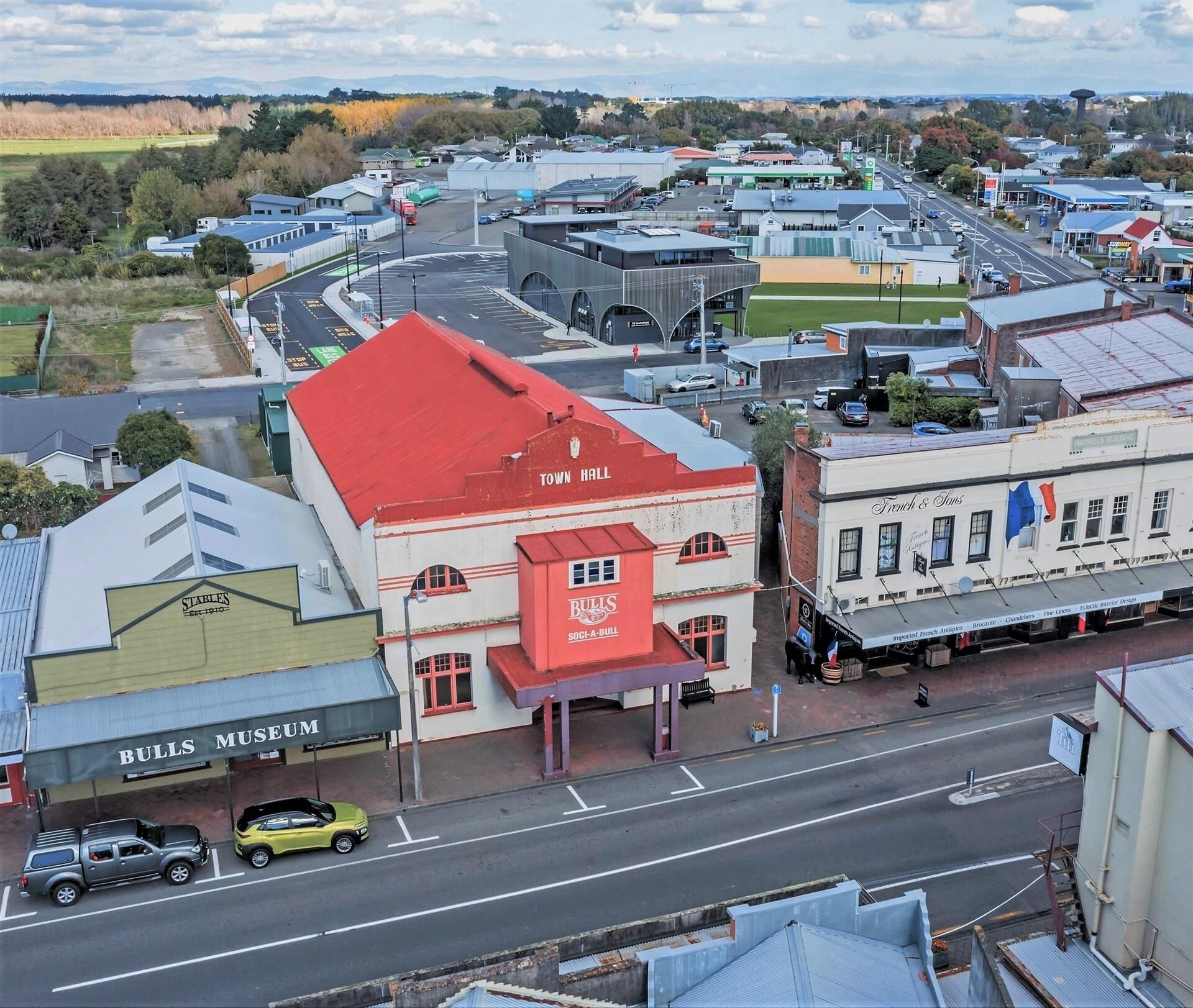 The now-surplus Bulls town hall occupies a town-centre site seen each day by thousands of passing motorists in the Rangitikei town which sits at the busy junction of state highways 1 and 3.
Bayleys salesperson Angus Findlay said a new owner would have the chance to help write the next chapter in a town which is undergoing a major rejuvenation.
"Rangitikei District Council has brought its main civic facilities together just metres away, in a striking new community centre housing the town hall, an information centre and library, along with a youth space and town square.
"This leaves the former Bulls town hall surplus to council requirements, and ready for a new owner to repurpose or redevelop with a project worthy of its prime position on High Street.
"Branded as 'Soci-A-Bull' under the town's pun-driven marketing signage, this property has been at the heart of community life in Bulls since the early 1900s. Its unmissable street frontage and central location will ensure any future use is also front-and-centre.
"The possibilities are far-reaching, with the proviso the council is keen to ensure any project will add further to the town's revival.
"This could truly represent a bulls-eye for a buyer seeking a unique commercial property opportunity in provincial New Zealand," Findlay said.
The former town hall property at 87 High Street, Bulls, is being marketed for sale through Findlay and colleague Mitchell Boddy of Bayleys Palmerston North. It will be sold by way of a tender closing on Wednesday 22 June.
Boddy said the building sat on some 1,420 square metres of commercial-zoned freehold land.
"The approximately 700-square metre building incorporates an auditorium, along with a ticketing booth, additional upstairs seating, and a room beside the stage which is suitable for food preparation.
"At the rear of the building are 24 on-site car parks, with the possibility for a new owner to create dual access from both High and Criterion streets," he said.
Repurposing and redevelopment options for the site are underpinned by its flexible Commercial zoning under the Rangitikei District Plan.
Permitted activities are wide-ranging, spanning retail or food and beverage premises, to offices, residential or visitor accommodation or places of assembly. Community or educational amenities, or entertainment facilities such as a cinema, are also possible.
Boddy said any future activity would be supported by the town's growing residential catchment, as well as high-profile exposure to an estimated 13,000 passing vehicles each day.
"Bulls is emerging as arguably one of the country's most progressive and vibrant small provincial towns. Its population has grown by more than 40 percent since 2013, to around 2,250, according to a 2021 Statistics New Zealand estimate.
"The community has benefited from more than $20 million of infrastructure investment in recent years.
"The new $8.5 million community centre is breathing new life into the town centre, while the Rangitikei Junction retail development on a 1.65-hectare site around the corner has given Bulls one of Manawatu's biggest retail hubs.
"Meanwhile, around $4 million has been designated to develop both the neighbouring Ohakea and Linton defence operations," said Boddy.
Click here for more information on the listing.